Diocese interviews second accuser of Dunkirk priest it cleared of abuse
By Jay Tokasz
Buffalo News
July 30, 2018

https://buffalonews.com/2018/07/30/diocese-interviews-second-accuser-of-dunkirk-priest-it-cleared-of-abuse/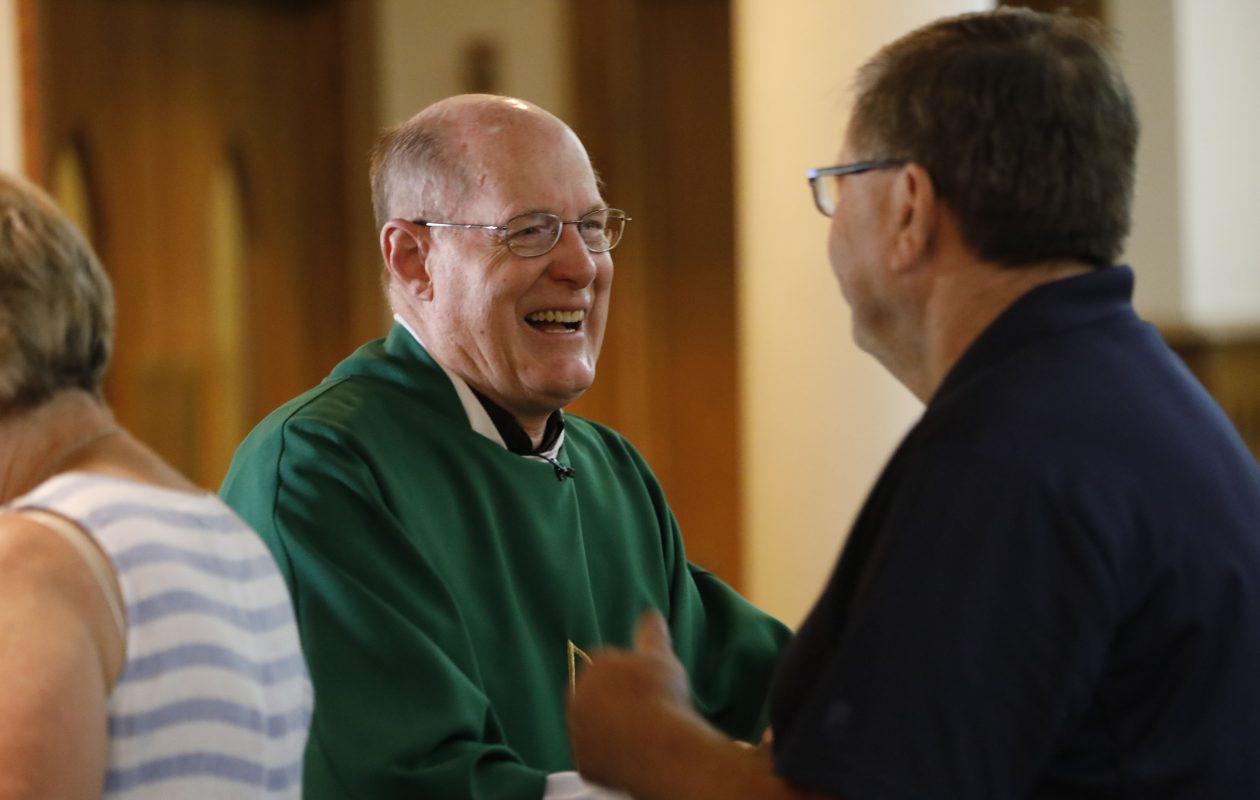 The Rev. Dennis Riter, center, pastor of St. Elizabeth Ann Seton Catholic Church in Dunkirk, greets parishioners following Mass on Sunday, July 1, 2018. The Buffalo Diocese exonerated Riter after investigating claims he sexually abused a child.
Photo by Derek Gee
The Buffalo Diocese cleared a Dunkirk priest of sexual abuse last month without talking with a second accuser who alleged he was molested as a child by the priest.
Monday, the diocese interviewed the second man who alleges that the Rev. Dennis G. Riter abused him.
For now, Riter will be allowed to remain at St. Elizabeth Ann Seton Church, a diocese spokesman said.
Monday's interview with Riter's second accuser happened in Amherst, a month after the diocese determined that a previous allegation, lodged in March against Riter, was not substantiated. The second accuser alleges Riter abused him in the rectory of Queen of All Saints Church in Lackawanna. His lawyer said he has a witness of the alleged abuse who wrote a letter to diocesan officials about it more than 25 years ago.
The diocese suspended Riter from ministry while a former assistant district attorney working for the diocese investigated a claim that the priest had molested a teenage boy in a South Buffalo church rectory in the late 1990s.
Riter was returned to his post as pastor of St. Elizabeth Ann Seton Church in Dunkirk on June 30.
A diocesan spokesman said the diocese was aware of a second accuser sometime in May and wrote two letters to the accuser's lawyer, Mitchell Garabedian, on May 27 and June 7, asking to interview the man.
"Of course we wanted to hear from him," said the spokesman, George Richert.
Garabedian did not respond to the letters until a month later, after Riter was returned to ministry, said Richert.
Garabedian said he was simply preparing his client's case properly during that time, and the diocese never indicated in its letters that it was returning Riter to ministry.
"They didn't tell me there was a deadline. Common courtesy would dictate if there's a deadline, you say there's a deadline. It was just the church acting like the church, being secretive and sliding Father Riter back into ministry in a way that wasn't proper," said Garabedian, who held a news conference Monday afternoon on the sidewalk of Main Street, across from the Catholic Center.
After the news conference, he said that his client will not be available for an interview with The News.
"Not at this point. It's been very, very difficult," said Garabedian.
Garabedian declined to identify his client and did not provide specifics about what happened to him, aside from referring to a letter written by Wieslaw J. Walawender, who was a theology student at Christ the King Seminary assigned in 1992 as part of his field education program to Queen of All Saints Church in Lackawanna.
In the letter, dated May 9, 1992, and addressed to then-Bishop Edward D. Head and Auxiliary Bishop Edward Grosz, Walawender alleges that he witnessed Riter "to be in a morally and legally questionable situation with a male child less than 10 years of age."
The boy's father and Walawender found "male body fluid" on the boy's shirt, face and hair after he had been alone with Riter in a Lackawanna rectory, according to the letter.
Walawender told The News that he wrote the 1992 letter and hand-delivered it to the diocese.
In the absence of an interview with the second accuser, the diocesan investigator, Scott Riordan, "did a lot of legwork on the letter," said Richert.
The letter stated that the family of the boy spoke with police about the incident. Garabedian declined to comment when asked whether there was a police record of the incident.
Riter's lawyer, Rodney O. Personius, said that he was not aware that a second accuser was being interviewed Monday.
The seminary student's letter has "a lot of holes in it," including that the diocese has no record of the letter and that the Lackawanna police have no record of a report of the incident, said Personius.
Riter, he added, has "no idea who's being mentioned or what's being referred to" in the letter.
"He was troubled by the allegations. He felt vindicated when the diocese made the decision that it did, and he's moved on," said Personius.
Richert said Riter is still in ministry "for the time being" as the diocese follows its process for investigating complaints.
Monsignor suspended
Also Monday, the diocese suspended Monsignor John M. Ryan from active ministry as it investigates an abuse complaint. Ryan retired in 2001 from St. Benedict parish in Eggertsville and is living at a residence for retired priests in the City of Tonawanda.
Ryan became the 11th priest since March who the diocese put on administrative leave as it determines whether an allegation of sex abuse is credible or not. Riordan, the diocese's investigator, and the Diocesan Review Board both found that the initial accusation against Riter was not substantiated.
Allegations against seven priests, including Ryan, continue to be investigated at the diocesan level. Accusations against three priests were determined to be credible by a diocesan investigation, and those cases were referred to the Vatican for further review, according to the diocese.