Priest, 69, accused of molesting three teenage boys and stealing $80,000 from his church has gone missing
By Megan Sheets
Daily Mail
August 20, 2018

https://dailym.ai/2w1tRii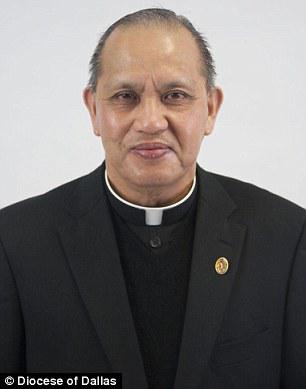 Rev Edmundo Paredes, 69, has reportedly gone missing amidst allegations that he molested three teenage boys and stole money from his church in Oak Cliff, Texas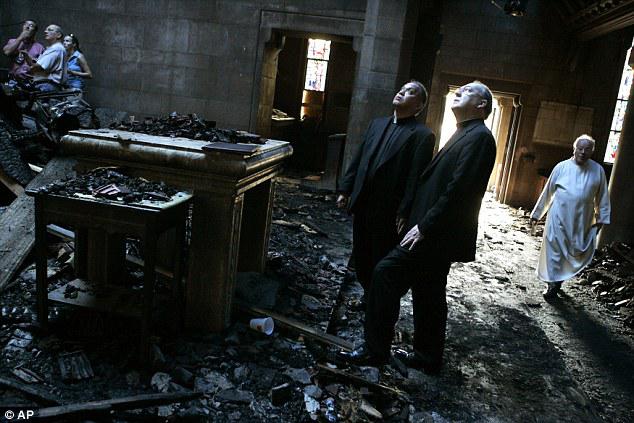 Edmundo Paredes, center-left, and Bishop Kevin Farrell , center-right, view the damage caused by a fire at St Cecilia Catholic Church in this 2007 file photo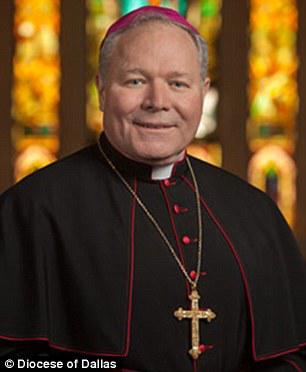 Bishop Edward Burns broke the news that 'Father Ed' had been removed from ministry during Mass on Saturday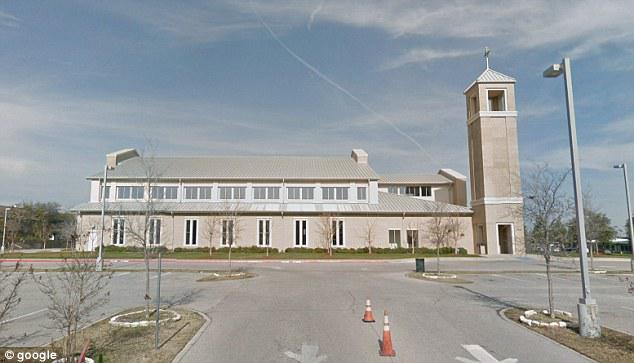 St Cecelia Catholic Church in the Dallas suburb of Oak Cliff is pictured above
Rev Edmundo Paredes, 69, is believed to have fled to his native Philippines
He was formerly a pastor at St Cecilia Catholic Church in Oak Cliff, Texas
Bishop Edward Burns revealed Paredes' removal from ministry at Mass Saturday
Three men came forward accusing Paredes of sexual assault in February
At the time he was under investigation for stealing $60K-$80K from the church
A priest has gone missing after he was accused of molesting three teenage boys and stealing money from his church, authorities say.
Officials at St Cecilia Catholic Church in the Dallas suburb of Oak Cliff reportedly believe Rev Edmundo Paredes retreated to his native Philippines to escape an investigation into the allegations.
Bishop Edward Burns broke the news that 'Father Ed' had been removed from ministry during Mass on Saturday, according to the Dallas Morning News.
Burns said the Diocese of Dallas was informed of the sexual misconduct allegations in February after three adult men came forward and accused Paredes of having abused them when they were in their mid-teens in incidents more than a decade ago.
According to the Diocese, Paredes was already under investigation for stealing between $60,000 and $80,000 from the church treasury at the time that the men came forward.
Paredes had been removed from the parish in June 2017 when the probe into financial irregularities was launched.
The priest reportedly admitted to having stolen church funds during his nearly three decades as pastor, but did not reveal an exact dollar amount.
It's unclear when Paredes disappeared, though according to the report, some parishioners thought he was still living on church grounds until Burns broke the news this weekend.
The bishop told parishioners that St Cecilia's is in the process of hiring private investigators to locate Paredes, and that authorities in the Philippines have stated that he has not been found there.
When disclosing details specifically related to the sex abuse investigation, Burns said: 'Our priority was to determine the truth and protect the victims who showed courage by coming forward.
'With the utmost sensitivity to victims, I have pledged to continue efforts of transparency and need to make you aware of this atrocious and sad event. I want to assure the entire community that we are working to find solutions to create a safer environment.
'I offer my heartfelt apologies that these crimes have happened in your parish and please know I am praying for all victims of sexual abuse and for all of you here in the St Cecilia community.'
The Diocese of Dallas has asked anyone who has suffered abuse at the hands of church personnel to report it to police and to the Diocese's Victims Assistance Coordinator at 214-379-2819.
The allegations against Paredes have come only a week after a 900-page report from a Pennsylvania grand jury revealed that more that 1,000 children had been molested by 300 priests in incidents dating back to the 1950s.