Archdiocese opens up about damning clergy sexual abuse report, link to San Antonio priest
By Elaine Ayala
San Antonio Express-News
August 23, 2018

https://www.expressnews.com/news/local/article/S-A-archdiocese-no-new-allegations-against-13178614.php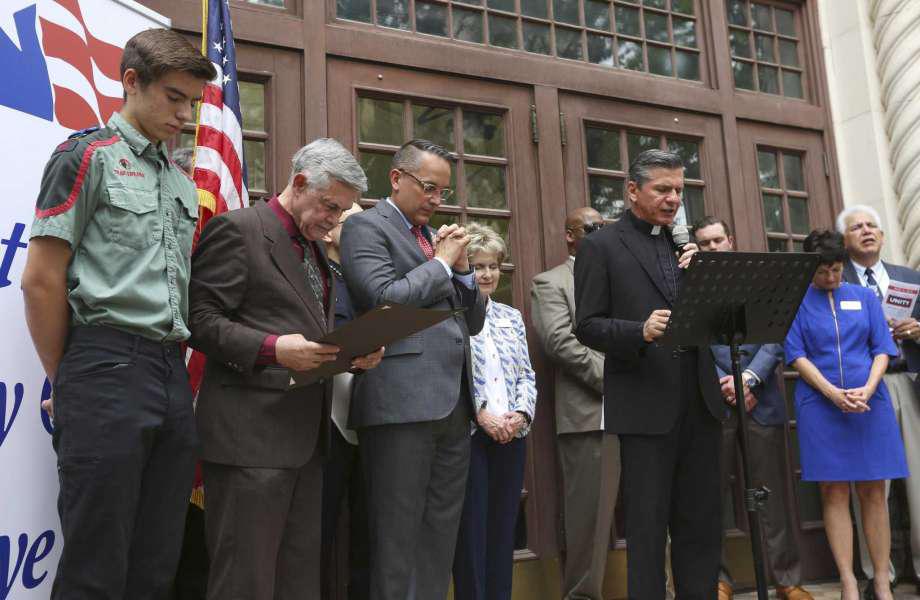 Archbishop Gustavo Garcia-Siller says a prayer on the steps of San Antonio City Hall last April at a National Day of Prayer event.
Photo by William Luther
Since a Pennsylvania grand jury's report on sexual abuses by Catholic clergy last week named a priest who later worked in San Antonio, the Archdiocese of San Antonio has received dozens of angry calls and emails.
Archbishop Gustavo García-Siller said people have registered scorn and resentment toward church leaders who knew of the abuses and systematically covered them up — but so far none have raised additional allegations against the late Father David Connell, he said.
García-Siller, in an extended interview, said he has been overwhelmed by his own sadness, anger and shame at the Pennsylvania report. Local responses to it, which the archdiocese asked for after it was released, have been difficult to take in, García-Siller said, but he has embraced the criticism because, "It's a way for conversion and change."
The archbishop was also emphatic this week about how such crimes must be handled.
"Call the police," he said.
The Archdiocese of San Antonio asks that reports also be made to its Office of Victim Assistance and Safe Environment. García-Siller said victims should feel free to contact Apostolic Nuncio Christophe Pierre, the Holy See's diplomatic representative in the United States, and the Vatican itself.
The U.S. Conference of Catholic Bishops must deal with the fallout of the grand jury's scathing report, considered the largest ever against the U.S. Catholic Church, with more than 300 priests accused of sexually abusing more than 1,000 minors over a 70-year period in Pennsylvania..
"We have to account for them," García-Siller said of the priests. "We, the bishops, need to assume the shameful situations of these crimes and know we are accountable."
"Second, all of us need to help with change," he said. "The sexual abuse of minors is serious and, in different ways, is very present, sadly."
García-Siller called for "prayer, penance and fasting, materially and internally."
In the aftermath of the report, the archbishop said, he called his staff together and reminded them how they should handle allegations of sexual abuse of minors by clergy.
"'Say it,'" he said he told them. "'If you know something, express it to me, the auxiliary bishop or the police directly.'"
García-Siller said the archdiocese has followed policies in the Charter for the Protection of Children and Young People, since it was established in 2002 by the U.S. Conference of Catholic Bishops. It calls on every bishop to report a priest accused of sexual abuse of a minor to a local district attorney.
García-Siller said the archdiocese has done so twice since the charter was created, resulting in two priests serving time.
Father Jerzy Sieczynski of St. Matthew's Catholic Church was sentenced to a three-year prison term in 2006 for child pornography and indecent exposure. Father John Fiala, who had served in several parishes outside San Antonio, pleaded guilty in 2014 to aggravated sexual assault of a teen boy and was sentenced to 30 years, the archdiocese said. He also got 60 years for solicitation of capital murder for trying to hire a hit man to kill the boy.
Fiala had left a trail of accusations from parishes in Nebraska dating to 1988 and was repeatedly ousted by church officials, which Fiala's religous order didn't reveal when the archdiocese here accepted him as a pastor in 2005, San Antonio archdiocese officials have said. Then-Archbishop José Gomez fired him three years later, after complaints about his conduct with the minor he was later convicted of raping.
It was a lawsuit the victim filed in 2010 that led to the criminal charges, however. The archdiocese has said the lawsuit was its first indication that the misbehavior was sexual and prompted it to cut its ties with Fiala's religous order.
Until an investigation can be completed, an accused priest must be removed from public ministry, García-Siller said.
"Law enforcement does what it does, and we have our system in place," he said, referring to the charter.
The case against Connell, who worked in the San Antonio archdiocese for almost 20 years after leaving Pennsylvania, is "clear," Garcia-Siller said.
It's also graphic. In Pennsylvania, the report says, he drugged and raped a minor on at least two occasions, sexually abused his brother and tried to have sex with another victim on a camping trip.
Connell, who died in 1995, served as a principal of Antonian College Preparatory High School and pastor of St. Thomas More Catholic Church.
When Connell arrived here in 1976, the archdiocese was led by Archbishop Francis Furey, who had spent decades in Pennsylvania earlier in his career. The Archdiocese of San Antonio said in a written statement last week that Connell provided documentation about the alleged camping trip incident but denied it had happened.
Archdiocesan officials in San Antonio said they were not made aware of the rape allegations until the grand jury report was released. They said Connell had drawn no complaints of misconduct during his years here.
García-Siller, who this month marked his 42nd year as a member of the Missionaries of the Holy Spirit, said he was grateful to news media and civil authorities "for helping people come forward to relay their stories and express how they have been suffering."
He said victims of priests are courageous when they do so. Others may think it's easy to report such crimes, he said, but it's "very difficult. … They need signs and gestures of compassion and understanding."
The church is in pain, too, and Jesus himself is "suffering these crimes committed by clergy, and bishops for covering up," the archbishop said.
Contact: eayala@express-news.net