Former Charlotte priest named in explosive letter calling for Pope Francis to resign
By Tim Funk
Charlotte Observer
August 26, 2018

https://www.charlotteobserver.com/living/religion/article217365325.html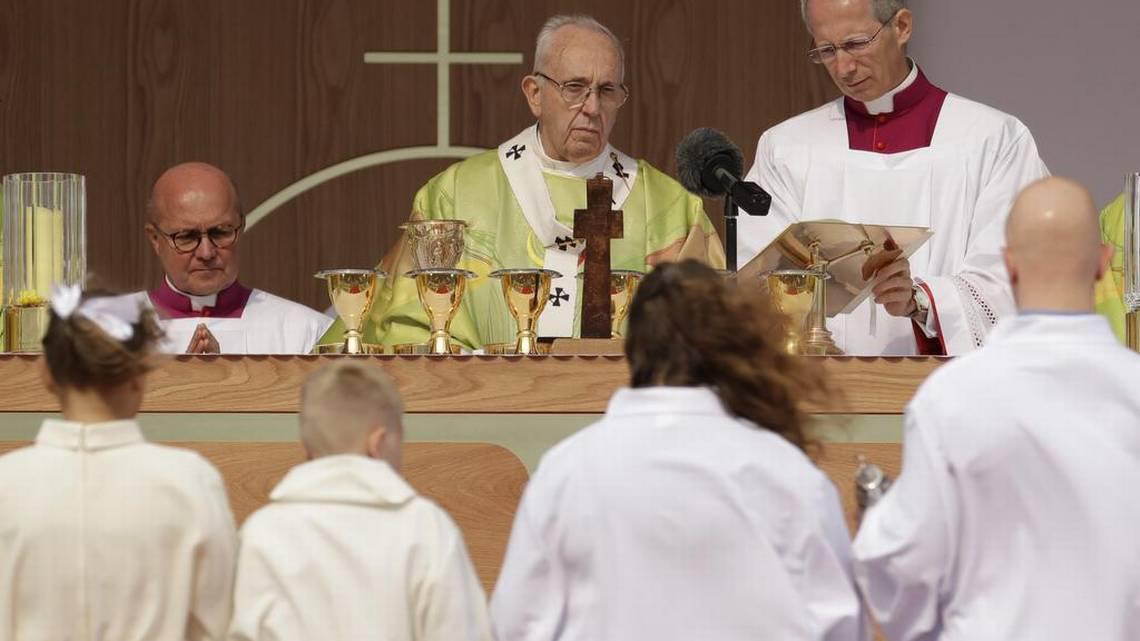 Pope Francis celebrates Mass at the Phoenix Park in Dublin, Ireland, on Sunday. During his two-day visit he has addressed the clergy sex abuse crisis in the Catholic Church. Matt Dunham
A letter released over the weekend by the Vatican's ex-ambassdor to the United States has identified a former Catholic priest who worked for a time in the Diocese of Charlotte as an alleged victim of sexual misconduct by a former cardinal, Theodore McCarrick.
In the 11-page letter, which is being called a bombshell and a right-wing attack on Pope Francis, Archbishop Carlo Vigano called on the current pope to resign. He charged that Pope Francis and other high-ranking officials in the Catholic Church covered up sexual harassment and abuse accusations against McCarrick long before they became public this year.
Among other things, McCarrick has been accused of sexual abuse of seminarians and priests when he was a bishop in New Jersey.
In Vigano's letter, which was first published by conservative Catholic news sites, he said that his predecessor as apostolic nuncio to the United States had "transmitted" to the Vatican's then-secretary of state in 2006 "an Indictment Memorandum against McCarrick by the priest Gregory Littleton of the diocese of Charlotte."
Vigano also mentioned in his letter "two documents from the same Littleton, in which he recounted his tragic story of sexual abuse by (McCarrick)." McCarrick went from bishop of Metuchen, N.J., to archbishop of Newark, N.J., to archbishop of Washington, D.C., in 2001.
Littleton, who became a priest in 1990, left the Metuchen diocese for Charlotte in 1997.
In 2002, the Charlotte diocese learned that Littleton was being investigated for what a prosecutor in Middlesex County, N.J., called "inappropriate conduct" with more than one minor.
Littleton was removed from Our Lady of the Assumption Catholic Church in Charlotte in 2004 after the Diocese of Charlotte said it found the New Jersey accusations "credible."
At the time, Littleton, then 42, denied the allegations. But he was later removed from active ministry as a priest.
In his letter, Vigano said he personally informed Pope Francis about the sexual misconduct accusations against McCarrick in June 2013 — just after he was elected pope and more than five years before he suspended McCarrick, now 88, from any public ministry and ordered him to spend the rest of his life in prayer and penance.
Several news outlets noted that Vigano has become part of a traditionalist group that has been critical of Pope Francis' moderating changes in the church and blames the clergy sex abuse crisis on what Vigano called "homosexual networks" in the church.
Vigano ends his letter by calling on the pope to resign as an example to "the cardinals and bishops who covered up McCarrick's abuses."
Pope Francis dismissed the cover-up accusations during his flight back to Rome from Dublin. He said the letter, with its unsubstantiated claims, "speaks for itself," according to the National Catholic Reporter.
"You have the sufficient journalistic capacity to draw conclusions," the pontiff told reporters in the Vatican's plane.
Vigano was removed from his post in Washington in 2016 by Pope Francis after Vigano was blamed for the controversy that arose after he arranged for the pontiff to meet with a Kentucky clerk who defied a court order to issue marriage licenses to same-sex couples, according to the New York Times.
The National Catholic Reporter said that Vigano has himself been accused of covering up sexual misconduct by an archbishop in Minnesota.
Vigano's letter alleging a cover-up of the accusations against McCarrick comes as Pope Francis is in Ireland, a predominantly Catholic country that is still reeling from revelations of widespread clergy sex abuse.
In the Irish town of Knock, the pope addressed the issue, asking "for the Lord's forgiveness" for "the scandal and betrayal," the New York Times reported Sunday.
The McCarrick case, which also included a charge of child sex abuse, has rocked the Catholic Church in the United States, The American church is also reacting to anger in the pews over a recent Pennsylvania grand jury report that said hundreds of Catholic priests in the state sexually abused more than 1,000 children over a period of 70 years.
Contact: tfunk@charlotteobserver.com