Pastor Whose Hand Slipped into Woman's Pants While Anointing Her with Oil Won't Be Charged
By Leonardo Blair
Christian Post Reporter
August 31, 2017

https://www.christianpost.com/news/pastor-whose-hand-slipped-into-womans-pants-while-anointing-her-with-oil-wont-be-charged-197482/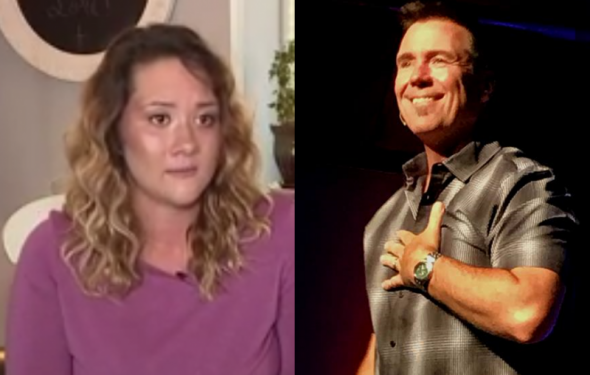 Justine Morden, 19 (L), alleges that Pastor Mitch Olson (R) of Grace Ministry Center in Michigan sexually assaulted her during an anointing session at her home.



A Michigan pastor who was accused of sexual assault by a former parishioner and admitted that his hand might have slipped into her pants while anointing her with oil to cleanse her of sexual sins at her home will not face charges, a local prosecutor said Wednesday.

Justine Morden, 20, alleged in June that Pastor Mitch Olson of Grace Ministry Center sexually assaulted her during the unorthodox anointing nearly 10 months ago.

In a case review released Wednesday morning, Senior Assistant Prosecutor Paul Soderberg said Morden doesn't fall under any classes of victims as recognized under state law, Nicole Hayden of The Times Herald reports.

"The conduct of suspect Mitchell Olson directed toward [the] 19-year-old victim was morally reprehensible. The Grace Ministry Center head pastor's conduct appears to be highly questionably and not religious in nature. It also appears to have violated the standards of the church. However, based on the information ... this conduct despite being immoral is not illegal according to Michigan criminal law. For these reasons we are unable to prosecute this case," Soderberg said.

Morden, who was living alone at the time of the alleged assault, said she sought counsel from Olson about changing her life and he suggested she be anointed to cleanse her of her sins. He told her he didn't have anointing oil at the church during a meeting in July 2016 but would eventually make time to get her anointed.

"Later on that night, around like 8 or 9, he texted me and asked what my address was," Morden told the Herald. "I gave him the address and didn't think anything of it since I trusted him. ... He got there and said, 'I have the anointing oil if you want to be anointed,' so I said 'OK.'"

A police report lodged with local authorities said:

Olson then said a prayer and placed oil on her head, Olson then did the same on (her) shoulders. Olson then asked if he could put the oil on her breasts (she) said yes and Olson put his hand down the front of (her) shirt making skin to skin contact with (her) breasts. Olson then put oil on (her) stomach/mid-section. Olson then asked he could put oil on (her) buttock, (she) responded yes. Olson then put his hand down the back of (her) pants and made skin to skin contact with (her) buttock cheeks. Olson then asked if he could put oil on (her) pubic area (front of pants), (she) responded yes. Olson then put his hand down the front of (her) pants and made skin to skin contact with (her) pubic region. Olson then touched (her) knees and ended with her feet.

Morden explained that it wasn't until she told her mother about the anointing session that she realized the anointing she received wasn't standard practice.

"When I explained it to my mom, she said it wasn't right," she told The Times Herald. "I believed it was what really had to be done, but he grabbed, groped my boobs."

Reacting to the review of her case, Morden told The Times Herald that she was heartbroken.

"It's frustrating to know that it did happen but that Michigan law can't protect me," she said. "It's very frustrating. I think if Michigan law was different he would be prosecuted ... it's frustrating that he can continue to do to other women what he did to me ... I have learned through this experience that sexual assault is so minimized and that it's easier for people to brush it under the rug rather than take action."