Woman Says Catholic School Officials Covered up Years of Sex Abuse by O'fallon Coach
By Kaley Johnson
Belleville News-Democrat
August 29, 2018

https://www.bnd.com/news/local/article217447750.html

A coach at St. Clare Catholic School in O'Fallon sexually abused a girl for five years with the school and diocese's knowledge, according to a lawsuit filed Aug. 20 in St. Clair County Circuit Court.

In the lawsuit, the girl is referred to as Jane Doe, who says St. Clare coach Michael Giordano sexually abused her from 2009 through 2014.

Giordano could not be reached for comment.

Three former school principals and current athletic director Thomas Fischer are also named in the suit and accused of failing to report the abuse when it was made known to them. The lawsuit argues these four employees, who worked for the Diocese of Belleville and St. Clare, intentionally concealed Jane Doe's abuse in order to preserve the reputations of both institutions.

Those two institutions were also named as defendants in the suit.

The pastor of St. Nicholas Church, the Rev. William Hitpas, is also accused in the lawsuit of suggesting Jane Doe should be punished for the assaults when her parents discussed it with him. He is not named as a defendant in the suit.

Hitpas could not be reached for comment.

Cathie Schroeder represents all the defendants in the case except Giordano. She issued the following statement on the behalf of the school and the Diocese:

"The Catholic Diocese of Belleville has a policy of not commenting on pending litigation, and therefore cannot address the unproven allegations of Jane Doe's complaint. We can say, however, that after careful investigation, we are firmly convinced that The Catholic Diocese of Belleville, St. Clare Grade School, and its teachers and principals acted properly and always with Ms. Doe's best interests in mind. We look forward to defending our clients in court."

Jane Doe's lawyer, Ellyn J. Bullock, said what strikes her about Jane Doe's case is the secrecy from those in authority. She said the church and the school were complicit in Jane Doe's abuse.

"I don't understand it," she told the BND. "Why don't you want to find out there is a pedophile in your midst? Why don't you get rid of the pedophile?"

Isolated in the locker room

Beginning in eighth grade, the suit states Jane Doe was harassed by Giordano, her basketball coach at St. Clare Catholic School.

According to the suit, during the 2009-10 school year, Giordano, who was 58 years old at the time, would isolate the girl in the locker room and hug her. He also started sending her sexually suggestive texts and explicit photos of himself.

In eighth grade, Thomas Fischer, the athletic director at St. Clare, and Ken Pajares, the principal at the time, met with Jane Doe's parents to discuss Giordano's alleged sexual abuse, the suit states.

"Upon information and belief, during Jane Doe's eighth-grade year, Fischer and Jane Doe's father agreed to punish Jane Doe for Giordano's sexual grooming and/or sexual harassment and/or sexual abuse," the suit states.

Bullock clarified to the BND that Jane Doe was punished for reporting the alleged abuse.

Pajares said he did not want to comment on the lawsuit. Fischer did not respond to requests for comment.

Giordano was not fired from his position in connection to the reports of abuse.

The next year, Jane Doe attended O'Fallon Township High School as a freshman from 2010 to 2011. Throughout her freshman year, Giordano continued to harass and abuse her, the suit stated.

During the year at one point, Jane Doe called Fischer from the bathroom of her house and told him about the abuse. The suit said he responded by telling her "she didn't know what she was talking about."

In the fall of 2012, Jane Doe worked at St. Clare athletic events. Giordano was a referee at the time and openly sexually harassed her on St. Clare's premises, according to the suit.

Asking for help

On Nov. 5, 2012, Jane Doe said she went to O'Fallon high school's counselor, Mara Koerkenmeier, and broke down crying as she told her about Giordano's abuse.

The counselor responded by calling Fischer to tell him what Jane Doe said, according to the lawsuit.

Koerkenmeier did not immediately respond to a request for comment.

The suit stated Jane Doe's parents continued to meet with Fischer about the harassment and Jane Doe's father continued to punish her.

"This is the pattern I've seen over and over again," Bullock told the BND. "We will just conceal the matter and it will be all fine, we'll tell him to stop and it will all be fine."

In 2011, the suit states Giordano became a coach in the O'Fallon Park District when Jane Doe was a sophomore.

Mary Neville and Milissa Faust were also named as defendants on the lawsuit, which states they both held the position of principal during "relevant times" at St. Clare. The lawsuit states both women recommended Giordano for a position as a coach or referee at the O'Fallon Parks District when Jane Doe was a sophomore.

Neville died earlier this year. Faust, who is no longer principal, could not be reached for comment.

In her sophomore year, Jane Doe says Giordano raped her.

According to the suit, in response to a March 2012 school assignment asking "What is the most difficult decision you have had to make?" Jane Doe wrote:

"I'm in the process of making it right now. It's a problem that's been going on for two years. One of my coaches wants to have sex so I've been trying to figure that out because I don't want him to go to jail. But whenever I see him, he takes things too far."

The summer after Jane Doe's sophomore year, a friend reported the abuse to DCFS.

After the DCFS report, the suit states Giordano "continued to sexually harass and/or sexually groom and/or sexually abuse Jane Doe."

Jane Doe's parents then filed for an order of protection against Giordano with Belleville police. According to the order of protection reports, Doe's parents filed the no contact order because Giordano was "asking inappropriate questions of sexual positions and of sexual nature."

The reports do not mention abuse or assault.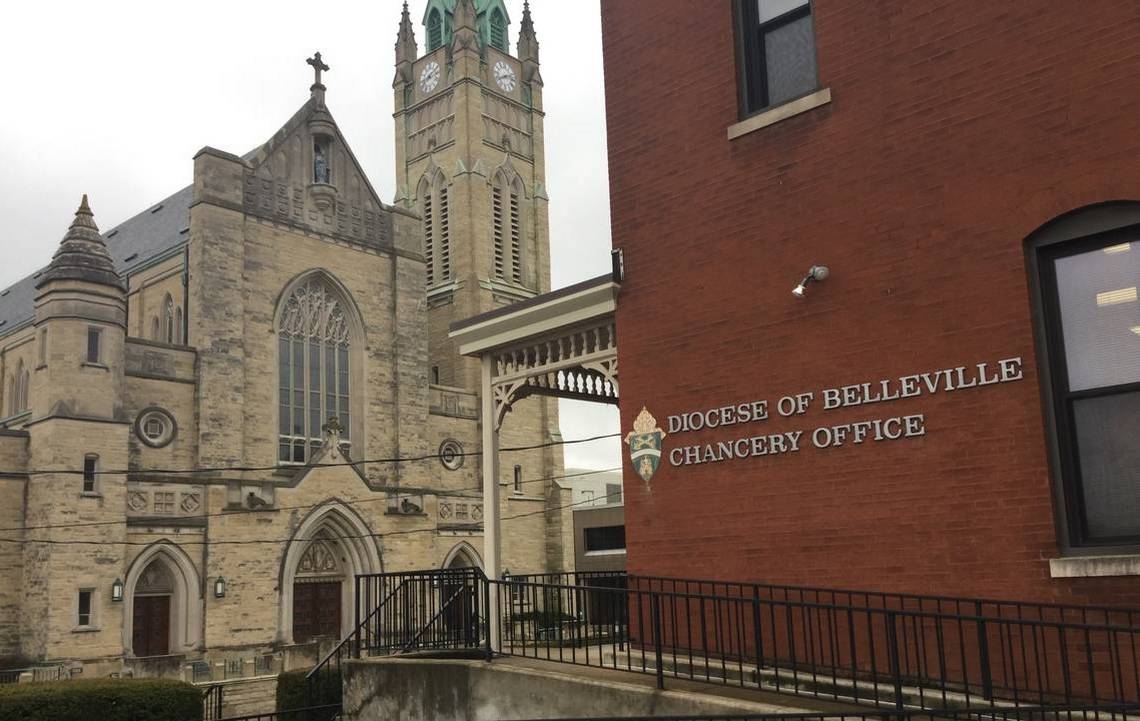 The Roman Catholic Diocese of Belleville is named in a lawsuit in which a woman alleges that officials at St. Clare Catholic School in O'Fallon covered up sexual abuse by a coach.



Her father talked to the Rev. William Hitpas, the pastor of St. Nicholas Church in O'Fallon. The suit stated the priest suggested Jane Doe be punished for the abuse.

According to the lawsuit, Giordano violated the order of protection during Jane Doe's senior year.

Giordano was not fired during this time period. The lawsuit states officials failed to make mandated reports of Jane Doe's allegations of abuse.

Fischer, Faust and Neville also failed to protect other female students from Giordano's sexual abuse, according to the suit.

"All of these (people) are serial," Jane Doe's lawyer, Bullock, told the BND. "There's no reason to ever believe that these guys will be safe in a different position if you pass them to the next school or if you just shake your finger at them and tell them to stop."

'I will testify against you'

On March 19, Jane Doe received a threatening message from her father, according to the lawsuit.

"I just found out you're suing Tom [Fischer] and the Diocese and the school district, ah, ah I don't know what the hell you're thinking. . . Here is what I going to tell you if you don't call me back I am coming to get the car this weekend and you better have it there or I'm calling the cops on you."

The same day, according to the suit, she received another message:

"I just talked to Tom [Fischer] again so here's the deal. Apparently, the lawsuit isn't filed as of yet because your blood sucking attorney is trying to extract money from the Diocese. . . If I need to I will testify against you and your mom is trying to make that decision too because we know all the stuff we tried to do this forever and for you to sue my friend who tried to help you is a bunch of (expletive). ..."

According to the suit, Jane Doe has suffered from depression, eating disorders, academic harm and severe emotional distress due to the years of abuse.

Bullock said the kind of abuse Jane Doe suffered can have severe, long-lasting impacts.

"It's a violation of self and it's at a time when the child needs to be protected. And if you add this kind of crazy, weird, perverted authority of the church, the school and the parents, it's kind of a hat trick. You have somebody with no protection and no voice. And against them are all the types of authority."

Jane Doe's lawsuit accuses Fischer, Pajares, Neville and Faust of negligence. It also alleges the Diocese of Belleville and St. Clare Catholic School concealed and were indifferent to Giordano's abuse.

Fischer continues to work at St. Clare.

"It's secretized and the victim is punished," Bullock said of sexual abuse. "It's the Catholic school that had the power to report their employee. These things are horrible cases and they're horrible cases because children are not believed. It's antithetical to the safety of Illinois children."