US Priest Abuse Victims Demand Transparency from Vatican
AFP
August 30, 2018

https://www.yahoo.com/news/us-priest-abuse-victims-demand-transparency-vatican-205432210.html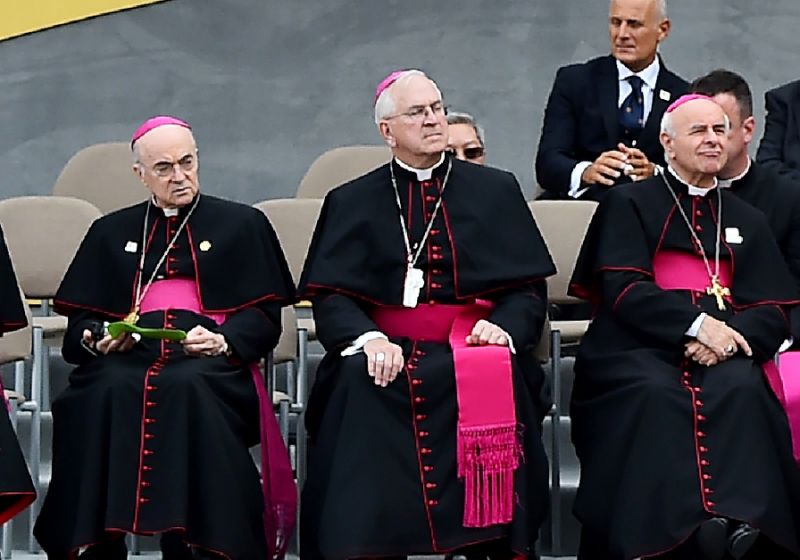 Archbishop Carlo Maria Vigano (L), a former Vatican envoy to the United States, says he told Pope Francis of sex abuse allegations against prominent US cardinal Theodore McCarrick in 2013 (AFP Photo/VINCENZO PINTO)



US groups representing survivors of sexual abuse by Catholic priests called Thursday on the Vatican to publish a list of clerics accused of sexual assault.

The calls came after Archbishop Carlo Maria Vigano, a former Vatican envoy to Washington, dropped an 11-page bombshell letter on Saturday accusing Pope Francis of ignoring sexual abuse allegations against prominent US cardinal Theodore McCarrick.

The 88-year-old former archbishop of Washington -- one of the most senior Catholic leaders to face abuse allegations -- resigned as cardinal in late July even as he denied the charges.

The Vatican dossier on McCarrick contains "underlying facts concerning Pope Francis and two other popes, Benedict and John Paul" that shows they covered up clerical sexual abuse, said Peter Isley with the group Ending Clergy Abuse (ECA).

The information "is in the pope's file, let's see it," he said at a press conference outside the Vatican's embassy in Washington.

Vigano's accusation brought to light a bitter split in the church between liberals who defend the pope and some ultra-conservative Catholics who see Francis as a dangerous progressive more interested in social issues than traditional Church matters.

According to Isley, "Liberal popes covered up child sex abuse just like conservative bishops covered (them) up."

In his letter, Vigano also linked homosexuality within the church to sexual abuse of children -- something Isley rejected as "utterly false, completely unacceptable and immoral."

For Isley, "there is a criminal network within the Catholic Church" that is "being covered up by bishops of all sides."

"That network has to be exposed and prosecuted," he said, claiming that the McCarrick dossier "will clear that up."

Becky Ianni, a DC area leader of the Survivors Network of those Abused by Priests (SNAP), said that the real issue "is the church's systematic cover up of sexual abuse of children and vulnerable adults, abuses that come from both conservative and liberal camps."

"The cover up are part and parcel of the way the Catholic Church does its business," she added.

The US Catholic Church has been in upheaval over recent revelations of a massive pedophilia scandal in Pennsylvania involving more than 300 priests said to have abused more than 1,000 children.

Vigano's weekend letter "seems to be very opportunistic," said SNAP's lead counsel Pamela Spees.

She called for a federal investigation "in all church entities to find evidence of sex crime against children," and of the cover ups, which include sending priests abroad, all of which "would make the crimes prosecutable."