N.J. Must Investigate Clergy Sex Abuse like Pennsylvania Did, Leading Lawmaker Says
By Susan K. Livio
NJ Advance Media for NJ.com
August 31, 2018

https://www.nj.com/politics/index.ssf/2018/08/time_for_nj_to_investigate_sex_abuse_by_clergy_lik.html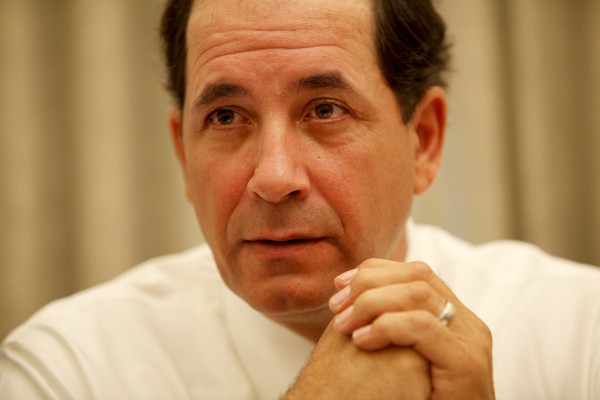 Sen. Joseph F. Vitale, D-Middlesex, called on state Attorney General Gurbir Grewal to open a grand jury investigation into sexual abuse by clergy members. (Andre Malok | NJ Advance Media for NJ.com)



Incensed by the flood of new revelations about sexual abuse inside the Catholic Church, a veteran state lawmakers Thursday called on state Attorney General Gurbir Grewal to impanel a grand jury to investigate the decades of crimes and cover-ups in New Jersey.

State Sen. Joseph Vitale, D-Middlesex, said he wanted New Jersey to embark on a similar investigation that led a Pennsylvania grand jury to reveal the names of 300 priests credibly accused of sexual abuse over a 70-year period, according to the 1,356-page grand jury's report released on Aug 14.

The lawmaker said he would also renew his effort to eliminate New Jersey's two-year statute of limitations in sex abuse cases.

Vitale said he felt compelled to act in the wake of the resignation of former Cardinal Theodore McCarrick amid allegations he sexually abused young boys, seminarians and priests, and the $180,000 in settlements paid to two priests.

McCarrick was bishop for the Diocese of Metuchen from 1981 to 1986, leaving to become archbishop for the Newark diocese, where he served until 2000. Pope John Paul II chose him to be Washington's archbishop, elevating him to cardinal in 2001.

"Given the wide scope of abuse found in Pennsylvania and the Vatican's action against McCarrick, we must investigate now. Victims should not have to wait any longer for accountability and for justice," Vitale said.

Vitale said he had requested a meeting with Cardinal Joseph Tobin of the Archdiocese of Newark, who ordered a reexamination of sexual abuse cases involving clergy, officials said.

Vitale also called on Grewal to create a hotline for victims to encourage them to come forward.

In a statement from his office late Thursday, Grewal agreed to establish a hotline.

"We are working to establish a dedicated hotline as quickly as possible similar to the one that currently exists for victims of human trafficking," according to a statement from Sharon Lauchaire, Grewal's spokeswoman.

Lauchaire said it was too soon to say how his office will respond to Vitale's broader request for a grand jury investigation.

"We are reviewing the Pennsylvania grand jury report and the work undertaken by the Pennsylvania Attorney General's Office to determine what, if any, additional actions are appropriate in New Jersey," she said. "As a general matter, we do not confirm or deny any ongoing criminal investigations."

Patrick Brannigan, executive director for the New Jersey Catholic Conference, said the church "looks forward to continuing dialogue with Senator Vitale in his efforts - and our own efforts - to ensure the safety of our children and to help victims of abuse to heal."

"However, New Jersey is not Pennsylvania," Brannigan said. "Since 2002, the Catholic Church in New Jersey has complied with a Memorandum of Understanding with the Attorney General and all 21 County Prosecutors under which every complaint is forwarded to the appropriate law enforcement agency."

In addition, the dioceses have provided "safe environment" training for 2.3 million employees, clergy, volunteers and church members, and performed 380,000 criminal background checks on diocesan and parish employees who come into contact with minors, Brannigan's statement said.

"We regret that in decades past, some in the Church failed in their responsibility to protect children," the statement said. "However, today, no institution, public or private, has done more to prevent abuse than the Catholic Church in New Jersey."

New Jersey's five Catholic dioceses have paid out at least $50 million to sexual abuse victims, according to a spokesman for the Archdiocese of Newark, NJ Advance Media reported last week.

Vitale vowed to pursue two pieces of legislation to force more transparency and accountability.

One bill would make the results of the grand jury public, including the names of any clergy members "credibly accused."

"This change will allow for greater accountability, transparency and justice," Vitale's statement said.

He also said he would renew his efforts to pass legislation that would abolish the two-year statute of limitations on civil sexual abuse claims -- a bill first introduced in the state Legislature in 2002 but has been stymied by nervous lawmakers afraid to vote against the Catholic Church. Opponents to the bill said the lawsuits would drive churches and other nonprofits into insolvency.

"It is far past due for New Jersey to do something," Vitale's statement said. "The only way forward is legislation that holds institutions and individual perpetrators responsible while giving victims more time to bring a case and face their abusers."

Joe Capozzi, a 49-year-old sexual abuse survivor who received a $50,000 settlement from the Newark Archdiocese 12 years ago, said Vitale's announcement came as a relief.

"It's about time," said Capozzi, a writer and actor who released a short film about his experience in 2016. "If the Attorney General investigates, the findings "are going to be a carbon copy of what happened in Pennsylvania."

If church leaders are serious about wanting victims to heal, they would stop fighting the legislation that abolishes the statute of limitations on lawsuits, Capozzi said.

At age 36, he told the archdiocese that Monsignor Peter Cheplic had sexually abused him for years, beginning when he was a 16-year-old growing up in Ridgefield in Bergen County.

"There is no expiration on memories and trauma," he said. "There should be no expiration date on a crime of this impact."

More than 1,000 children were sexually abused by at least 300 priests in six Roman Catholic dioceses in Pennsylvania while top church officials tried to cover up the problem for decades, the Pennsylvania grand jury report said.

Four of them had served in New Jersey. One went to prison. Another died awaiting trial. One was placed on leave, but escaped prosecution because the statute of limitations had expired. Another was removed from ministry and retired.

Vitale said although the focus of his attention is on the Catholic church, "I know, and all of the advocates and victims out there know, abuse happens at the hands of many different types of perpetrators, and many different institutions who should be held culpable."

"I am remaining steadfast in my work to bring full justice to all victims of child sex abuse who are pursuing a civil case against their abusers," his statement said.

NJ Advance Media Staff Writers S.P. Sullivan, Kelly Heyboer and Ted Sherman contributed to this report.