Pennsylvania Grand Jury Finds Some Police and District Attorneys Helped Catholic Church Cover up Priest Abuse
By Tim Darragh
Morning Call
September 1, 2018

http://www.mcall.com/news/nationworld/pennsylvania/mc-nws-grand-jury-law-enforcement-priests-20180823-story.html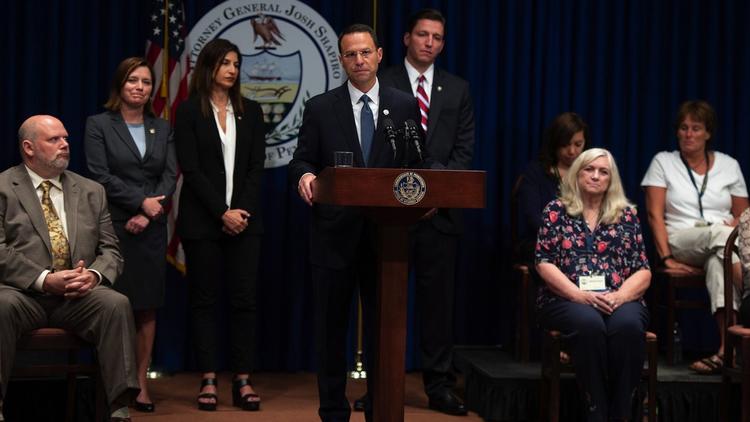 Pennsylvania Attorney General Josh Shapiro speaking at a press conference at the state Capitol following the release of 900-page statewide grand jury report on child sexual abuse by 301 priests. (RICK KINTZEL / THE MORNING CALL)



As he began a blistering presentation of a grand jury report into decades of child sex abuse by priests in Pennsylvania earlier this month, Attorney General Josh Shapiro singled out two groups — the Catholic Church hierarchy and law enforcement — for sometimes working in tandem to keep the accusations from the public.

"The abuse scarred every diocese," he said. "The cover-up was sophisticated. The church protected the institution at all costs."

But the findings, identifying 301 predator priests, also showed a "failure of law enforcement," Shapiro said.

The investigation found that while the church leadership was consistently involved in protecting offenders, it sometimes had assistance from police or district attorneys who looked the other way.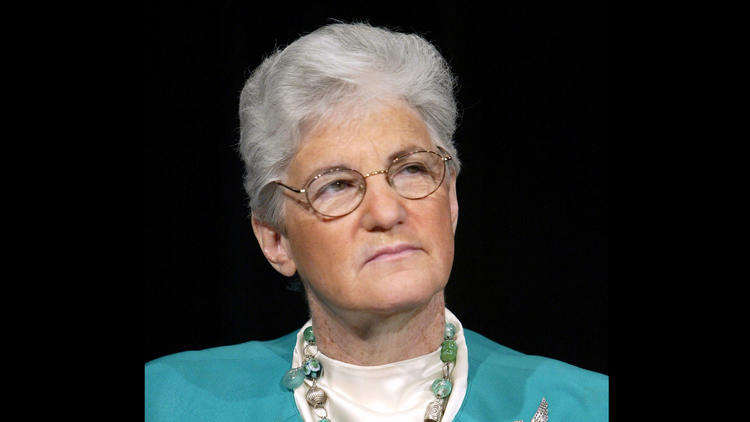 Former Philadelphia District Attorney Lynne Abraham said, "It was a different time. You didn't remonstrate with the guy who's giving you absolution." (JOSEPH KACZMAREK / AP)



The documented cases of lax enforcement occurred decades ago. But by allowing offending priests to walk freely, law enforcement cleared a path for more abuse to occur and left victims without justice. It's impossible to say how many children were molested by priests who avoided charges, but the grand jury report found that some accused priests aided by see-no-evil law enforcement were able to live freely for decades, and that the 1,000 victims the grand jury counted likely were the tip of the iceberg.

For former Philadelphia District Attorney Lynne Abraham, the problem often started at police departments, which were stocked with Catholic police officers. They knew the priests, but more importantly, she said, the priests knew them.

"It was a different time," she said. "You didn't remonstrate with the guy who's giving you absolution."

Northampton County District Attorney John Morganelli said he couldn't know what prosecutors and police were thinking in any individual case, but said the public and law enforcement likely "didn't want to believe" priests would sexually abuse children.

"These cases in that time period probably would have been very difficult prosecutions, word against word," he said.

Morganelli ran into a wall of disbelief in 1998 when he prosecuted Monsignor Stephen T. Forish for allegedly soliciting sex from a man early one morning in 1996. Forish was acquitted.

"I was criticized big-time for bringing that case," he said.

Eight years later, Forish was again charged with soliciting sex from strangers. He died awaiting trial in that case.

Shapiro, through a spokesman, declined to discuss law enforcement's role in allowing abusive priests to get away without charges.

One of the most egregious missed opportunities by law enforcement involved the Rev. Thomas Bender, who was serving at St. Francis Orphanage in Orwigsburg in 1972. That year, the grand jury report said, a state trooper found Bender with a high school-age boy, both with no pants on, in a car. The case was reported by another trooper, who also was a deacon in the church, the grand jury report said.

A report by Monsignor Anthony Muntone to Bishop Thomas J. Welsh, then head of the Allentown Diocese, stated that the first trooper "gave Bender 'a lecture and sent him on his way.' "

The diocese received another complaint about Bender in 1984, the report said. Bender repeatedly raped that victim for years, leading to civil and criminal complaints, it said. The victim had to be hospitalized for a drug overdose and psychiatric problems, which the diocese paid for, it said. Later, two more people accused Bender of sexual abuse in the 1960s.

Bender, now 84, would be convicted twice of crimes against children, in 1988 and 2006. He was sentenced to 10 years in federal prison and lifetime probation on the second set of charges. He was released in 2014 and lives in Lower Macungie Township.

He declined to speak to a Morning Call reporter about the report.

"No proper answer"

The grand jury heard from at least one official who chose not to stop an abusive priest early in his ministry.

Robert Masters was Beaver County district attorney in 1964 when he was presented with accusations that the Rev. Ernest Paone had molested young boys and illegally used guns with "even younger parishioners," as early as 1962, the report said.

Masters took it on himself to block Paone's arrest.

"I have, in order to prevent unfavorable publicity, halted all investigations into similar incidents with other young boys," Masters wrote in an Aug. 4, 1964, letter to Pittsburgh Diocese Bishop Vincent Leonard.

Even as more complaints about Paone came to diocesan offices, Paone was allowed to transfer to dioceses in Nevada and California, the grand jury said. He finally was retired in 2003, 41 years after the diocese first heard accusations about him, it said. The grand jury found other accusations against Paone in the 1960s, but the diocese never notified church officials in Nevada and California about those.

Masters was asked by the grand jury why he deferred to the bishop's request to keep Paone's misconduct under wraps.

"Probably, respect for the bishop," he told the grand jurors. "I really have no proper answer."

Masters also admitted that he wanted the bishop's support for his political career.

Now 87, Masters was hired as solicitor for Beaver County's Children and Youth Services department in 1989. The county commissioners fired him Aug. 15 after learning of his record in the grand jury report.

"It's not acceptable for a district attorney or anyone in law enforcement to be overly deferential to any institution or any group," said Richard Long, executive director of the Pennsylvania District Attorneys Association.

The Allentown Diocese received three complaints about the Rev. David Soderlund in 1980 when he was serving St. Joseph's in Summit Hill, the grand jury said. Upon hearing one complaint, church officials investigated and found child pornography, including an image of Soderlund masturbating a 12-year-old boy.

Yet then-Carbon County District Attorney Richard Webb, who died in 2016, agreed to forgo prosecution if Soderlund received "treatment" and thereafter was assigned to posts outside of Carbon County, the report says.

Citing a diocesan file, the grand jury wrote that the county prosecutor "had assured him if the parents would not make an issue of the matter, he would not prosecute. The prosecutor made it clear that he understood Father Soderlund would no longer be stationed in Carbon County."

Soderlund spent two months on sick leave, it said, and then was sent to Our Lady of Hungary in Northampton, which has an elementary school. Soon, he began to "act out sexually with a young boy," the report said. Another allegation was lodged against him in 1987.

After being removed from ministry in 1989 and the priesthood in 2005, Soderlund moved to Wyoming, the grand jury reported. He was arrested for possession of child pornography in 2009 and sentenced to two to five years in prison. He is a registered sex offender in Wyoming.

In the case of the Rev. Anthony Cipolla in the Pittsburgh Diocese, charges of abusing boys led to a showdown in 1978 with an unnamed lawyer with the district attorney's office, a diocesan attorney, and a woman and her two children who said they were molested. The prosecutor took a back seat as the diocesan lawyer intimidated the mother and her boys, saying he would "tear into" their story in court, the report said.

"They're pushing the district attorney around or this guy is ignoring the district attorney," the woman told the grand jury in 2016. "And the district attorney is not sticking up for us. He isn't telling them, you know, 'Hey, don't talk to them kids like that' or 'Don't talk to that woman like that.' He just let him say whatever he wanted to do and he did. And he intimidated us really bad."

The woman dropped the charges against Cipolla.

He would be accused of abusing a third child, the report said, and again, the Beaver County district attorney's office was alerted. The grand jury report doesn't say what happened. Current Beaver County District Attorney David J. Lozier said he believes the complaint came when the case was beyond the statute of limitations.

Changes after Boston probe

Examples of law enforcement working with the church to block alleged abusers from legal consequences have shown up in investigations around the country and in other countries as well, said Terry McKiernan, a director of Bishop-Accountability.org, which maintains a database of accused clergy.

He cited notes from a 1967 phone call uncovered during the 2002 investigation into the Diocese of Manchester, N.H. During the call, a Catholic police chief leaving his job urged the church to remove a problem priest, Donald Osgood, who hadn't been charged. The chief feared "the whole thing might blow sky high" if a nonCatholic chief succeeded him, the notes say.

Osgood was moved and left the priesthood, Bishop-Accountability.org files say. He was named in at least four civil lawsuits that later were settled.

"The bishops spend a lot of time schmoozing with the people in power who can help them or hurt them," McKiernan said.

Reports like these, he said. "give a feel for the hand-washes-hand kind of thing that really was going on."

After The Boston Globe's explosive stories of priest sexual abuse and cover-up appeared in 2002, bishops in the United States saw they could no longer ask law enforcement to look away when confronted with criminal allegations. They adopted zero-tolerance policies and trained staff as laws expanded their roles in protecting children, mandating that they report suspected abuse to police. Additionally, police departments have gotten more diverse, and investigations in dioceses around the globe have raised public awareness about a once-unspeakable crime, Abraham said.

While the recent grand jury looked at abuse in the Allentown, Erie, Greensburg, Harrisburg, Pittsburgh and Scranton dioceses, the complacency of law enforcement also was documented by previous grand juries investigating the state's other two Catholic dioceses.

The 2016 grand jury report on the Altoona-Johnstown Diocese noted several instances in which law enforcement took the side of the church over priests' victims.

In the case of one serial predator, Monsignor Francis McCaa, grand jurors learned of a 1985 meeting between then-Bishop James Hogan and the county district attorney's office where Hogan agreed to send McCaa for treatment followed by a reassignment. McCaa, who died in 2007, was reassigned to serve as a hospital chaplain in Martinsville, W.Va. As the grand jury looked further into McCaa's case, it learned that Cambria County Judge James T. Kiniry, then an assistant prosecutor in the district attorney's office, carried out the deal with Hogan.

Asked by the grand jury in 2016 if the meeting with Hogan was unusual, Kiniry said the church was given more authority over its members back then.

"You have to understand," Kiniry said, "this is an extremely Catholic county. … Back then, the diocese moved the problem. That's just how it was."

Similarly, reports of prosecutors and police allowing the church to use its internal processes to deal with alleged offenders showed up at least a half dozen times in the 2005 grand jury report of the Philadelphia Archdiocese. In one example, a priest arrested in a police sting was allowed to walk freely and have his record expunged as long as he was not arrested again for a year.

In another, then-Cardinal John Krol's office managed to keep a police detective from reporting his own 14-year-old son's abuse by the Rev. Francis X. Trauger in 1982.

"Convinced of our sincere resolve to take the necessary action regarding Fr. T., [the victim's father] does not plan to press any charges, police or otherwise," an aide told the cardinal in a note cited by the 2005 grand jury.

When the cardinal's office contacted Trauger about the complaint, he was on a camping trip in South Dakota — with two boys from his parish school. Trauger would be accused again in 1991 and defrocked in 2005, according to Bishop-Accountability.org.

The multiple investigations identifying hundreds of predator priests and the hierarchy's attempts at covering up the scandal ultimately has torn away the cover that the church needed to get hands-off treatment by law enforcement, Morganelli said.

"The asset these guys had was their word was golden," he said. "They don't have that anymore."

Contact: tdarragh@mcall.com