Ex-priest Accused of Sexual Abuse at Fountain Hill Parish in 1980s
By Josh Popichak
Saucon Source
September 1, 2018

https://sauconsource.com/2018/09/01/ex-priest-accused-sexual-abuse-fountain-hill-parish-1980s/

A Catholic priest who was defrocked three years ago allegedly sexually abused a 14-year-old girl while he was employed at a Fountain Hill parish in the 1980s, according to victim testimony contained in the 1356-page grand jury report about Pennsylvania's "predator priests" issued by Attorney General Josh Shapiro last month.

James Gaffney, who today is in his early 60s, was ordained a priest on June 8, 1985, and around the same time began working as Assistant Pastor at St. Ursula's, which is in the Diocese of Allentown.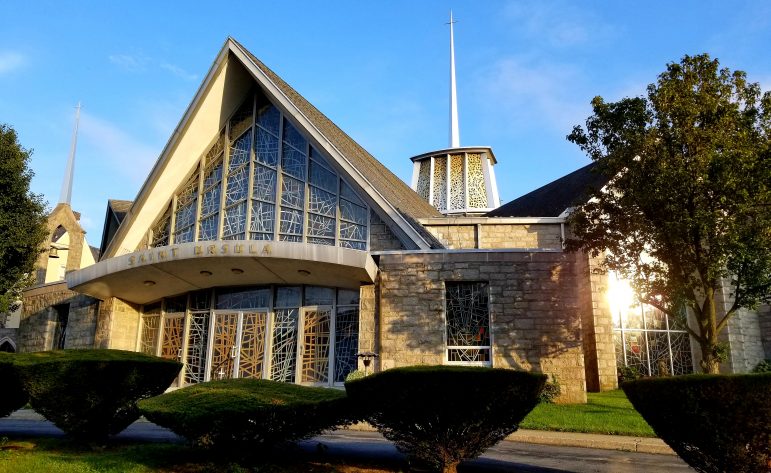 St. Ursula's Roman Catholic Church is located at 1300 Broadway in Fountain Hill borough, Lehigh County. The parish will celebrate the 100th anniversary of its founding in 2019.



According to the report, Gaffney was a priest at St. Ursula's from May 1985 to June 1987, and during this time allegedly befriended and had sexual contact with a girl who was working in the church rectory answering phones.

The report describes her as a "known victim" of Gaffney's, and says that in 1999 she reported the abuse to Monsignor John B. McCann.

"Other than a one-paragraph memorandum reporting the abuse, no more information was provided to the Diocese until the mother of the victim renewed the allegation of abuse on April 24, 2002," the report states. "The victim met with Chancery personnel and informed them that, when she was fourteen years old and in eighth grade, Gaffney befriended her."

"Gaffney had her undress and 'measured her body parts,'" the report states.

It notes that Gaffney "had sexual contact with her throughout the time Gaffney was at the parish."

In 2002, Monsignor McCann and another monsignor "confronted" Gaffney with the victim's testimony, at which time he reportedly denied the allegations.

"(Monsignor) McCann and (Monsignor) Schlert told Gaffney to carefully think about the allegations and to consider taking a leave of absence if there was any truth to them," the report states. "As he was on his way home after the meeting, Gaffney called to tell McCann and Schlert that he was taking a leave of absence."

After that, Gaffney would never work as a priest again, according to the detailed timeline of his priesthood contained within the grand jury report.

The timeline describes him as "abandoning" the ministry in April 2002, when he agreed to take the leave of absence. But Gaffney wasn't dismissed from the priesthood until June 26, 2015, after other allegations of abuse against him came to light.

One of those allegations stems from Gaffney's period of employment at St. Catharine of Siena in Mount Penn, Berks County.

"The…victim worked in the rectory answering phones in the evening. She had a very poor home life and Gaffney counseled her," the report states. "(The victim) reported that Gaffney would hug her and inappropriately touch and kiss her, which led to sexual arousal."

According to the report, "throughout the 1980s and 1990s, Gaffney was reported to have been involved in inappropriate and even sexual relations with adult women, one of which had a learning disability and whom he was counseling. Gaffney was placed on sick leave on two different occasions."

After Gaffney abandoned the ministry in 2002 he continued to receive health benefits and other insurance from the Diocese for nine years, the report states.

During this time he became a professor at Albright College in Reading, but "the Diocese never warned the college of Gaffney's history of sexually abusing children," the report states.

In 2016 and 2017 Gaffney was subpoenaed to testify before the grand jury about an alleged incident involving another priest in which he was a witness.

"While interning at St. Joseph's in Summit Hill (Carbon County) in 1980, (Gaffney) located child pornography within the parish," the report states.

A specific image "depicted Father David Soderlund masturbating a 12-year-old boy," the grand jury report states.

After Gaffney reported his finding to the Diocese, "albums of photographs depicting Soderlund sexually abusing children" where discovered and "a meeting was held with the District Attorney of Carbon County, who promised not to prosecute Soderlund if he was transferred and received treatment," the report states. "After a brief removal from ministry on health leave, Soderlund was returned to ministry. The volumes of evidence of sexually abused children that were manufactured by Soderlund as he committed the crimes, after being found by Gaffney and Muntone, were never seen again."

Shapiro and other authorities involved in the massive investigation into the sexual abuse of children by Pennsylvania priests over many decades have stated that they believe there are many victims who have yet to come forward to report the abuse they suffered.

As a result, the Pennsylvania Attorney General's Office has established a clergy abuse hotline at 888-538-8541.