Marist Brother Who Sexually Assaulted Five Boys Sentenced to Nine Months" Jail
Australian Associated Press via The Guardian
September 3, 2018

https://www.theguardian.com/australia-news/2018/sep/03/marist-brother-who-sexually-assaulted-five-boys-sentenced-to-nine-months-jail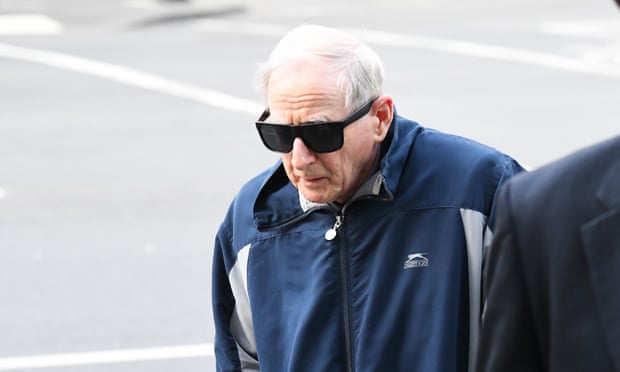 Former school principal and Marist brother Gerard McNamara sentenced to nine month's jail. Photograph: James Ross/AAP



An elderly Marist brother and former school principal, who sexually assaulted five boys in regional Victoria while giving them "sports massages", will serve nine months in jail.

But a spokesman for child sex abuse victims has slammed the sentence handed down at Victoria county court in Melbourne on Monday as too lenient, calling it tokenistic and "appalling".

Gerard McNamara, 80, molested the aspiring athletes at St Paul's Catholic College in Traralgon between 1970 and 1975, including one boy he abused some 30 times.

As sports master and principal of the school, McNamara usually assaulted his victims on a massage bench in a sports shed after they had suffered injuries during athletics.

Judge Duncan Allen condemned McNamara's "abhorrent" actions as he jailed him for three years on Monday but suspended most of the term given his age, ill health and the unlikelihood of him reoffending.

Judge Allen said McNamara was in a position of "trust and dominance" when he sexually assaulted the children, whose complaints generally weren't believed.

"You were a highly respected member of a religious order within a culture that placed you on a pedestal," the judge said to McNamara.

"When victims complained to their parents, they weren't believed; such was the respect in which you were held by virtue of your position."

Judge Allen condemned the "awful culture" that existed at Marist schools of the era.

"Thank goodness it has finally changed, but not before so many people have suffered so much," he said.

Outside court, one of the victims said schoolboys at the time knew McNamara was abusing children in the sports shed.

"It was well known in the school if you got taken into that room what would happen to you," the man told reporters.

But he said McNamara got away with it "partly because the church protected him" and because of the way the then-principal lied.

The victim said his relationship with his mother was irrevocably torn apart as a result of the sexual abuse.

Child sexual abuse survivor "Michael", who organises and coordinates group actions on behalf of other victims, criticised the sentence.

"The outcome today I think is just appalling," he said outside court. "This is the fourth time this sick monster has been criminally charged and the sum total ... is nine months' jail time. That is just ridiculous."

McNamara admitted seven counts of indecent assault, some of them representative charges that reflected multiple incidents.

He was previously sentenced in 2005 and 2016 for sexual assaults against other children from St Paul's from roughly the same time period and both times he received wholly suspended prison terms.

In January this year he was handed a partially suspended 12-month jail term for another indecent assault but he appealed against the conviction.

This sentence was confirmed on Monday and will be served concurrently with the partially suspended three-year term for abusing the other boys.