How Ireland Should Deal with the Issue of Historic Abuse Cases
By Sarah-Anne Buckley
NUI Galway/RTE
September 3, 2018

https://www.rte.ie/eile/brainstorm/2018/0903/991253-how-ireland-should-deal-with-the-issue-of-historic-abuse-cases/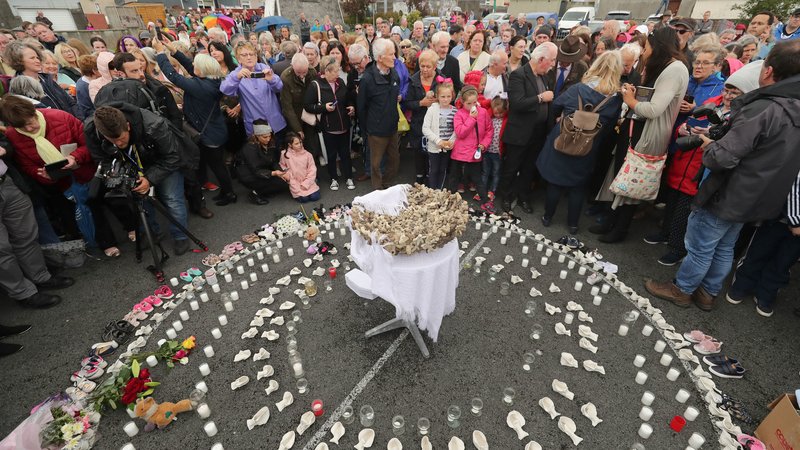 People gather to protest at the site of the former Tuam home for unmarried mothers at the same time as Pope Francis held a mass in Dublin. Photo: Niall Carson PA Images/Getty Images



Opinion: Irelandís approach to the issue of historic abuse cases is a national conversation not to be taken lightly

Last month, Pope Francis visited Ireland for the first papal visit here since 1979, with the contrast in attendance between then and now highlighted by many commentators. Events and official meetings held in Dublin and Knock were well-covered by Irish and international media, as were the effects of the Pennsylvania report, and protests organised by Irish groups advocating for survivors of abuse in predominantly Catholic institutions and dioceses. Protests like #Stand4Truth and the 1,000 people who attended a vigil in Tuam highlighted the anger at the Vaticanís lack of accountability about the systematic abuse of young children and women.

Three aspects of the debate which have received less attention are the scale of the abuse revelations globally, the response of governments in different countries and the decades of work by survivors and activists to force the attention of media and politicians.

Survivors and activists

Personal stories are a large part of the current debate, yet this was not always the case. It was not the case in 1935 when John Byrne died in Artane Industrial School. Despite his parentsí best efforts to draw attention to their sonís bruised body and witnesses to a Christian Brother beating him in the yard, the coronerís court verdict found that his death was due to "natural causes, but the origins may have been unnatural".

It was not the case in 1967 when Peter Tyrrell set himself on fire in Hampstead Heath after years of trying to tell his story of abuse in Letterfrack Industrial School. Or when Nurse June Gouldingís personal account of Bessborough mother and baby home in the early 1950s was published in 1998 to legal threats by the Sisters of the Sacred Hearts of Jesus and Mary.

Different states choose different models and none cover the breadth of these institutional failings in one commission or report

While there are too many to list, journalists like Mary Raftery, Bruce Arnold and Conall O Fatharta; academics like Eoin OíSullivan, James Smith and Diarmuid Whelan and activists such as Christine Buckley and Marie Collins have worked tirelessly for decades. Since 2014, Catherine Corless has pushed Tuam to the fore, highlighting the extremely high infant mortality rate and the burial of infants, while also keeping survivors at the centre of the debate. Previous work by Ciara Breathnach and Eunan O Halpin has similarly addressed this issue of unnamed dead infants in the coronerís courts, while Lindsey Earner-Byrne has examined the contexts in which the homes emerged.

From the RTE Radio One's Today With Sean O'Rourke Show, David Waddell, Chairperson of Mary Raftery Journalism Fund and researcher Sheila Ahern discuss Mary Raftery's States of Fear documentaries

Tuam was a publicly funded childrenís home (and mother and baby home). The women who entered were recorded on the death certificates of their children in the 1920s as primarily being "domestic servants". Many children stayed in the home until they were seven years (girl) and nine years (boys) of age before they were boarded out (fostered). To look at Tuam is to look at the many issues involved in investigating an institution in 20th century Ireland where class, geography, parentage and gender determined your lifecourse. Tuam is one of 10 such homes, connected to institutions like the Magdalene laundries, county homes (former workhouses), industrial schools and psychiatric hospitals (lunatic asylums), as well as fostering and adoption practices. To examine and understand one, we must examine and understand all.

International context and state responses

Dr Katie Wright and her colleagues have described the approach of states to historic abuse cases since the 1990s as "The Age of Enquiry". Mapping this global phenomenon, they have shown the sheer scale of the abuse. All of these enquiries have taken place in first world countries (Chileís recent report not being included yet in this database). Different states choose different models, and none cover the breadth of these institutional failings in one commission or report. Some use public hearings, some have named perpetrators, some have redress schemes Ė but in all, once the terms and conditions are published, the direction of the commission is fairly clear.

We need to listen to survivors, not only on the abuse they suffered but on the trauma they experience fighting churches and states

After the publication of the Ryan Report in 2009, Ireland was held up as a model for many. Yet as numerous commentators have pointed out, it presented huge issues. What is certain is that the Catholic Church has been implicated in abuse in many countries, with more to be explored, and reparations have not been fully made for this.

What next for the Catholic Church and the state?

Ireland needs to lead the way on this issue because 80 percent of this state attended mass regularly in 1979. Because our education and health systems are still rigidly attached to the Catholic Church. Because we kept our church-run institutions opened far longer than elsewhere. Because as the Council for Civil Liberties highlighted, illegal adoptions and practices by the Irish state have not been addressed fully.

From RTE One's Prime Time, a 2009 programme on the publication of the report by the Child Abuse Commission detailing shocking cruelty to children

We can learn from best practice elsewhere, where academics, journalists and activists have a platform, and where their evidence is presented and given fair hearing particularly in relation to current issues of abuse. We need to listen to survivors, not only on the abuse they suffered but on the trauma they experience fighting churches and states on a path towards accountability. We need, as one survivor Seamus Ruttledge has proposed, a National Survivor Centre.

Prosecutions must be considered and indemnity deals and the withholding of records must cease. Commemoration and memorialisation needs to occur and needs to supersede property interests. The longer history of institutionalisation needs to be addressed in our secondary schools, in a permanent national exhibition and in our current approach to the State and institutions like the Catholic Church. Irish society and the Irish State need to own this. We need to corral the emotion and humanity we have seen in recent years and reflect on the context in which these institutions survived, were supported and in some instances were seen by most people to be needed. That is a national conversation not to be taken lightly, but is one we must have.