AG Jeff Landry Says He Has No Authority to Investigate Catholic Church Sex Abuse
By Julia O'Donoghue
NOLA.com
September 6, 2018

https://www.nola.com/politics/index.ssf/2018/09/jeff_landry_clergy_sex_abuse.html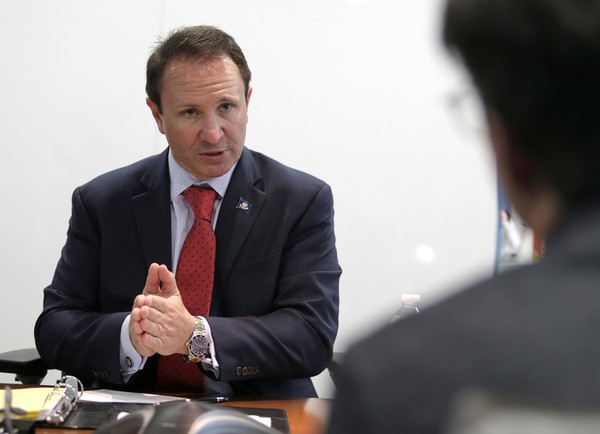 Louisiana Attorney General Jeff Landry speaks with the editorial board of The Times-Picayune February 1, 2017. (Photo by G. Andrew Boyd, NOLA.com | The Times-Picayune)



Louisiana Attorney General Jeff Landry's office says it doesn't have the authority to launch a broad, multi-parish investigation into Catholic Church sex abuse allegations, though a handful of attorneys general in other states are pursuing such inquiries.

Landry's office said Catholic clergy sex abuse allegations in Louisiana need to be initially handled by local district attorneys and law enforcement in keeping with state law. A local district attorney could choose to hand over individual alleged clergy sex abuse cases to Landry, but even that wouldn't allow a statewide investigation into multiple allegations from different communities unless all of the relevant cases were relinquished to the attorney general.

"We don't have authority to prosecute until a district attorney turns the authority over to us," Ruth Wisher, spokeswoman for Landry, said Thursday (Sept. 6). "The attorney general obviously has an interest in arresting child predators."

In a statement released Friday after this article was published, Landry said his office had not received any complaints regarding alleged sex abuse in the Catholic Church, which is also why he hadn't looked into the matter.

"As a practicing Catholic, I wholeheartedly support efforts to root out pedophile priests and end the horrific misconduct by Church authorities. Those who sexually abused children and those who covered up their despicable acts should be prosecuted to the fullest extent of the law," Landry wrote.

In that statement Friday, Landry pledged to work "with local District Attorneys" to address any allegations of sexual abuse in the Catholic Church that might come forward. Last week, his office said he would turn over complaints about sexual abuse in the Catholic Church that are brought to Landry's office to local authorities to handle.

"Again, if a victim of any crime wishes to file a complaint, they should contact their local law enforcement. Our office is not primarily a first responder agency and we would refer complaints of hands on offenses to local law enforcement if we received them," Wisher wrote on Aug. 30.

Landry has not said whether he would initiate a joint review of Catholic Church sex abuse allegations with district attorneys in Louisiana, as has been done in at least one other state.

A years-long investigation into Catholic Church abuse in Pennsylvania conducted by that state's attorney general, Josh Shapiro, has led top prosecutors in other states to consider their own inquiries. Attorneys general in New York and New Jersey are now pursuing similar investigations, according to news reports Thursday. Missouri Attorney General Josh Hawley has also publicly announced he will do the same.

Shapiro found that some 1,000 children were sexually abused by more than 300 priests over a period of 60 years in six of Pennsylvania's Catholic dioceses. A report he released last month included several graphic accounts of rape and other sexual molestation alleged to have occurred at the hands of priests. Several attorneys general in other states have reached out to him to ask how they can launch their own investigations, Shapiro said in an interview with The New York Times.

Landry isn't the only attorney general to say he doesn't have the power to launch a statewide probe into Catholic Church sex abuse though. Several told The Washington Post last month they also lack the authority. Like Landry, a few claimed their state constitutions only allow local authorities to pursue such charges initially.

"Different states have different laws and other state AGs may be able to do something ours cannot. It all depends on the law in each state," Wisher wrote in a statement Aug. 30.

Some people, particularly advocates for survivors of clergy sex abuse, are skeptical that Landry's hands are completely tied. Tim Lennon, a spokesman with the Survivors Network of those Abused by Priests (SNAP), said other attorneys general are finding ways around similar barriers. The New York attorney general is partnering with local district attorneys, for example, because she cannot convene a grand jury herself, he said.

Roger Stetter, an attorney representing alleged victims of clergy abuse in New Orleans in civil litigation, said he thinks Landry could pursue an investigation if he desired.

"He doesn't need the permission of the Legislature to pursue this," Stetter said. "He doesn't think he can because he doesn't want to do it."

Landry has had a sweeping view of his powers when it comes to other issues, pushing the envelope of his authority. He operated a special crime task force -- with agents who arrested people -- in New Orleans for about a year, though a federal judge said he did not have the power to do so.

Child sex predators have also been a high priority for Landry. He joined the Internet Crimes Against Children Task Force, which operates across state lines to track down child pornography distributors. He often touts the task force's arrests on social media.

Landry's office emphasized that the task force focuses on internet crimes, and that the attorney general refers allegations of hands-on crime to local authorities.

There are some barriers in Louisiana to bringing charges against priests accused of committing sex crimes years ago. In Louisiana, certain rape charges don't have a statute of limitations, meaning charges can be brought decades after the incident occurred. But the state law regarding rape that applies is the one that was on the books at the time of the alleged offense, not the current statute, according to local attorneys.

This can create difficulties in Louisiana with older cases. Lafayette-area District Attorney Keith Stutes told KATC he couldn't bring charges against a priest accused of child rape in the 1960s because the law at that time only applied to women -- and couldn't be used for a male victim.

Several other types of sexual crimes involving minors also have a statute of limitations. The charges must be brought, in most cases, within 30 years of when the victim turns 18, according to state law.

"It looks like if there were past offenses that ever came to light that it would be a nightmare to go through the prescription statutes(in effect at the time) to see what provisions applied as well as venue and jurisdiction issues," said Hillar Moore, the district attorney for East Baton Rouge parish.

This story was updated Friday, Sept. 7, to include parts of a statement by Attorney General Jeff Landry.