Catholic Leaders in Charlotte, Raleigh Allowed Priests to Continue Ministry Despite Abuse Reports
By Nick Ochsner
WBTV
September 6, 2018

http://www.wbtv.com/2018/09/06/catholic-leaders-charlotte-raleigh-allowed-priests-continue-ministry-despite-abuse-reports/

Catholic leaders in North Carolina allowed priests to continue serving in active ministry, despite reports that those priests had engaged in inappropriate behavior, documents show.

For months, WBTV has been gathering internal church documents, some dating back to the 1980s, related to two priests.

Both men were ultimately removed from their positions as pastors at churches in the Charlotte Diocese following reports of abuse. But, internal church documents show, the action in both cases came decades after church leaders first received reports of abusive behavior.

The revelations come amidst new national and international scrutiny into how the Catholic Church has handled priests accused of sexually abusing young people.

The United States Council of Catholic Bishops released six statements on the topic just in August of this year, including one statement referring to the church's handling of alleged abusers as a "moral catastrophe."

USCCB President Cardinal Daniel N. DiNardo issued a statement on August 1 that addressed, in part, the way in which church leaders should handle those who have reported abuse.

"First, I encourage my brother bishops as they stand ready in our local dioceses to respond with compassion and justice to anyone who has been sexually abused or harassed by anyone in the Church," DiNardo said. "We should do whatever we can to accompany them."

But one victim, who reported being abused to Catholic leaders in Raleigh and Charlotte, said that is not the response he has received in the 25 years since he reported being abused by a priest.

'What in the hell just happened to me?'

John Mohr was 30 years old when he went to confession one night in 1993 at Basilica Shrine of Saint Mary in Wilmington, NC when he says he was sexually abused by a priest.

"I had gone to a priest that I hadn't recognized before for confession," Mohr recalled in an interview with WBTV.

He said the priest wanted to spend a long time talking about things other than confession. After a while, Mohr recalled, the priest made the move Morh said changed his life forever.

"He, um, reached his hand between my legs and just rubbed me and… I was just in shock."

Eventually, Mohr said, he got the priest to hear his confession and grant his penance and he was able to leave.

"I got up and thought 'what in the hell just happened to me?" Mohr said.

That's a question Mohr has spent the past 25 years trying to get answered.

The priest who Mohr said groped him was Father Al Gondek, who, at the time, was pastor of a church in nearby Whiteville, NC.

In the days immediately following the incident, Mohr said he did all he could to report what happened to church leaders in the Raleigh Diocese.

"It just went on and on for a long time, going to see different people and talking to different people," Mohr said of the reporting process.

Mohr said Gondek denied the allegations. The Raleigh Diocese provided Mohr six months of counseling but, beyond that, took no other action.

"Do you think you were the only person (abused by Gondek)?" a WBTV reporter asked Mohr.

"Absolutely not," he responded.

"Do you think that others could have done something sooner to stop this?" the reporter asked.

"Oh, it should have happened when I asked the bishop of the Raleigh Diocese to have Al Gondek removed and sent back to his religious order," Mohr said, referring to the Oblates of St. Francis de Sales, the religious order to which Gondek belongs.

In an email to WBTV, a spokesman for the Oblates said the order took action internally in response to the allegation made by Mohr.

"Fr. Gondek underwent an independent professional evaluation and assessment. Subsequent therapy/counseling was required following evaluation and assessment," Oblates spokesman Father Michael Murray said.

But Murray never explained why Gondek was allowed to continue working as a priest.

A spokesman for the Raleigh Diocese did not respond to multiple calls and emails seeking comment for this story.

After years of no public action against Gondek, Mohr sought to address the incident a second time when Gondek was transferred to a church in the Charlotte Diocese.

Mohr wrote a letter to the Bishop of Charlotte seeking to warn him and other church leaders of the priest.

"I feel that I need to share an experience I had with Fr. Albert Gondek, formerly of the Raleigh Diocese, and now coming to your Diocese," Mohr wrote. "I was sexually accosted during a Lenten Parish Penance Service in my Parish where Fr. Gondek served as confessor."

The letter, which was addressed to then-Bishop William Curlin, specifically referenced the previous reports Mohr had made to the Raleigh Diocese and asked Curlin to consider taking additional action.

"This situation was swept under the carpet and I was treated as the offender. I pray that you will not let Fr. Gondek place his hands on another young man," Mohr wrote.

A second letter obtained by WBTV shows Mohr's report to the Charlotte Diocese was handled by Monsignor Mauricio West, who, as Vicar General and Chancellor, is the second-highest ranking official in the diocese.

Nearly a month after Mohr's letter is dated, West wrote a letter to Gondek enclosing Mohr's correspondence.

"The Diocese of Charlotte takes such allegations very seriously; please schedule an appointment to discuss this matter with me," West wrote to Gondek.

"As you may know, I have already contacted Father Joseph Morrissey, your Provincial, and Father Gerald Lewis, Vicar General of the Diocese of Raleigh, to request any background information they are able to provide," the letter continued.

There is no evidence that anything ever happened after West wrote that letter.

In an interview, David Hains, a spokesman for the Charlotte Diocese, said church leaders in the Queen City didn't need to take any action because it was a matter for the Raleigh Diocese and Gondek's order.

"The Diocese of Raleigh had conducted an investigation, as did the Oblates. And they all determined that the allegations were not credible," Hains said, appearing to contradict the statement from the spokesman for the Oblates.

In addition, Hains said the incident reported by Mohr did not rise to the level of serious sexual abuse because he was not a minor when it happened.

"The sexual abuse policy deals with children," Hains said.

"So, what happens when an adult alleges sexual abuse?" a WBTV reporter asked.

"Um, that's a personnel matter. That's not, that's not a crime," Hains responded.

In response to follow-up questioning, Hains revised his statement.

"All sexual abuse is wrong," he said. "With adults, it's a whole lot harder to define."

Gondek faced other allegations of abuse

In addition to the incident alleged by Mohr when he was an adult, Gondek has been accused of abusing children on at least two occasions, once sexually and once by providing a group of students alcohol.

WBTV obtained internal church correspondence showing Gondek was alleged to have given a group of students alcohol in 1978 and 1979 while he worked at a high school in Philadelphia.

The allegation was made as part of a report regarding three priests that was given by a former student to church leaders in Pennsylvania in 2007.

"Joe reports that Father Gondek took students out 'to drink alcohol' on several occasions," the report said. "He only went one time but knows that Father took several students on several different occasions."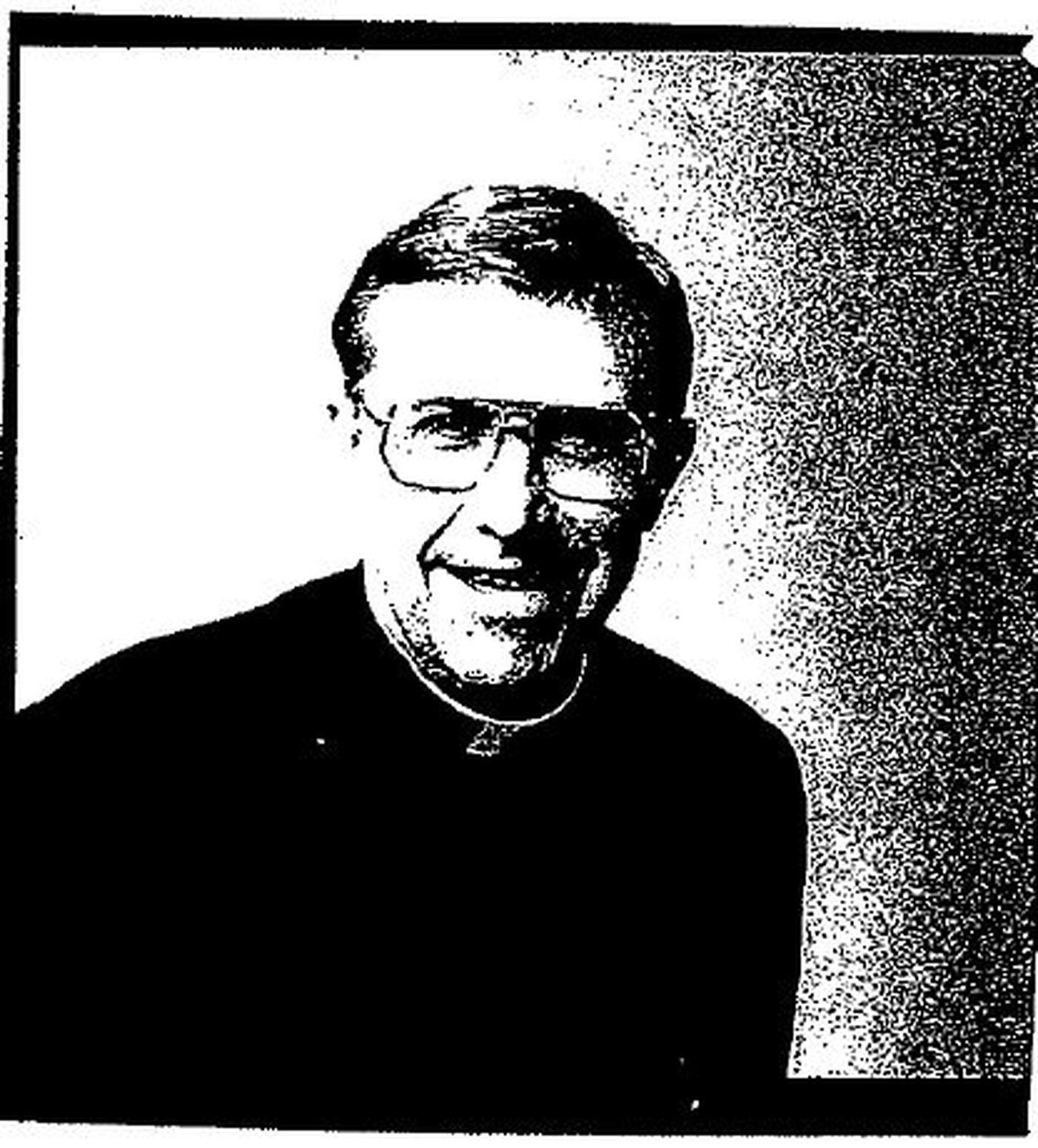 This is a photocopy of a picture of Father Al Gondek, included in the personnel file obtained by WBTV



Documents obtained by WBTV show the report was forwarded by the Archdiocese of Philadelphia to the Oblates who, in turn, faxed a copy of the report to an attorney who represented the order.

The fax cover sheet from the order's personnel director to the attorney specifically referenced Gondek.

"Please give a call after you've spoken with Al," the cover sheet read.

There is no evidence that any additional action was taken by the order in response to the report.

The order's spokesman downplayed the seriousness of the allegation in comparison to those of sex abuse.

"While this conduct absolutely constituted a violation of boundaries, it has never been characterized as sexual abuse or conduct otherwise similar to that alleged by Mr. Mohr," Murray, the order's spokesman said in an email.

Murray did not elaborate on why the report did not prompt further inquiry into other behavior Gondek may have engaged in with minors.

Hains, the spokesman for the Charlotte Diocese, claimed the report was investigated as part of an inquiry undertaken in the fall 2007 prompted by a report that Gondek abused children at a camp in 1960. But, when pressed, could not provide any specific information to support his claim, which he said was fact.

"So, we're supposed to take your word for it?" a WBTV reporter asked Hains.

"Well, here you are, a guy who comes on really strong and is really aggressive and really is kind of a pain in the neck," Hains responded.

"So, you know, you're not trying to work with me, you're trying to accuse me of something. You're kind of being a bully. So, maybe I don't feel like cooperating with you because you're a bully," he continued.

Gondek was removed from active ministry in 2015, following allegations he sexually abused minors five years earlier.

"Fr. Gondek is now 79 years of age. He resides at an Oblate retirement community in Maryland and is no longer engaged in public, ecclesiastical ministry," Murray, the order spokesman said.

Priest sent for treatment, allowed to return

The notice published in May 1985 about Father Richard Farwell's whereabouts to his parish didn't provide many details.

"Bishop Donoghue has announced that Father Ric has been granted leave from our parish for assignment to a priestly ministry program in Providence, Rhode Island," the announcement said.

There was no mention of what he'd be doing in the program or why he was sent there.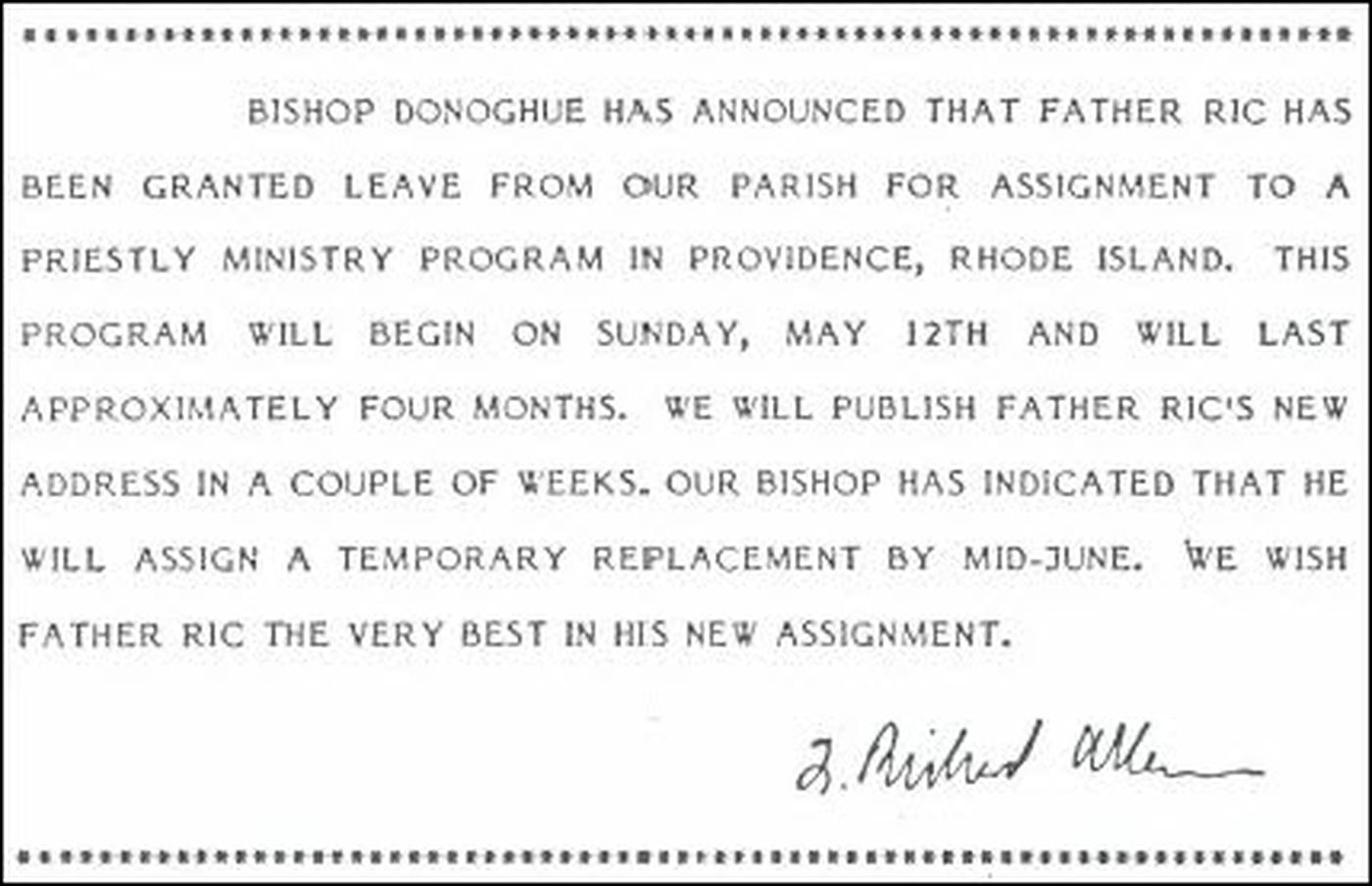 Notice sent to parishioners at Fr. Ric Farwell's church went he was sent to Massachusetts for inpatient rehabilitation. (Provided to WBTV)



But documents obtained by WBTV show Farwell had actually been sent to the House of Affirmation, an in-patient treatment center in Massachusetts that billed itself as a "therapeutic center for clergy and religious."

The documents show the diocese continued to pay Farwell his salary during the length of his stay and he stayed in frequent contact with both Monsignor Joseph Kerin, the then-chancellor of the diocese, and then-Bishop John Donoghue.

According to one letter sent from Farwell to Donoghue in March 1988, after he left impatient treatment at the House of Affirmation, the priest was working and being treated by a psychiatrist.

He was also attending regular meetings, the letter said, of both Alcoholics Anonymous and Sex and Love Addicts Anonymous.

"My sobriety with the A.A. program is now steady with a year, since last month, but I am still experiencing difficulty with my SLAA program," Farwell wrote. "My hope is to gain more sobriety in both programs."

Four months later, in July, Farwell wrote Donoghue again to ask that he be allowed to return to Charlotte as a priest.

"I see myself setting up a network of persons for sponsorship and meetings in the three twelve step programs that I have been working with here in Worcester," Farwell wrote Donoghue.

"I would like to ask that my return to active ministry be accomplished in such a way that you would give me a chance to get these aspects of my early recovery programs set up first before I assume a parish assignment," he said.

There is no evidence that the public was ever told of the reason for Farwell's years-long absence from the diocese before he was returned to ministry.

David Hains, the Charlotte Diocese spokesman, said the church's policies at the time permitted Farwell to go back to leading a church.

"Back in those days, the current thinking among psychologists and social scientists was that a person who was accused of, and may, in fact, have been guilty of sexual impropriety of a child could be counseled back to health and that person could return to a normal life," Hains said.

'I have not allowed people to run at the mouth and put you down'

Farwell continued serving as a priest in the Charlotte Diocese until 1999.

Records obtained by WBTV show that's when he was the subject of allegations that he sexually abused a young boy nearly two decades earlier.

"(Name redacted) first made an allegation in February 1999 charging that Father Richard B. Farwell had molested him once 19 years ago when (name redacted) was between 10 and 12 years of age," a church document filed in court records as part of Farwell's personnel file and obtained by WBTV said.

Records show leaders in the Charlotte Diocese - including Monsignor Mauricio West, the same church leader who handled John Mohr's complaint against Father Al Gondek - arranged for Farwell to spend a year at a monastery in Florida.

As that stay was coming to an end, the priest at the church Farwell had left for Florida, St. Dorothy's, wrote his predecessor in February 2000. The letter, in part, urges Farwell to not return to the parish or engage with parishioners.

The letter also details one effort by the new pastor at St. Dorothy's to quash allegations of abuse by Farwell.

"It was only about 8 weeks ago that a person who, during their appointment seemed to be going in the direction of making a serious sexual allegation against you with regards to a young man," Father Thomas Kessler wrote.

"I stopped the person and asked them if they wanted the information of our meeting to remain between us and they responded, 'yes'. Then I told them of the Diocesan policy, which requires me to inform the Diocesan Officials of any such information I receive outside of the Sacrament of Reconciliation," Kessler continued. "So, I told them to be aware of that policy and the accuracy of any such allegations and so they stopped continuing in that direction."

In explaining the incident, Kessler equated the attempted reporting of possible sexual abuse to gossip.

"I have not allowed people to run at the mouth and put you down," Kessler said. "But I have seriously strived to sew a spirit of reconciliation and peace."

More than six months later, Farwell was again reminded of the efforts undertaken by the Charlotte Diocese to help him in the wake of sexual abuse allegations, in a letter from Monsignor West, the Vicar General.

"For example, the Diocese has assisted you in resolving problematic situations during your pastorate at Saint Dorothy, with the details of your transition to monastic life, in addressing allegations of sexual misconduct brought forth by the (name redacted) family, and in allowing you to seek employment that would allow you to be closer to your mother," West wrote.

Hains, the spokesman for the Charlotte Diocese, said the letter did not raise any questions of impropriety and defended Monsignor West, who often goes by Father Mo.

"Father Mo has always followed the policy of the diocese, which has changed a couple of times over the years," Hains said. "But he has always followed the policy, both in the spirit and in the letter of what the policy says we're supposed to do in these incidences."

The same summer in which Monsignor West was reminding Farwell of what the diocese did to help him in the wake of allegations of sexual abuse, then Bishop of Charlotte William Curlin wrote a letter to the Archbishop of Miami recommending Farwell for a job in the archdiocese following the conclusion of his stay at the monastery.

"Father Farwell enjoys the faculties and possesses a good reputation for priestly ministry in the Diocese of Charlotte," Curlin wrote.

The man whose family reported his abuse in 1999 came forward a second time, records show, in 2002.

Monsignor West delivered word of the renewed allegation in a letter to Farwell, who was still living in Florida, in April 2002.

"It is my sad duty to communicate to you that (name redacted) has again come forward today to accuse you of sexual misconduct," West wrote.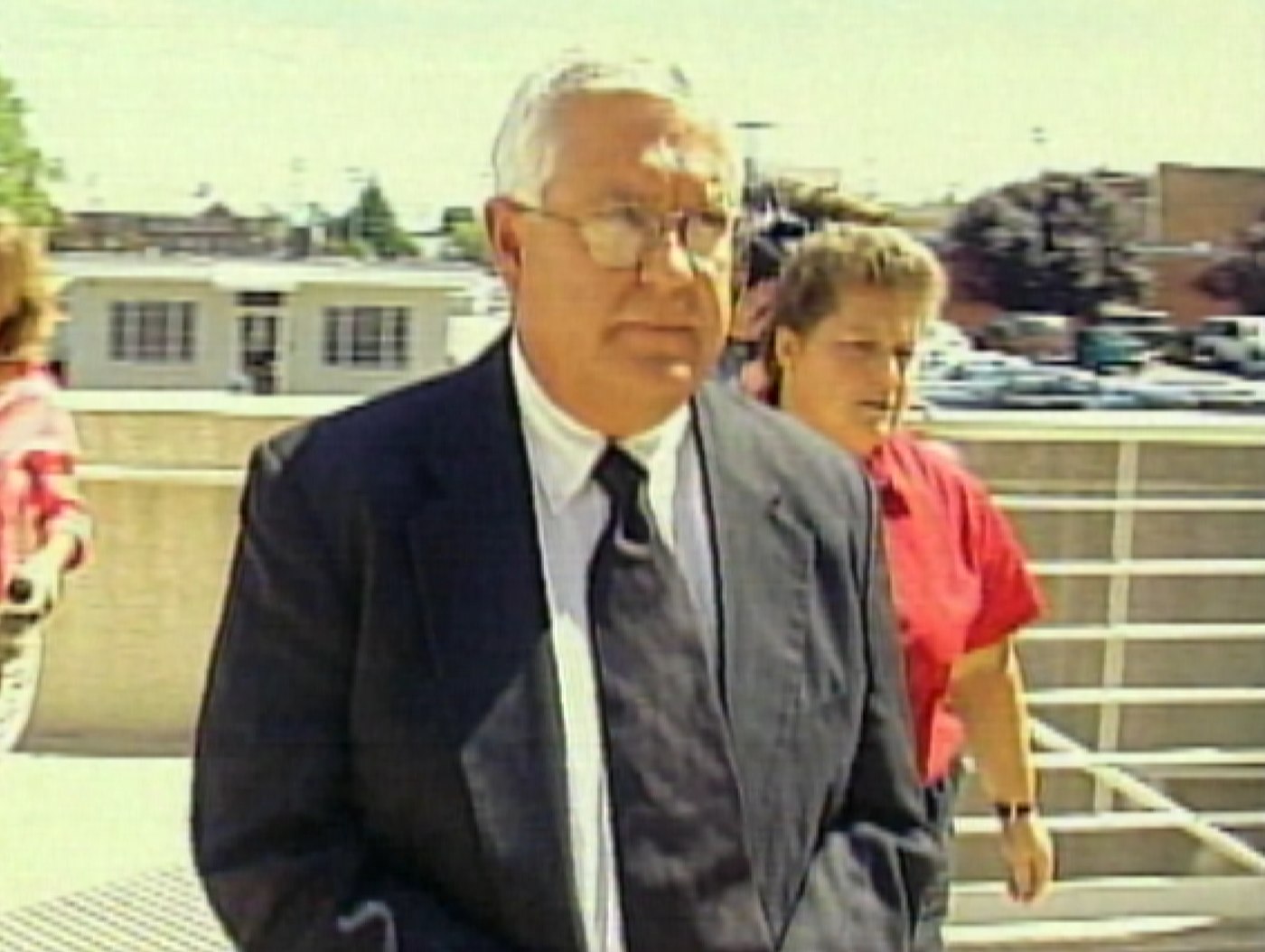 Father Ric Farwell walks into court to face criminal charges related to sexual abuse ((Source: WBTV File))



"With (name redacted) originally refusing to provide additional statements, proof, or witnesses regarding the charge first made in February 1999, his claim could not be verified," West said. "Current diocesan policy requires reporting all allegations to civil authorities; previous policy required only credible allegations be reported."

The letter said Farwell's priestly faculties would be suspended pending the outcome of an investigation.

Criminal charges for sexual abuse were filed against Farwell by police in Rowan County in 2002.

Farwell pleaded no contest to a lesser charge, contributing to the delinquency of a minor, in 2004.

'The church betrayed us'

Charlotte attorney Seth Langson has been fighting the Catholic Church in court on behalf of abuse victims for a decade.

He said the story of how the Charlotte Diocese handles reports of sexual abuse has long needed to be told.

"What has been the overall tone and tenor from the diocese every time you bring new allegations?" a WBTV reporter asked Langson.

"War," he responded.

Many of the legal claims Langson has brought on behalf of clients have been thrown out of court because the statute of limitations had already passed, meaning the claim was no longer valid.

Langson said, in his experience, local church leaders have been loath to act on reports of sexual abuse by priests.

"They've been very protective of priests who've been accused," Langson said. "Both welcoming and protective."

Langson said, despite the past difficulties he's experienced in court, he still encourages those who feel they were abused to reach out and report what happened to them.

At the end of his interview, David Hains, the Charlotte Diocese spokesman, said WBTV was not telling the complete story of how the diocese had handled reported sexual abuse.

"Somebody is giving you evidence; somebody is giving you evidence that wants to point you in a certain direction," Hains said. "But they're not giving you all the evidence, either."

Hains was provided with copies of all documents used to report this story and did not dispute the authenticity of any document provided by WBTV as of the publication of this story.

Hains himself refused to produce any documents or other proof to support his claims.

"You said you were going to provide us additional documents related to Father Gondek," a WBTV reporter said towards the end of the interview with Hains.

"You're cracking me up, man," Hains responded. "This is really some funny stuff. This is like, this is like - like - Mike Wallace or something. This is, this is a hoot!"

For abuse victim John Mohr, who reported being sexually groped during confession in 1993, the Catholic Church still has not done enough to address what he said happened to him.

"I just wonder how many other people were affected by this," Mohr said.

"You think the church could have done more to stop this from happening?" a WBTV reporter asked.

"Yeah, the church betrayed us," Mohr said.

Mohr called on church leaders to harness their power into positive change.

"The sacraments are supposed to be the safest place in the whole world," he said. "We're receiving Christ and for them to treat us that way, to take advantage of us with their power is sacrilege."