Archbishop invites Catholics to acknowledge, seek forgiveness at Mass for victims of sexual abuse
By Nassim Benchaabane
St. Louis Post-Dispatch
September 08, 2018

https://bit.ly/2NC62YC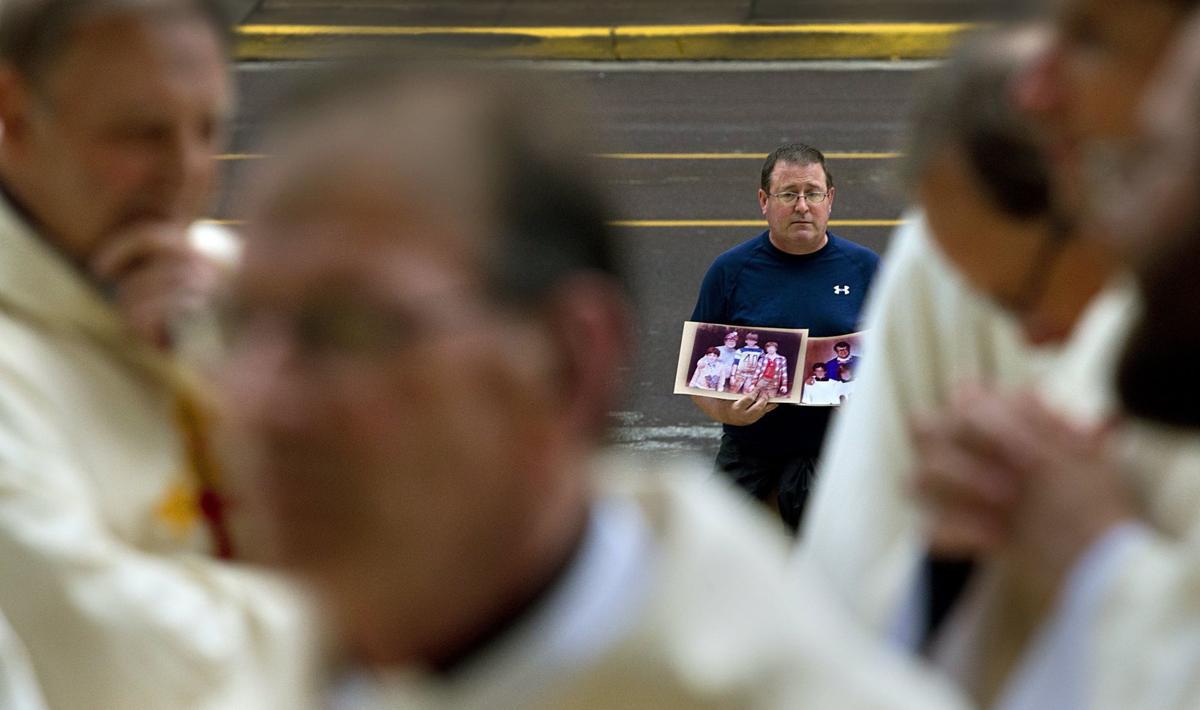 Chris O'Leary of Webster Groves holds photographs of himself and friends and another with Father Leroy Valentine as the abuse survivor stood alone outside the Cathedral Basilica watching priests gather for a procession for a Mass of Reparation on Friday, Sept. 7, 2018. O'Leary, 50, brought his accusations against Valentine in 2002 after attending the Church of the Immacolata as a child. The priest was removed from the ministry in 2013.
Photo by Robert Cohen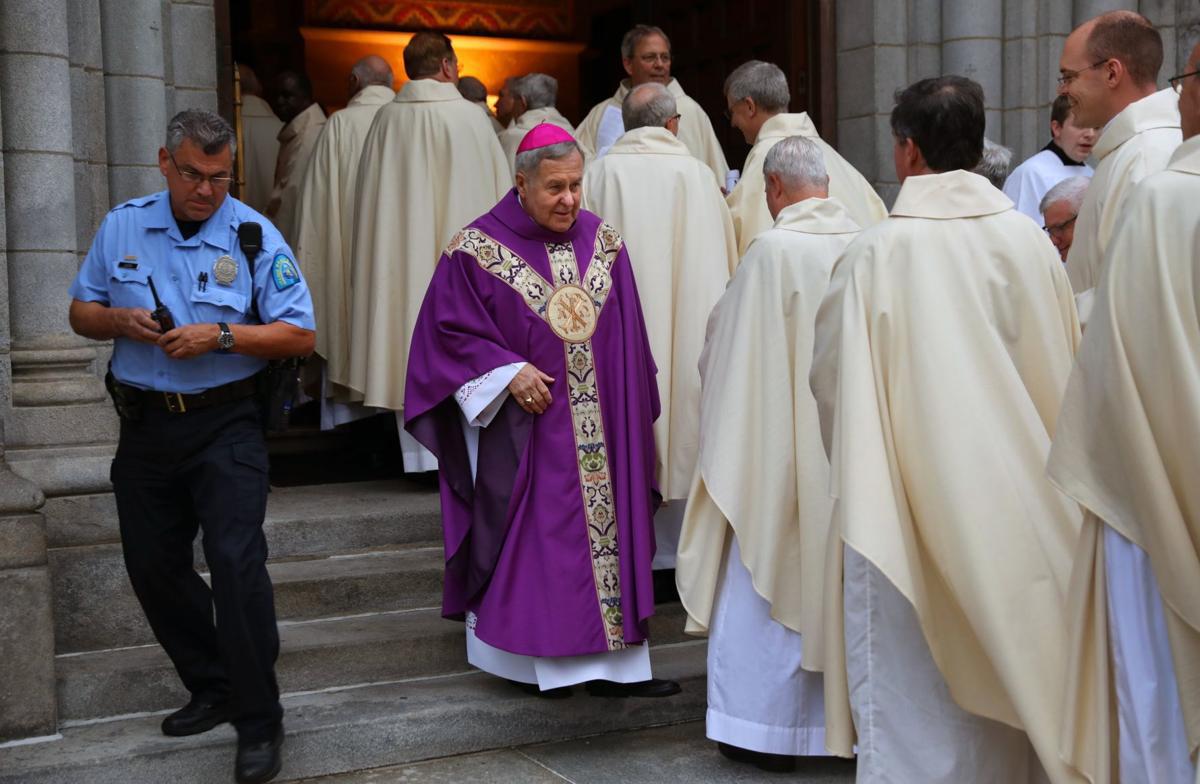 St. Louis Archbishop Robert Carlson greets a procession of priests outside the Cathedral Basilica as they gather for a Mass of Reparation to address clergy sexual abuse on Friday, Sept. 7, 2018.
Photo by Robert Cohen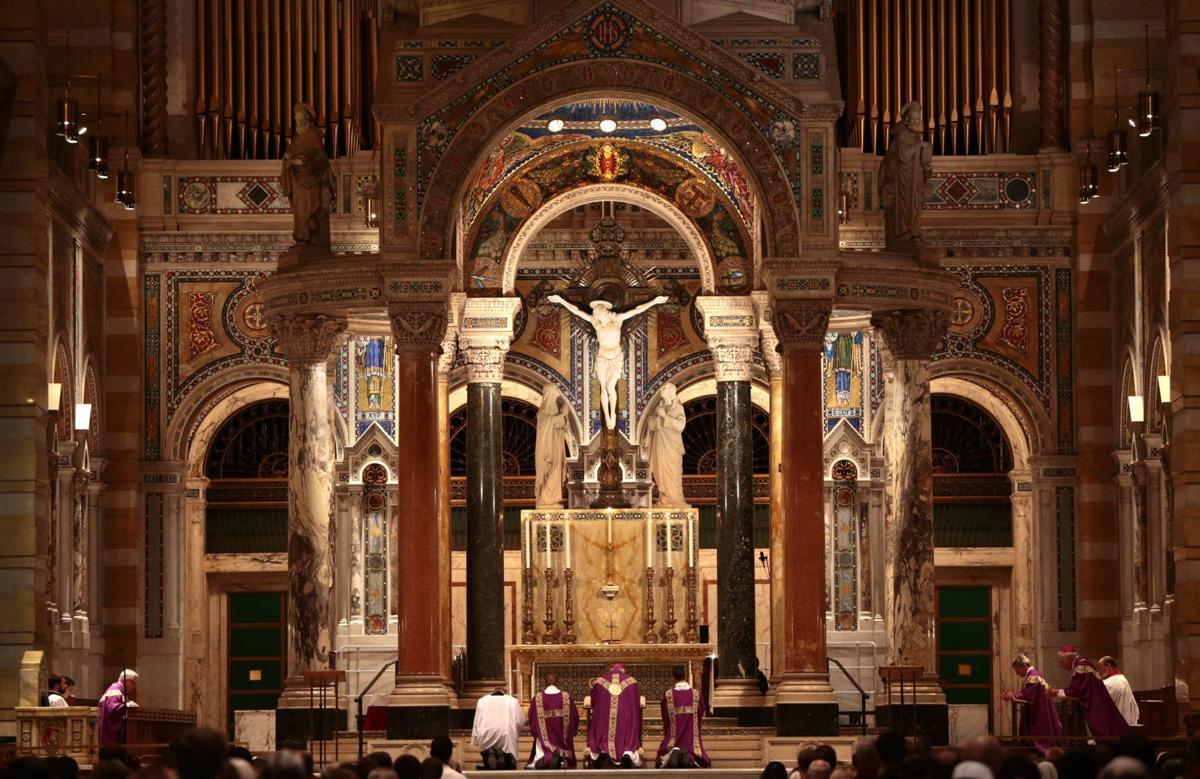 St. Louis Archbishop Robert Carlson (center) kneels at the Cathedral Basilica altar during a Mass of Reparation to address clergy sexual abuse on Friday, Sept. 7, 2018.
Photo by Robert Cohen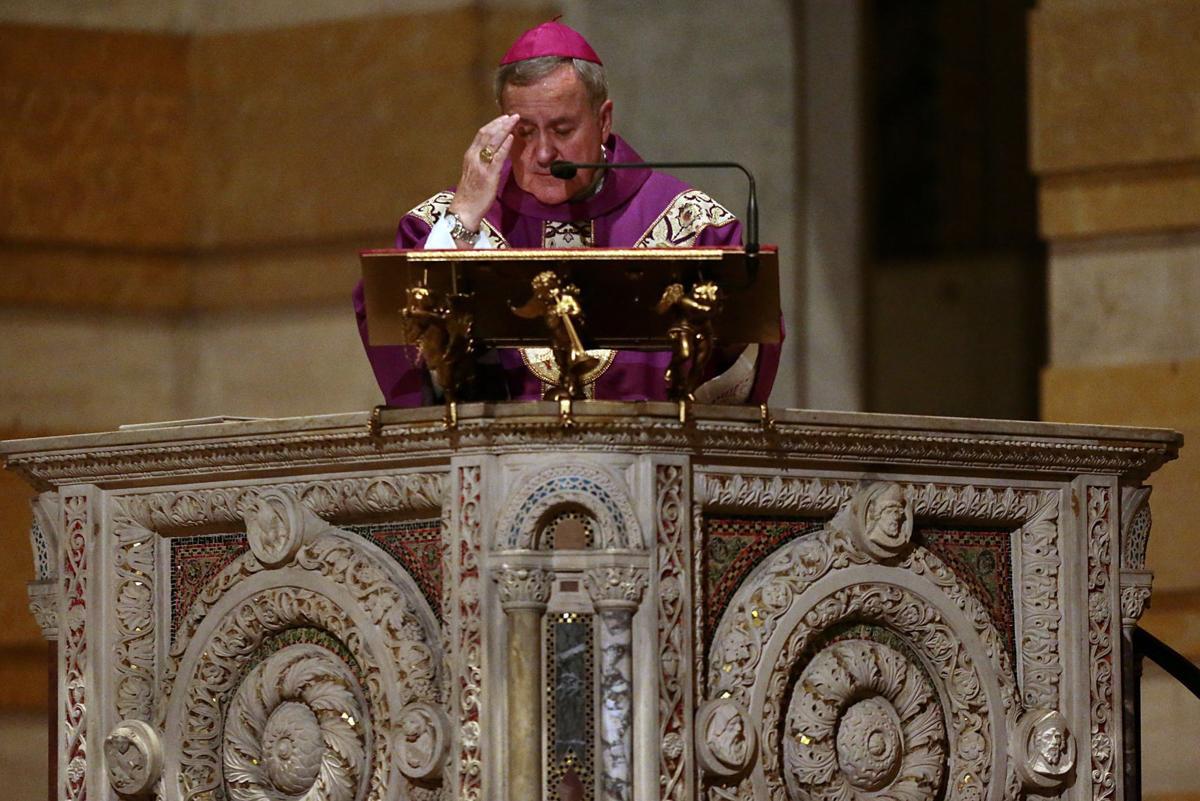 St. Louis Archbishop Robert Carlson makes the sign of the cross as he concludes the homily where he spoke about clergy sexual abuse during a Mass of Reparation at the Cathedral Basilica on Friday, Sept. 7, 2018.
Photo by Robert Cohen
Archbishop Robert Carlson invited Catholics to repent and seek forgiveness for the Roman Catholic Church in the wake of reports of sexual abuse and cover ups by clergy in Pennsylvania.
"The church today around the world and here in the Archdiocese of St. Louis suffers from the wounds of many scandals," Carlson said Friday at the Cathedral Basilica in his homily at a "Mass of Reparation" for victims of sexual abuse. "The body of Christ experiences the weight of scandal and is in need of divine mercy in order to be healed."
The Mass mirrored events held in other St. Louis-area parishes Friday as the Catholic Church contends with a Pennsylvania grand jury investigation that uncovered widespread abuse of children by more than 300 priests over 70 years.
After the Pennsylvania report was released, Missouri Attorney General Josh Hawley announced an investigation into sex crimes within the Church in the archdioceses of St. Louis, Kansas City-St. Joseph and Springfield-Cape Girardeau.
Hawley launched the investigation after the Archdiocese of St. Louis offered to open its files to Hawley's office. At a news conference after Hawley's announcement, Carlson promised Hawley's office would have "unfettered" access to archdiocese records.
To Catholics, an act of reparation is a prayer or devotion meant to ask God for pardon and forgiveness for one's own sins and the sins of others.
"Two thousand years ago, Christ allowed his physical body to be crucified by those who opposed him," Carlson said. "Today his mystical body of the church has been crucified by those who claimed to follow him."
Carlson said he felt grief for the sin of abuse and "humiliation at the failure of the Church, my failures." He asked God to take away "our blindness, our deafness, our stubbornness, our vices and our pride."
Carlson acknowledged that attendees may have felt "distrust" with the church and "anger over seeming inability of bishops and others to address this issue" but asked clergy and laity to address issues together with prayer, fasting and alms giving.
The Mass of Reparation at the Basilica began with a prayerful silence and also included confessions and a Holy Hour. Clergy wore purple vestments, a color that for Catholics symbolizes repentance and sorrow.
"It's very important to show that all of us — Catholics and non-Catholics — acknowledge these horrible things that happened and make a clear sign that they must not happen again," said Thomas Spannring, of Ladue. "We are all suffering and in need of healing."
Spannring said Carlson showed a proactive response by inviting Hawley to review the diocese records.
"( Carlson) has been very forward-thinking, and he should be applauded for it," Spannring said. "He acted like a true shepherd."
Chris O'Leary, 50, stood outside the church holding pictures of himself as a child standing with the priest he says abused him during his years at Immacolata Catholic Church in the 1980s.
He said that reactions to allegations of abuse by priests had changed over the years but that there were still issues.
"It seems like there are people within the Archdiocese who are taking this seriously," he said. "The problem is there are still pockets of people in the diocese who just want to make us go away."
Hawley's announcement came a day after survivors of clergy sexual abuse living in St. Louis and their advocates protested outside his St. Louis office and demanded he launch a statewide investigation. Advocates have called for similar investigations across the U.S.
Missouri was the first state to publicly announce such an inquiry, but abuse survivors and advocates criticized the investigation as lacking teeth and said they do not trust the Archdiocese to be fully transparent.
Twenty-seven priests in the Archdiocese of St. Louis have been relieved of their duties, according to Sandra Price, executive director of the archdiocese's Office of Child and Youth Protection.
Price said the archdiocese had a "very extensive" program to safeguard children and prevent abuse, with measures including training more than 100,000 clergy, staff and parents on how to recognize warning signs and report abuse, conducting and reviewing background checks, auditing parishes and schools to make sure policies are being followed, and prohibiting adults from working alone with children.
Among the other parishes in the area that held similar events was St. Francis of Assisi Church in south St. Louis County. The parish held a "Day of Healing and Reparation" Friday that included Masses and confession.
Contact: nbenchaabane@post-dispatch.com