After Pennsylvania, all states should look into priest sex abuse, some say
By Danae King
Columbus Dispatch
September 09, 2018

http://www.dispatch.com/news/20180909/after-pennsylvania-all-states-should-look-into-priest-sex-abuse-some-say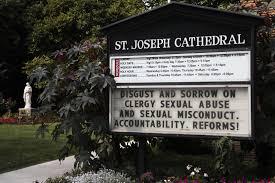 A sign outside St. Joseph Cathedral, at 212 E. Broad St., speaks out against recent sexual abuse scandals in the Catholic Church.
Photo by Joshua A. Bickel
In the wake of a Pennsylvania grand jury report that revealed allegations of more than 1,000 children being sexually abused by more than 300 priests, some people want every Roman Catholic diocese in the nation — including those in Ohio — to be investigated.
Perhaps the most public call to action in central Ohio is a sign in front of Downtown's St. Joseph Cathedral that reads: "Disgust and sorrow on clergy sexual abuse and sexual misconduct. Accountability. Reforms!"
The Rev. Michael Lumpe, who wrote the sign, said investigations like the one in Pennsylvania need to happen everywhere.
"This is not who we are as a church; this is not who we are as priests," said Lumpe, the rector at St. Joseph's. "There has been a systemic failure in some corners of the church, and we're going to find out what happened and why."
The Pennsylvania investigation, which took about two years and was conducted by a grand jury empaneled by the state attorney general, found widespread sexual abuse of minors by Catholic clergy members in six dioceses — Pittsburgh, Allentown, Erie, Greensburg, Harrisburg and Scranton — as well as a "circle of secrecy" around priests hiding the abuse within church structures. Earlier grand jury reports found evidence of abuse in the two other Pennsylvania dioceses, Philadelphia and Altoona-Johnstown.
"There have been other reports about child sex abuse within the Catholic Church. But never on this scale," the grand jury wrote in its scathing, 1,356-page report released Aug. 14.
As a result of the report, a variety of people, including victims, lawyers and even some priests, are demanding that more be done in Ohio and the Columbus area, where three priests have been accused of sexual abuse or misconduct in the past 12 months. So far, state inquiries have been launched in Florida, Illinois, Nebraska, New Mexico, New Jersey and New York.
"We've been getting information like that for years," said Konrad Kircher, an attorney in Lebanon in southwestern Ohio who specializes in child sex-abuse. "It's not unique to Pennsylvania."
The last high-profile investigation into sexual abuse by Catholic clergy before this was published by the Boston Globe's Spotlight investigative team in 2002.
The newspaper's investigation, which was featured in the movie "Spotlight," prompted other investigations nationwide and internationally. In 2014, the Vatican announced that it had defrocked 848 priests for sexual abuse of children and levied lesser punishment on 2,572 others.
The Boston Globe's stories also highlighted cover-ups by the Catholic Church, including revelations that church leaders knew that priests were abusing children but moved those priests from parish to parish instead of removing them. Former Pittsburgh Diocese bishop and now Cardinal Donald Wuerl has come under fire over allegations that he knew about abuses but shuffled accused priests elsewhere.
Archbishop Carlo Maria Vigano published a letter saying that Pope Francis covered up allegations of sexual harassment of adult seminarians and child abuse by former cardinal and retired Archbishop Theodore McCarrick of Washington, D.C.
"If we had prosecutors with courage, like Pennsylvania, we would have similar reports in every state in the nation," said Kircher. He currently is representing a former student at St. Charles Preparatory School in Bexley who accused the late Monsignor Thomas Bennett, a St. Charles teacher for more than 40 years, of molesting him in the early 2000s.
He said four other former students have come forward with allegations of abuse since the lawsuit was filed last month.
The two other central Ohio cases filed in the past year involve allegations against the Rev. James Csaszar, a New Albany priest who killed himself Dec. 20 following allegations that he had questionable communication with a child while serving in New Lexington in Perry County; and the Rev. Pierre Albalaa, the administrator for Sacred Heart Church in Italian Village, who was accused in June of abusing a minor in California in 2004.
"The Catholic Diocese of Columbus has a long history of reporting all allegations of abuse of minors ... to area law enforcement and investigative agencies," George Jones, spokesman for the Roman Catholic Diocese of Columbus, told The Dispatch in an emailed statement.
Franklin County Prosecutor Ron O'Brien said his office met with lawyers for the Columbus Diocese in 2002 after the Globe report. At that time, the diocese gave O'Brien the complaints it had received, he said. The diocese also created a process in which it would report all future complaints to O'Brien's office and Franklin County Children Services.
"Anything that has occurred within the last 20 years and was reported has been looked at," he said.
O'Brien couldn't recall how many allegations were investigated, but he said no cases in the past several years have resulted in charges because the statute of limitations had expired or the person who had been accused had died.
The diocese, however, does its own investigations into all allegations. In the past several years, more than 20 priests have been accused in the Columbus Diocese and at least 15 accusations were found to be credible by the diocese, and many of the priests were removed, according to Dispatch archives.
If there were to be a widespread investigation like Pennsylvania's in Ohio, a county prosecutor such as O'Brien would have to launch it rather than the state, according to Ohio Attorney General Mike DeWine's office.
"We don't have that authority in Ohio," said Dan Tierney, an attorney general spokesman. He added that no county prosecutor has so far requested that DeWine empanel a grand jury or make a large-scale investigation on the topic.
"These recent challenges serve as an important reminder that we must stay mindful and vigilant to eradicate permanently these tragic and painful events from our church," Columbus Bishop Frederick Campbell wrote in a statement on the diocese's website.
When asked what could or should be done, local Catholic officials pointed to a statement by Cardinal Daniel DiNardo of Galveston-Houston, president of the United States Conference of Catholic Bishops. He outlined three key goals and a comprehensive plan to address the "moral catastrophe" that has befallen the Catholic Church.
The plan calls for a "full investigation" into McCarrick, who was removed from ministry in June for sexually abusing an altar boy; the opening of new and confidential channels for reporting accusations against clergy members; and advocacy for more effective resolution of future complaints.
He said it would take proper independence, sufficient authority and substantial leadership by lay people and clergy to accomplish those goals.
Lumpe of St. Joseph Cathedral agreed.
"This is an issue that needs proper attention and depth so this does not happen again," Lumpe said. "It cannot be allowed to happen again."
Contact: dking@dispatch.com