The Briefing: Just call the cops
By Jerry Zremski
Buffalo News
September 12, 2018

https://buffalonews.com/2018/09/12/the-briefing-just-call-the-cops/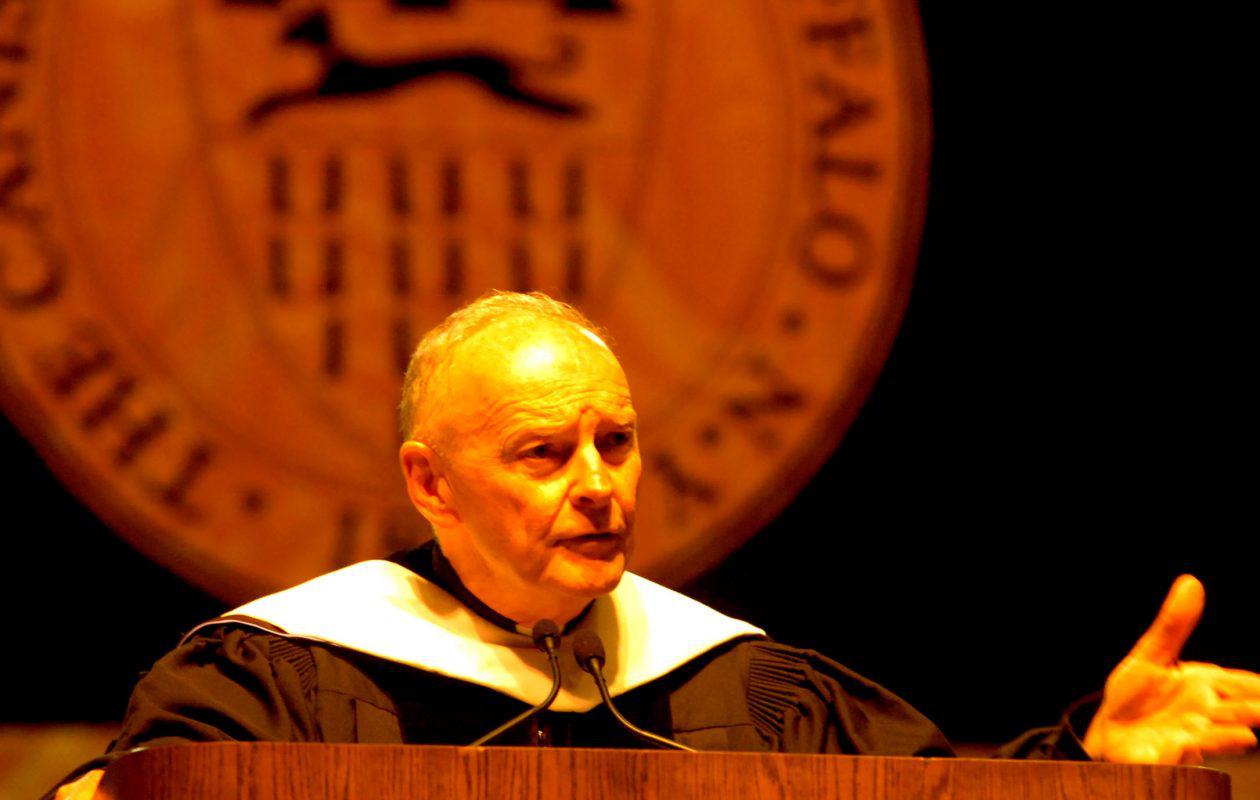 Cardinal Theodore McCarrick, former archbishop of Washington, D.C., is among the many Catholic clergymen facing credible charges of sexual abuse.
The holy man's words cut through the crowd at St. Anthony of Padua Catholic Church in Falls Church, Va., not like a prayer, but like an insult.
"Reporters are trying to destroy the church," the priest said in the most ad hominem homily I ever heard. "Lawyers are trying to destroy the church."
I heard those words a decade ago, six years after the Boston Globe delivered its Pulitzer Prize-winning series on pedophile priests in the Diocese of Boston and back when we were gulled into believing that such things never, ever happened to the same degree in Buffalo or Washington.
Still, those words made me seethe because they were both wrong and stupid. So, of course, I felt compelled to speak with the priest after Mass.
"Father, reporters aren't trying to destroy the church," I told him. "Reporters at the Boston Globe uncovered grave sins that the church ignored."
(I didn't mention the stupid part – the idea of blaming reporters and lawyers for trying to destroy the church in a suburban Washington congregation teeming with reporters and lawyers.)
Reporters are still uncovering the Catholic Church's grave sins a decade later. And when I try to understand why, I think back to those hard, ugly words I heard from the pulpit a decade ago.
Those words emerged from a cloistered culture obsessed with protecting itself. And they showed no sympathy for the victims of abuse.
Far be it for me, a sinner, to recommend how the church can change its cloistered culture and offer children – all children – the safe harbor and spiritual home I found there decades ago.
But let me offer one bit of advice to any priest or bishop who hears that a supposedly holy man might have molested a child or sexually harassed an adult.
Remember that these are crimes – so call the cops.
It works.
In my now long life of reporting at newspapers and studying and teaching at universities, I have been in the vicinity of only one incident involving an adult treating children like so much sexual pillage. As soon as that adult's supervisor found evidence of what happened, the supervisor called the cops – who investigated and arrested the perpetrator. The pervert went to prison, justice was served and children were safer.
But that common-sense approach seems far afield for the Catholic Church – in Buffalo, in Washington and worldwide.
In Buffalo, Bishop Richard Malone returned to the ministry the Rev. Art Smith, who had used Facebook to tell an eighth-grade boy "I love you." Reporting from WKBW's Charlie Specht shows that Smith went on to face accusations that he inappropriately touched two young men.
In Washington, Cardinal Theodore E. McCarrick – the former archbishop – resigned amid repeated, and repeatedly ignored, allegations that he sexually abused minors and seminarians for decades. And his successor as archbishop, Cardinal Donald Wuerl, lost the faith of many in his flock amid evidence that he coddled some accused predators while serving as bishop in his hometown of Pittsburgh.
And all around the world, from America to Ireland to Australia and beyond, evidence piles up that the church's rote reaction to sexual abuse among the clergy is to ignore it, or absolve it, or shuffle it around from one parish to another.
This is why I, along with countless other Catholics, have struggled to drag myself to Mass in recent weeks.
But when I have, I've said a prayer. It's an unusual one, one that I wish I didn't have to say.
I ask God to give the men of God the wisdom to respect their flock more than themselves.
And I ask God to get the police involved, early and often, at any sign of trouble in His house.