New director named, former leader returns to SNAP after legal threats, leadership upheaval
By Nassim Benchaabane
St. Louis Post-Dispatch
September 14, 2018

https://bit.ly/2p6X4oh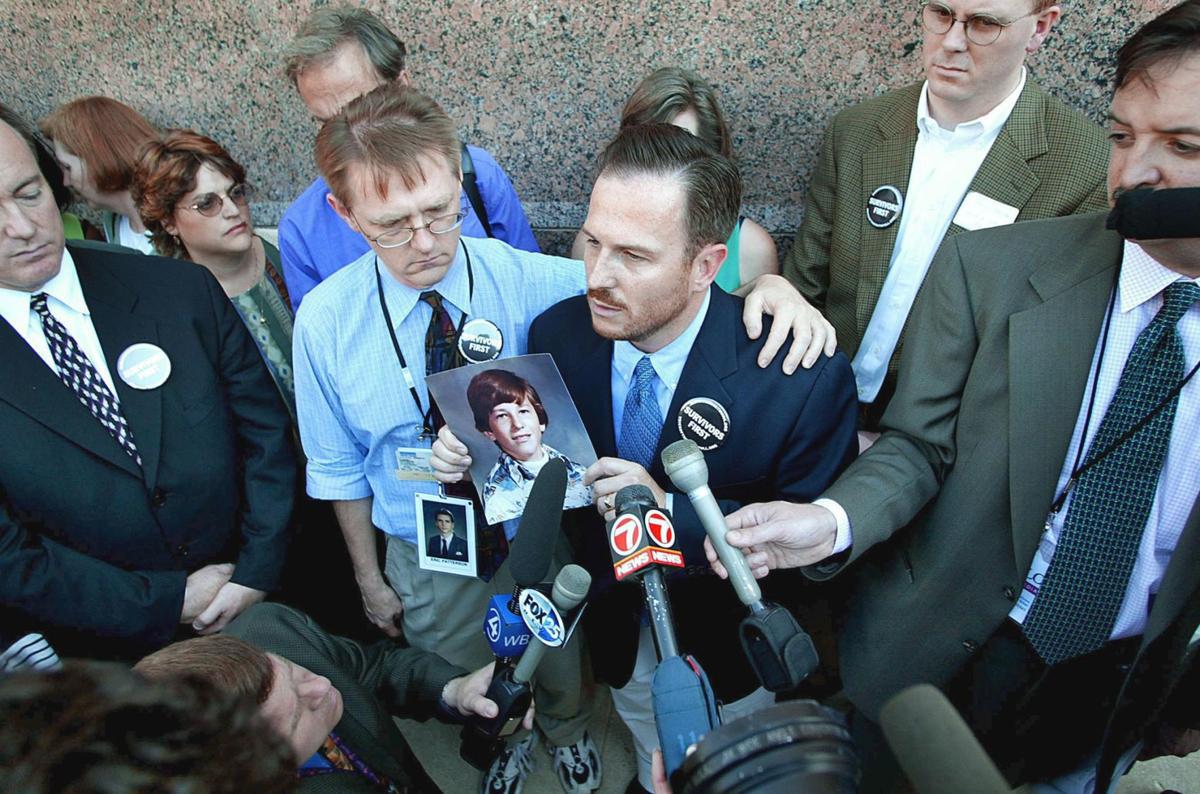 David Clohessy (2nd L) and Mark Vincent Serrano (2nd R) speak to the press following the announcement that bishops had agreed to bar pedophile priests from acting as clerics in their afternoon session at the United States Conference of Catholic Bishops 14 June 2002 at the Fairmont Hotel in Dallas, Texas. Clohessy and Serrano, who holds a picture of himself at 12, are both victims of sexual abuse at the hands of Catholic priests and are both members of SNAP, Survivors Network of those Abused by Priests.
Photo by Paul BUCK
The St. Louis-based Survivors Network of those Abused by Priests named a new executive director Friday following a turbulent year that saw a serious legal threat and resignations of longtime leaders.
Zach Hiner, who began his eight-year career in child abuse and neglect prevention as an assistant to SNAP founder Barbara Blaine and longtime executive director David Clohessy, will take the reins Sept. 24 as head of the nation's oldest and largest self-help group for survivors of clergy sexual abuse.
In a statement sent to SNAP members, Hiner said he was returning to the group at a "critical time."
"Every day, more and more people are becoming aware of the realities of just how common abuse becomes when we put institutions over people, whether that institution is a church, a university, or a Hollywood studio," said Hiner, former communications director with Prevent Child Abuse America.
"For years SNAP has led the way in providing a voice to the voiceless and I am looking forward to increasing our reach, updating our messaging and helping SNAP reach more people than we ever thought would be possible."
Meanwhile, Clohessy, the longtime public face of SNAP, has returned as the group's spokesman in St. Louis. He had stepped down in December 2016 after 29 years as executive director.
The changes at SNAP come at what longtime advocates and church officials say is a turning point in the abuse scandal in the Roman Catholic Church after a Pennsylvania grand jury investigation documented widespread abuses and cover-ups going back more than 70 years. Several states, including Missouri, have announced similar inquires.
The changes also come months after the nonprofit settled a former employee's lawsuit alleging SNAP ran a kickback scheme by recommending abuse victims to attorneys in exchange for donations.
The lawsuit, filed in January 2017, was sandwiched by Clohessy's resignation weeks earlier and the resignation a month later of Blaine. Three other longtime leaders, board president Mary Ellen Kruger and outreach director Barbara Dorris, both of St. Louis, and board member Mary Dispenza, left in March.
SNAP Board President Tim Lennon declined to comment on the lawsuit settlement. Both current and former SNAP leaders have denied any kickback scheme and have said the resignations had nothing to do with the lawsuit.
Lennon said the departures left SNAP in a transition period during which many volunteers demanded transparency and accountability.
"Yes, there was a transition, but SNAP is thriving and continues to move toward the future," he said. "Any time there is a transition, people want to know what is going on. We continue to be dynamic and grow and develop."
He said SNAP's mission is being expanded to include advocacy on behalf of sexual abuse victims at schools and in the Boy Scouts, video conferencing, more engagement on social media and continuing inclusion of members from any religious ideology, not just the Catholic Church.
Clohessy, who has been diagnosed with throat and prostate cancer, said his resignation had been in the works for health reasons. He remained a member over the last year and said he is returning to a more active role despite health concerns because "the need is so great."
SNAP members say the group in recent weeks has been inundated with phone calls from abuse victims coming forward to tell their stories for the first time and from supporters asking how they can help. Clohessy said he has met with an abuse victim coming forward for the first time in St. Louis and taken calls from priests and whistle blowers from out of state.
"When victims feel like they are being heard, or there is even a chance of being heard, that's when they break their silence," he said.
A look back
Clohessy and Blaine, who founded the group in 1988, had been guiding voices for SNAP as it grew over three decades, from a small support group meeting in a Chicago homeless shelter to an advocacy group of more than 25,000 survivors in 60 cities around the world.
SNAP gained momentum in 2002, when the Boston Globe exposed the church's cover-up of sex abuse in an explosive investigative series.
"It was such a deluge that I would clear my messages before I went to bed and I would turn off my ringer and wake up and turn on my phone and the first thing I would hear is 'Your message box is full,'" Clohessy recalled.
The series drew attention to SNAP's work exposing abuse cases that resulted in large payouts to victims and their attorneys, pressuring church officials and state governments to extend civil statues of limitations so people abused as children could seek redress as adults.
Outside of helping abuse victims heal, early years were marked by a sense of hopelessness; survivors faced fierce blowback for confronting officials and devout Catholic laity with allegations of abuse by church leaders, Clohessy said.
"I had a pastor spit in my face," he said. "A member in Kansas City was pushed down the steps. People would scream at us. Always the cops were called."
Attitudes have shifted since then, SNAP members say. The sex abuse scandal has gotten intense media coverage, and more victims feel comfortable coming forward, bolstered in part by the #MeToo movement. Catholic laity are seeking a more active role to help victims, too.
"There used to be complete trust in priests, and no one would question the Church," said Dorris, who was raised in a devout Catholic family. "There's just not that level of trust anymore."
Many SNAP members still are active within their Catholic parishes. Others have converted to other religious denominations or, like Clohessy and Dorris, have left organized religion.
"I'm forever amazed at how many survivors of clergy abuse in any denomination manage to regain some faith life," said Clohessy, who calls himself a "an agnostic with longing."
Ultimately, SNAP's crusade is not about the Catholic religion — it's about abuses and hierarchical institutions that allow for them to be perpetrated and then cover up for abusers, Dorris said.
"SNAP has never said a word about the tenants or beliefs of different denominations," she said. "SNAP just said that no one should be sexually assaulted."
'Change is good'
SNAP has had a contentious relationship with the church hierarchy over the years. The closest the groups had to a working relationship was in 2002, when church officials invited Blaine and Clohessy and two other victims to speak at the U.S. Conference of Bishops in Dallas.
The relationship deteriorated since, as lawyers for priests accused of abuse, including in Kansas City and St. Louis, filed defamation suits to try to compel SNAP to turn over decades of records including correspondence between victims, lawyers, whistle-blowers and witnesses.
The church's lawyers said they needed to see SNAP's records because they contained information relevant in the lawsuits. SNAP said the move was an effort to harass the group and would have violated victims' privacy by revealing personal and sensitive information.
The legal actions "took a toll" by "exacerbating long-standing tensions" within the group about how to respond," Clohessy said, contributing in part to a fatigue longtime leaders felt by 2016.
Blaine resigned as SNAP's executive director last year to form the Accountability Project, an effort to stop clergy sex abuse around the world. She died unexpectedly Sept. 24, 2017, while vacationing in Utah.
Dorris left SNAP on March 30. She said her departure came down to disagreements she had with other board members after which her "moral compass" told her it was "time to go." She declined to give more details.
Dorris said the departures meant changes for SNAP but, she added, "change is good."