Christ is Looking Over His Suffering Bride
By Brianna Heldt
National Catholic Register
September 16, 2018

https://www.ncregister.com/blog/bheldt/rcia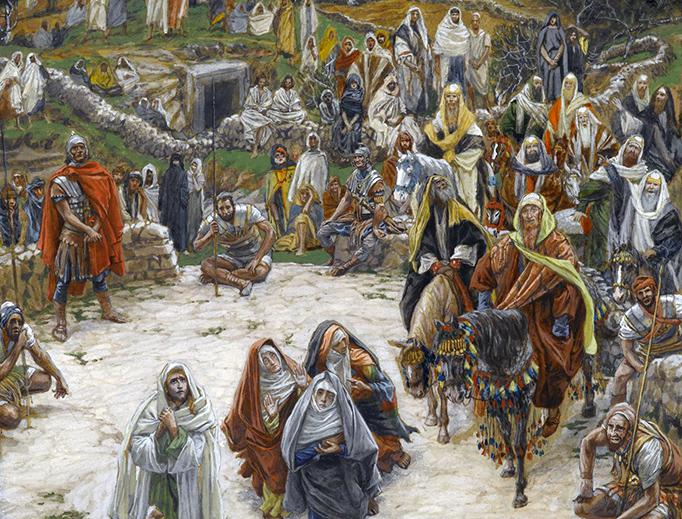 James Tissot, "What Our Lord Saw from the Cross", ca. 1886-1894
I believe the Church is the bride of Christ, and the best possible place for you to be if you love Jesus.
Last week, I happened to notice an announcement in my parish bulletin. It read something like, "Interested in Catholicism? Come join our RCIA classes."
I have to confess that I found myself half laughing (in a dark-humor sort of way), half shaking my head, about how it's kind of a funny time for anyone to be, well, interested in Catholicism.
With all that's come out over the past couple of months related to the Catholic sex abuse crisis, and seemingly widespread allegations of misconduct among bishops and cardinals, we are certainly not in era where evangelization will be easy. To put it bluntly, the Catholic Church has a PR problem.
And yet at the same time, the whole world is watching. And asking questions. We're living in a moment where we have everyone's attention, for better or worse — people who cared nothing for Catholic news just six months ago are now hanging on every word.
As a convert to the Catholic faith, I find myself particularly troubled and humbled by the scandals plaguing the Church — the Church that I, quite intentionally, entered into nearly seven years ago. Of course, I don't regret being received into the fullness of the faith. Not one little bit. I love being Catholic, precisely because I believe it is the one, true, holy, catholic and apostolic Church.
But it's obviously also fairly complicated living as a Catholic today. I want to be on record as being concerned about what's happening. I don't want anyone to think I'm somehow okay with sexual abuse or coercion. I want answers, real answers, from a number of bishops and cardinals, and the pope himself.
And yet at the same time, I believe the Church is the bride of Christ, and the best possible place for you to be if you love Jesus. I believe the Church that Christ founded is worth belonging to, and fighting for. So, yes — as crazy as it sounds, I would love to see my parish's RCIA program overflowing with people who are, in spite of the egregious sins of men, interested in Catholicism.
Who can say how God will work through these tragedies? Perhaps the light cast into some of the darker corners will illuminate other, more positive things too. At the very least I'm hopeful that some of these men will no longer be able to prey upon victims, and that whistleblowers might be better listened to going forward.
My priest said in a recent homily that true humility is not necessarily a bad thing. It does indeed seem we Catholics have entered into a period of what essentially amounts to a deep humiliation, in the sense that the sins of our leaders are being exposed for all the world to see. How we handle this matters greatly. I've been encouraged to see a number of high-profile Catholics asking for investigations and answers. I've seen plenty of people wondering aloud whether we should have been so quick to discount certain voices within the Catholic sphere, voices that were crying out about these injustices for years only to be ridiculed as paranoid.
For whatever reason, God has you and me living here and now, in this time, in this difficult era for our Church. It's not pleasant, but yet we are still called to move forward in faith. Extra prayers and work towards change are needed, yes, but so is our renewed commitment to live out our respective vocations to the best of our abilities. The world is watching, afte rall, and perhaps the best thing we can do in the name of evangelization — in addition to cleaning house, demanding the truth, and pursuing justice for the victims who include no small number of seminarians — is to simply take up our crosses and embrace the Gospel in a deeper, more beautiful way. Maybe that's what we should have been doing all along. And as God uses this era of humiliation to strengthen and refocus our faith, who knows — we may even be given the privilege of seeing some converts made along the way.