Abuse in the Catholic Church is more than a Pa. problem. How Del. changed laws to protect victims | Opinion
By Patricia Dailey Lewis
HILADELPHIA (PA)
September 18, 2018

http://www2.philly.com/philly/opinion/commentary/statute-of-limitations-child-sexual-abuse-catholic-church-delaware-pennsylvania-20180918.html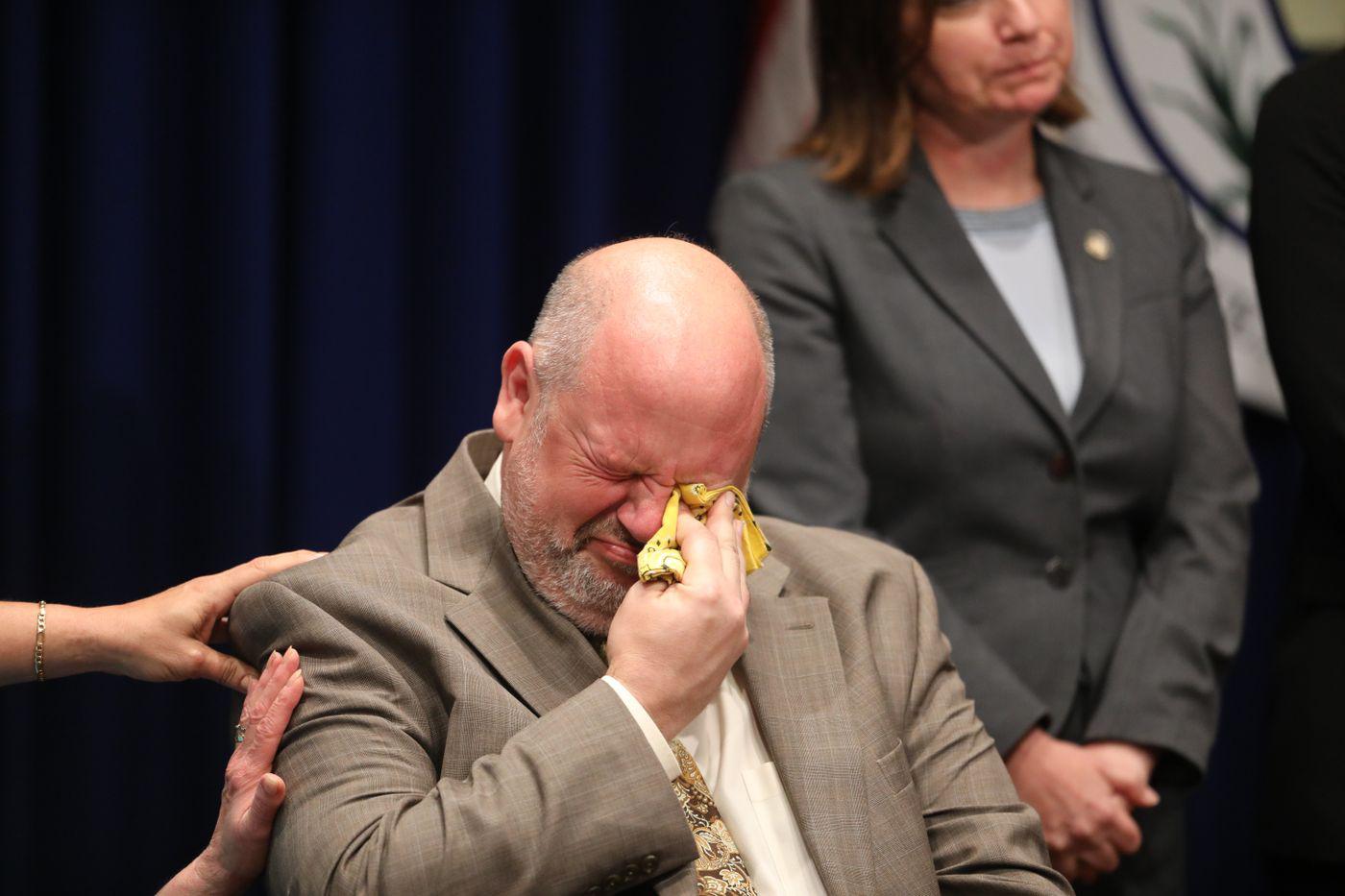 Unidentified victims and families and sexual abuse victims sit on the stage as Pennsylvania Attorney General Josh Shapiro releases the findings of a two-year grand jury investigation into clergy abuse at six of the state's Roman Catholic Dioceses, leading a news conference at the Capitol in Harrisburg on Aug. 14, 2018.
Photo by DAVID SWANSON
The reason for this miscarriage of justice? Antiquated statute of limitations laws that prevent claimants over the age of 50 from making criminal allegations against their abusers. Similar laws prevent survivors over the age of 30 from filing civil charges. These laws as they stand leave very few victims able to seek redress for their suffering, suffering to which a statute of limitations does not apply. Without accountability, there can be no change.
To these survivors and their families, I say: There is hope.
Ten years ago, I was a deputy attorney general in Delaware working with a newly elected attorney general — Beau Biden — when we faced our own Catholic Church abuse scandal. At the time, Delaware had outdated statute of limitations laws. But the magnitude of the crimes uncovered shocked us all, and we were able to change our laws to lift the statute of limitations on crimes against children. We couldn't do it alone — we built a coalition including survivors, legislators, and community activists. The reform resulted in a wave of litigation involving more than a dozen priests and some 150 victims that led to a $70 million payout from the diocese and $50 million more from Catholic Orders. Its impact is still being felt: Just this year, a priest was charged for a 25-year-old rape based on Delaware's updated statute of limitations laws. I strongly urge state legislative action in Pennsylvania to allow the 1,000-plus victims to seek justice by retroactively lifting the statute of limitations that protects offenders, along with the individuals and institutions that harbored them.
We were profoundly impacted by the accounts of survivors. We were driven to ensure they found some measure of justice, and not just in Delaware — the Church regularly moved pedophile priests from community to community, from state to state. A priest could have abused children in multiple congregations across six or seven states over the course of their lifetime — do all of those survivors not deserve the same justice? The records involved in investigations of child abuse should, wherever possible, be released and thoroughly examined. We must be able to identify additional communities impacted by the Church's negligence.
This is not a Pennsylvania issue. This is a national issue. We cannot continue to reel from crisis to crisis, making small changes to laws in response to criminal activity. The time is now. Survivors need to know they will find justice, and that can only happen if they know they will be supported, protected, and believed.
While the shock of the heinous child sex abuse at the hands of hundreds of Catholic priests in Pennsylvania will never completely disappear, the statute of limitations protecting the perpetrators can and should.
Delaware did it; Pennsylvania has the opportunity to do it. So must all states. As Beau himself said, "We have seen the progress that can be made when society commits to shining a bright light on a crime like domestic violence, and we are seeing the beginning of what can be accomplished if we continue shining that bright light on child abuse."