Diocese Fights Federal Fraud Lawsuit on St. Joseph Pension Fund - Denies Any Responsibility
Go Local Providence
September 20, 2018

http://www.golocalprov.com/news/diocese-fights-federal-fraud-lawsuit-on-st.-joseph-pension-fund-denies-any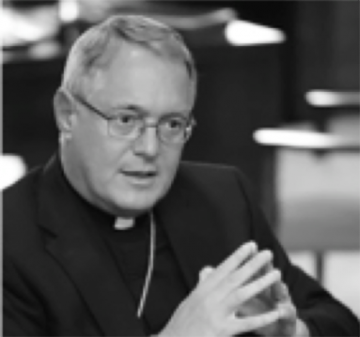 Attorneys for the Diocese, headed by Bishop Thomas Tobin, blame the "Great Recession"



The Diocese of Providence has filed a motion in federal court seeking dismissal of the fraud lawsuit that was entered in June by the receiver for the failed St. Joseph Health Services pension fund.

In the Diocese's stack of documents, lawyers for the Church deny any responsibility for the failure pension fund — the largest fund collapse in Rhode Island history.

The Diocese filing is in response to the 136-page complaint that was previously filed on June 20 by the receiver — a 21 count complaint filed against 14 Defendants. Similarly, the receiver filed a state court complaint in June which is 101-pages and includes 16 count complaint against many of the same defendants.

"The Diocesan Defendants express sincere sympathy for the retirees of St. Joseph Health Services of Rhode Island ("SJHSRI"). That sympathy, however, cannot cloud the conclusion that this lawsuit is a baseless attempt to undo difficult decisions made in 2014 to save the CharterCARE system from collapse for the sake of an entire state and the communities it sustained and served."

SEE THE SLIDESHOW BELOW

The Diocese is not the only defendant to file a request for dismissal of the federal court case.

The defendants in the fraud case include not only Diocese of Providence, but also CharterCare, CharterCare's parent company Prospect, Angel Pension Group, and a range of other related healthcare and diocesan entities tied to the sale of the St; Joseph Hospital first in 2009 by the Diocese to Roger Williams Medical Center which created CharterCare and then the sale of CharterCare to Prospect of California in 2014.

The Diocese motion goes onto say, "Nor does [the lawsuit] change the inescapable conclusion that the allegations lodged against the Diocesan Defendants are patently false, implausible, conclusory and lack sufficient factual or legal basis to state a valid claim for relief."

Stephen Del Sesto, the receiver for St. Joseph told GoLocal, "I have not yet had a chance to read all the Motions to Dismiss but was aware and it was not a surprise that the defendants were going to file to dismiss the complaint."

"I absolutely stand by the complaints and the detailed facts and significant allegations stated in the complaints. We will respond to and oppose each motion and, once heard by the Federal Court, I am confident that we will prevail and proceed with our case," said Del Sesto.

Endless Court Hearings

The St. Joseph pension fund was forced into receivership now more than 13 months ago. The motions to dismiss defendants in the federal fraud lawsuit are just the latest legal machinations.

There is upwards of a million pages of documents tied to the growing number of legal actions.

The legal web of court action has seen dozens of hearings with what looks to be two rival gangs packing the courtroom hearings. The courtroom is full of attorneys — an ever-growing number of lawyers as the case expands.

At stake is an estimated $118 million need to fully fund the pension. The attorneys for both the plaintiffs and defendants are almost all dressed in black or blue suits and are packed with binders of documents. Some seem like Sherpas carry or rolling thousands of documents into the court. The only attorney in the case who is a woman that is a constant from hearing to hearing is Arlene Violet — the 75-year-old, former Catholic nun, and Attorney General. The rest — all men.

On the other side is a group, ebbing from hearing to hearing, from as little as 20 to as many as more than a hundred of members of the failed pension fund that face as much as a 40 percent cut to their meager pension payments. The average pension monthly payment is less than $800 a month.

The retirees are often adorned in purple teeshirts which read, "Save our Pension."

Retirees who attend the hearings are mostly in their 60s, 70s, and 80s. A few have walkers and they are almost all woman.

There is a stark contrast between the tailored attorneys who are all being compensated at hundreds of dollars an hour and the retirees who are seeking to protect their pensions — most receiving hundreds of dollars a month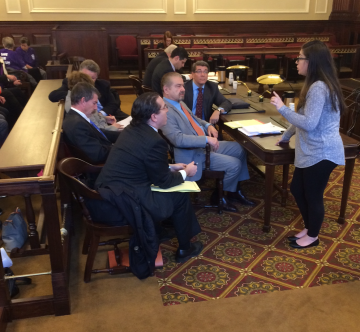 Receiver Del Sesto and Special Investigator Wistow during a December 2017 hearing



Diocese Says It Was the Recession's Fault

According to the motion filed by the Diocese, "Plaintiffs' complaint hides the true cause of the Plan becoming underfunded – the Great Recession of 2008. The complaint asserts that from 1995 to the present, defendants did not fund the Plan in accordance with the requirements of ERISA (Employee Retirement Income Security Act of 1974) and the recommendations of the Plan's actuaries, with the result that the Plan became grossly underfunded. However, documents cited in the complaint definitively show that the Plan was more than adequately funded through 2008. They also show that the havoc wreaked by the Great Recession led to the Plan becoming underfunded, not any actions or inactions by anyone involved in the Plan."

But earlier reporting by GoLocal shows that Angell Pension Group, the actuarial for the pension fund had repeatedly identified the amount necessary to properly fund the plan. Those required contributions were never contributed. Nor, did the Diocese or hospital officials disclose to pension plan members that the fund was in distress.

Attorneys for the Diocese also argue in their motion for dismissal, "Plaintiffs allege that there were certain 'Misrepresentations to Plan Participants in the 1970s through the 1990s. The Diocesan Defendants dispute they made these statements. Leaving that aside for the moment, these statements are not actionable..."

In addition, the Diocese disputes that there was concerted and intentional effort to "orphan" the pension fund.

"The complaint describes a scheme in which the Diocesan Defendants allegedly plotted with other defendants to surreptitiously isolate and abandon [the plan] unfunded pension liability to a surviving … shell entity that would have no operating assets," argues the Diocese's motion.

In addition, the Diocese says that the transaction in 2014 was public and that it was with the approval of Rhode Island Attorney General Peter Kilmartin, "The Attorney General's Decision approving the transaction under the Hospital Conversion Act establishes that everyone involved understood the issue."

No End in Sight

While the Diocese and other defendants move for dismissal of the federal fraud case, there appears to be no end in sight to the endless legal jousting. Beyond the Diocese's 78-page motion to dismiss, the submission to the court included more than 500-pages of attachments and exhibits.

Presently, before federal and state courts there are literally dozens of issues to be resolved.