Cardinal Dolan Names Judge to Review Response to Clergy Sex Abuse Claims
By Bart Jones
AMNew York
September 20, 2018

https://www.amny.com/news/clergy-sex-abuse-new-york-1.21170733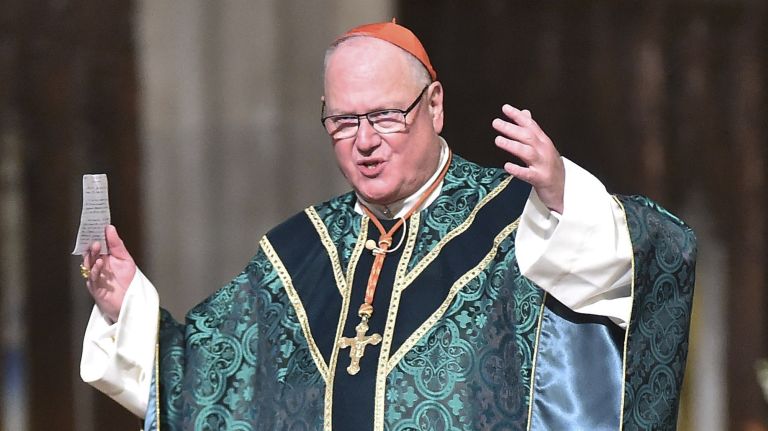 Cardinal Timothy Dolan at St. Patrick's Cathedral last November. Photo Credit: John Roca



Cardinal Timothy Dolan is asking a retired federal judge to independently examine how the Archdiocese of New York handles sexual abuse allegations against priests and church employees.

Dolan, who leads New York City's nearly 3 million Catholics, unveiled the review Thursday when he announced the appointment of Barbara Jones, who sat on the bench nearly 20 years in New York's Southern District.

Jones, 71, has been promised complete access to records, personnel and to Dolan himself, the cardinal said.

As part of her analysis, Jones will recommend how the archdiocese can improve its response to the sex abuse crisis and whether its victim compensation program has indeed helped survivors, Dolan said.

The review is the outgrowth of a demand by the city's Catholics for "accountability, transparency and action" from church leaders, the cardinal said.

"I also hear them honestly say to me something that stings me very much: 'Cardinal Dolan, we've been so let down that we're beginning to lose trust in you bishops,' " Dolan wrote.

The cardinal's announcement comes less than a month after the Pennsylvania attorney general released a report laying out at least 1,000 instances of clergy sex abuse over seven decades in that state, after which New York's attorney general launched an investigation into the state's eight dioceses.

Pope Francis is holding a summit on the crisis early next year at the Vatican.

Jones said she believes the archdiocese already has a "robust infrastructure" to handle allegations but made clear she will evaluate its effectiveness and identify any deficiencies.

"I approach this important assignment with an open mind and a clear understanding of the scope and scale of the issues that challenge the Archdiocese," Jones said.

Dolan told Jones to "hold my feet to the fire, if you feel that I am not following through on the recommendations that you make."

Most recently, Jones served as a court-appointed special master identifying items subject to attorney-client privilege from more than 4 million items seized in raids on Michael Cohen, President Donald Trump's former personal lawyer.

Jones was an assistant U.S. attorney in Manhattan and the chief assistant to former Manhattan District Attorney Robert M. Morgenthau before she was appointed to the bench in 1995 by President Bill Clinton. As a federal prosecutor, she served as chief of the Organized Crime Strike Force Unit.

Her appointment follows an announcement Wednesday by the U.S. Conference of Catholic Bishops to establish a hotline, monitored by a third party, to field complaints of abuse of minors and harassment of adults. On Tuesday, the Diocese of Brooklyn reached a $27.5 million settlement with four men who were repeatedly sexually abused by a religion teacher. The award was one of the largest to individual victims of clergy sex abuse.

In a letter posted earlier Thursday, Dolan said that "over this difficult summer, I've done a lot of listening. Many of you have told me that you are upset, angry, bewildered, and frustrated about the ongoing crisis of sexual abuse in the Church. I am not afraid to say that so am I."

The cardinal said his 90-year-old mother told him "she's embarrassed, as a Catholic, to go into the dining room with her fellow residents" at the assisted living center where she lives.

"Most stinging, though, is hearing, 'Cardinal Dolan, we are beginning to lose trust in you bishops.' And without that trust, I don't have a lot left," he wrote.

Dolan also said the church has made "great strides" since 2002 when the national clergy sex abuse scandal broke, chiefly by implementing a "zero tolerance" policy.