Fugitive Priest Returns to Abq to Face Abuse Charges
By Colleen Heild
Albuquerque Journal
September 21, 2018

https://www.abqjournal.com/1223654/notorious-fugitive-nm-priest-in-custody-facing-child-sex-abuse-charges.html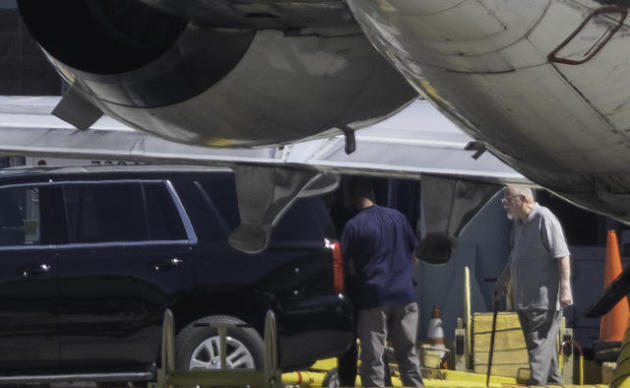 Notorious fugitive priest Arthur Perrault, right, arrives at the Albuquerque International Sunport Friday afternoon on a commercial flight and is now in custody, facing child sex abuse charges. Here he waits to climb into an FBI vehicle to take him to downtown Albuquerque for a hearing in federal court. (Roberto E. Rosales/Albuquerque Journal)



After 26 years on the lam, 80-year-old Arthur J. Perrault stood before a U.S. magistrate judge Friday to face newly unsealed federal criminal charges of sexual molesting an 11-year old boy while he was a military chaplain at Kirtland Air Force Base from 1991 to 1992.

Perrault, who also served as pastor at St. Bernadette's Church before he fled Albuquerque in 1992, is one of the most notorious of the Roman Catholic priests accused of child sexual abuse in New Mexico.

He had been teaching at the American Language School in Tangier, Morocco, for the past two decades. But Moroccan officials have kept Perrault in custody since a secret federal grand jury indictment was issued a year ago in Albuquerque. That indictment led to his arrest this week by the FBI, whose agents returned him to Albuquerque on Friday afternoon.

"Bringing Arthur Perrault back to New Mexico took a lot of patience and perseverance but the FBI and our partners were determined to make sure he faced justice, no matter how long it took or how far we had to go to get him. We also owed it to the victim," said James C. Langenberg, FBI Special Agent in Charge of the Albuquerque Division.

Perrault appeared before U.S. Magistrate Karen Molzen on Friday afternoon and pleaded not guilty to six counts of federal aggravated sexual abuse and one count of sexual contact. He will remain in federal custody pending a detention hearing set for Tuesday.

The criminal charges contend Perrault repeatedly molested the boy at Kirtland Air Force Base and at the Santa Fe National Cemetery – federal property that gave the U.S. Attorney's Office jurisdiction to prosecute him.

At a news conference Friday morning, U.S. Attorney John C. Anderson and Langenberg said Perrault's arrest culminated an FBI investigation that began in early 2016.

"This man was widely perceived as mentor to young people and a respected figure in the community," Anderson said. "Although the indictment alleges that Perrault committed these acts many years ago, this indictment should make clear that the U.S. Attorney's Office will pursue justice for victims despite the passage of time or the many years that this defendant sought to put between him and these alleged offenses."

Two FBI agents from the Albuquerque office traveled to Morocco this week to pick up Perrault, Langenberg said. Perrault arrived on a commercial flight about 1:30 p.m. Friday, and disembarked from the plane onto the tarmac. Agents led him directly to a black SUV, which quickly drove away.

With more than a dozen alleged victims and their families watching in the courtroom Friday, the disgraced priest walked into the courtroom with the assistance of a cane. He showed little emotion during the hearing, during which he was told that if convicted of the most serious of the charges, criminal aggravated sexual abuse, he will spend the rest of his life in prison.

Civil lawsuit

State court documents filed in a civil lawsuit allege Perrault abused at least 38 victims in New Mexico over a 30-year period – from the mid-1960s until he fled the state a month before several victims reported him to the Albuquerque Police Department in October 1992 for criminal sexual penetration of a minor.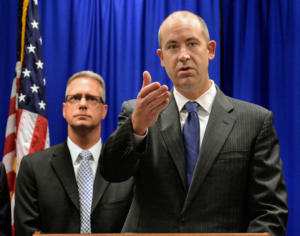 New Mexico U.S. Attorney John Anderson, right, and FBI Special Agent in Charge James Langenberg describe the investigation and arrest of former fugitive priest Arthur Perrault during a news conference Friday. (Jim Thompson/Albuquerque Journal)



Perrault initially fled to Canada and was living in Morocco when the Albuquerque law firm of attorney Brad Hall, which has filed dozens of civil cases against accused pedophile priests, located him in 2016.

"It's very therapeutic for victims and survivors everywhere," said Hall, after he attended Perrault's court hearing Friday. "Whenever there's any step taken that increases transparency and accountability when it comes to child sexual abuse, that helps protect kids everywhere."

Perrault's arrest led the Archdiocese of Santa Fe to issue a statement Friday, which said in part: "Over the past year, the archdiocese has fully cooperated with the U.S. Attorney's Office and the FBI during the federal grand jury investigation which ultimately led to these criminal indictments against Perrault. The archdiocese was informed after Perrault's arrest was initiated.

"The Archdiocese of Santa Fe began its own canonical process of investigating these allegations in 1992. The accusations against Perrault were reported immediately to the Albuquerque civil authorities.

"The archdiocese has cooperated fully with all law enforcement agencies investigating the allegations and will continue to support the judicial process as it runs its course. We ask all to cooperate and respect the legal proceedings and for prayers for all victims and those affected by these very serious charges."

Perrault's other church assignments in Albuquerque included Queen of Heaven, Annunciation and St. Pius High School – where he was assigned after his release from the Servants of the Paraclete center for pedophile priests in Jemez Springs in 1966.

New Mexico's decades-long clerical sex abuse crisis has resulted in an unknown number of confidential settlements of civil claims of child sexual abuse, but the federal criminal indictment of Perrault marks one of the few criminal prosecutions of a priest accused of molesting children while serving here.

Typically, Hall said, there are state statute of limitations obstacles even for filing civil lawsuits years after alleged child sexual abuse occurred.

U.S. Attorney Anderson said there are no statute of limitation issues in Perrault's case. Federal law was amended in 2003 to make criminal prosecutions of child sexual abuse possible for the lifetime of a victim.

Same allegations

Hall's firm in 2016 represented a former altar boy who sued Perrault personally for damages. The allegations in that civil lawsuit mirrored those in the newly unsealed federal criminal indictment. But Hall said he doesn't know whether his client, Kenneth Wolter, is the victim in the federal prosecution. Wolter's lawsuit contended he was sexually abused while he was an altar boy, and contended that molestations occurred in various locations, including on the premises of Kirtland where Perrault was an Air Force chaplain.

In response to the lawsuit, Perrault wrote a letter from Tangier to the state district judge in the case in which he denied molesting anyone.

Judge Denise Barela-Shepherd entered a default judgment against Perrault in early 2017 and awarded the victim, Kenneth Wolter, $16 million in damages against the priest.

In his Nov. 25, 2016, letter to the judge, Perrault wrote of the allegation involving Kirtland, "This is pure fantasy!"

He stated that he and the boy "never went to Kirtland together, and I did not abuse him on the premises."

Perrault added, "If he was abused 25 years ago, It wasn't by me. There are 2 victims here: Wolter and Perrault."