Pope Accepts Resignation of Two Chilean Bishops Accused of Abuse or Cover-up
By Ines San Martin
Crux
September 21, 2018

https://cruxnow.com/church-in-the-americas/2018/09/21/pope-accepts-resignation-of-two-chilean-bishops-accused-of-abuse-or-cover-up/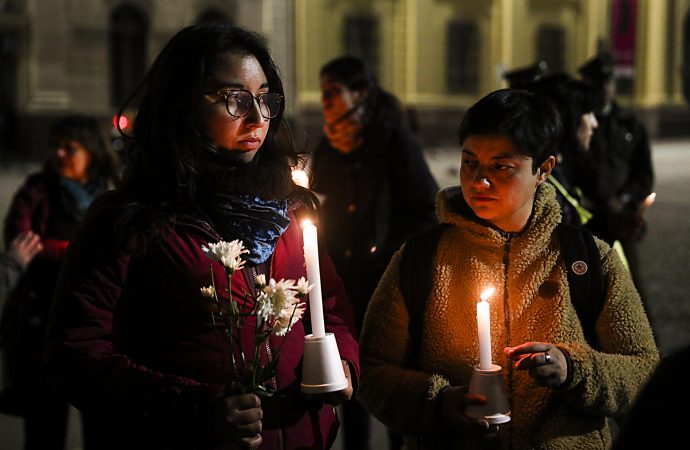 Demonstrators hold candles and flowers Aug. 20 in front of the Metropolitan Cathedral of Santiago, Chile. The demonstration was held as a protest against sexual abuse committed in the Chilean Catholic Church, in an event organized by the Network of Survivors of Ecclesiastical Abuse in Chile. (Credit: CNS photo/Alberto Pena, EPA.)



Four months after the Chilean bishops presented their resignations en masse due to a massive clerical sexual abuse crisis, Pope Francis has accepted two more on Friday, bringing the total to seven.

Though the Vatican gave no reason for the pontiff's decision, both prelates replaced on Friday are accused of sexually abusing minors.

Both prelates are currently being investigated by civil prosecutors, as is Cardinal Ricardo Ezzati, the Archbishop of Santiago, who continues in his role despite allegations that he covered up clerical sexual abuse.

Bishop Cristian Contreras of San Felipe is one of the two whose resignation Francis accepted on Friday. He's being investigated for cover-up, but also for allegedly abusing a minor in the bishop's house decades ago. He had already been investigated in 2013 by the Vatican, which sent two priests to look into alleged sexual abuses, but no sanctions were imposed.

Contreras will be temporarily replaced by the head of the ecclesial tribunal of Santiago, Jaime Ortiz de Lezcano, who will serve as apostolic administrator. He was the man tasked with investigating former priest Cristian Precht, who was removed from the priesthood last week by Francis without the possibility of appealing the sentence.

In 2012, Ortiz de Lezcano had recommended a life-time sentence for Precht, but the now defrocked priest received instead a five-year suspension, a decision that critics often pin on Ezzati, as it was his prerogative to determine the sentence after the Vatican found the priest guilty of abusing both minors and adults.

The second bishop, Carlos Pellegrin, until today head of the diocese of Chillan, is also accused of abuse. He was investigated in 2011 over a series of anonymous allegations, but new ones arose last month, so he's being investigated again by the local prosecutor.

Francis's decision to accept his resignation comes a week after Pellegrin's diocese was raided by the local prosecutors' office. He will be replaced by a local priest, Sergio Perez de Arce, who will also serve as apostolic administrator.

An apostolic administrator has the same rights and obligations of a residential bishop, and they become members of the local bishops' conference for the duration of their assignment.

At 59, Contreras is far from the mandatory retirement age, as is Pellegrin, who's currently 60.

The resignations come after Francis accepted those of Juan Barros, former bishop of Osorno, accused by the victims of pedophile priest Fernando Karadima of covering up for his mentor; Horacio Valenzuela from Talca, another man considered close to Karadima; Gonzalo Duarte of Valparaiso, accused both of covering up cases of abuse but also of abuses of power and conscience with a sexual connotation; Alejandro Goic, of Rancagua, who publicly acknowledged he failed to act promptly after being informed of a ring of priests guilty of sexual misconduct; and Cristian Caro, from Puerto Montt, who's also been accused of covering up.

Some of these men are over 75, but this is not the case for instance with Barros. In every instance, the Vatican has not disclosed why the resignations were accepted, something survivors' groups have long advocated in the name of transparency.

Last May Francis summoned every Chilean bishop to Rome and, after a three-day meeting, all of them presented their resignations after acknowledging that they'd made "grave mistakes and omissions." The pontiff himself gave them a letter, meant to be private, in which he said he knew some bishops were guilty of several crimes, including cover-up and destroying evidence to protect the perpetrators.

Most of the evidence Francis had at hand came from an investigation he requested from Maltese Archbishop Charles Scicluna and Spaniard Father Jordi Bertomeu, an official in the Vatican's Congregation for the Doctrine of the Faith. The two were sent back to Chile in June to look into the "Osorno case" but also to continue to collect information about other cases of abuse.

The two presented a 2,300 page report that led to Francis's decision to call all the bishops to Rome, as well as a group of three survivors of Karadima, whom he'd previously accused of calumnies for criticizing his decision to transfer Barros in 2015, from the military chaplaincy to the southern diocese of Osorno.

Juan Carlos Cruz, one of Karadima's survivors who met with Francis before the summit of bishops in Rome, went to Twitter to celebrate the decision announced on Friday, saying that it's a day of "celebration" for Chile, and that the "delinquent bishops are slowly leaving and a new church is surging."

"Now they have to answer to [local] justice for abuse and cover up!" he said in a second message. "Slowly cleaning the Chilean church."

The news of the two new resignations comes on the day Francis welcomed Archbishop Fernando Chomali of Concepcion, who's often named as a possible replacement for Ezzati.