Pope Francis Has a Blind Spot on Sexual Misconduct—and It Begins with His Own Advisory Council
By Dan Spinelli
Mother Jones Magazine
September 21, 2018

https://www.motherjones.com/politics/2018/09/pope-francis-has-a-blind-spot-on-sexual-misconduct-and-it-begins-with-his-own-advisory-council/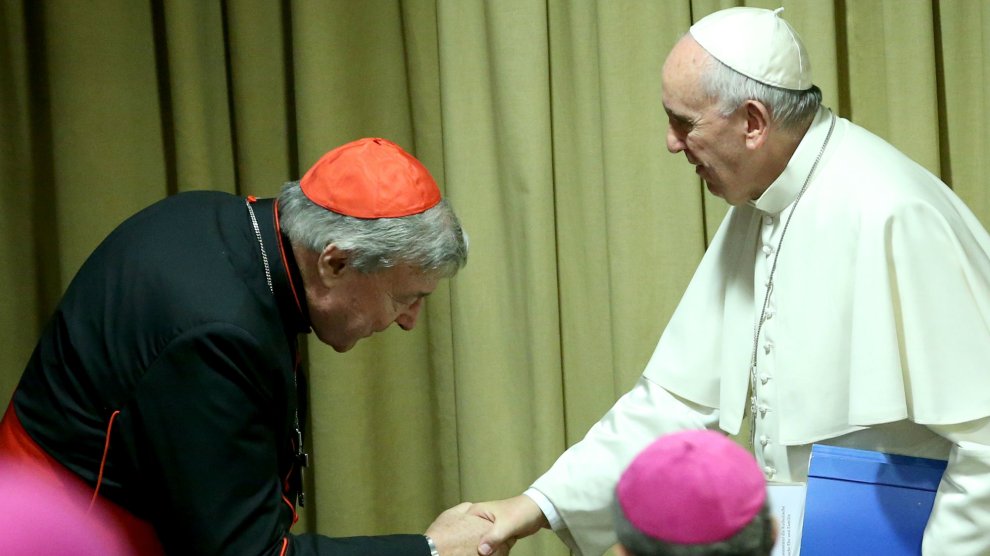 Pope Francis greets Cardinal George Pell, a member of his Council of Cardinals. Pell currently faces charges of sexual misconduct in his native Australia.Franco Origlia/Getty Images



When Pope Francis said last week that he would summon leading Catholic bishops to Rome for an unprecedented summit on the clergy sex abuse scandal, the Vatican included a superficially innocuous detail in the announcement. His decision came "after hearing the Council of Cardinals" and heeding their advice. This group of nine individually selected cardinals, known informally as the "C9," has only met with Francis 26 times since his election in 2013. But their infrequent gatherings belie the weight Francis has given their counsel on important church-related issues.

"At the end of the day, the buck stops with Pope Francis," John Gehring, author of The Francis Effect: A Radical Pope's Challenge to the American Catholic Church, said in a direct Twitter message to Mother Jones. "The cardinals he surrounds himself with to help navigate through this crisis are clearly important, but it's the pope's responsibility to move from tough rhetoric to real structural reform."

It is the C9's influence in guiding the Vatican response to the sex abuse scandal that has raised concerns among abuse survivors and other church observers, not because of any specific advice they have given, but rather because two members of the council have their own connections to the crisis. Last year, 77-year-old Australian Cardinal George Pell was charged with sexual misconduct after allegations emerged that he abused minors decades ago. (Few details are known about the charges because Australian law limits what can be reported about criminal defendants before a verdict is reached.) Another C9 member, Cardinal Francisco Javier Errazuriz Ossa of Chile, reportedly hid evidence of abuse committed by Fernando Karadima—a priest so notorious that the Vatican made the rare decision of publicly proclaiming his guilt after an internal investigation.

"Your membership should be above any suspicion," said Kurt Martens, a professor of canon law at Catholic University. "I'm not so sure the pope is doing himself a favor by keeping these people on if they have been criticized."

Pope Francis originally established the council shortly after his election in order to reform the sprawling network of Vatican administrative offices known as the Roman Curia, whose legacy of corruption and notorious gossip networks bedeviled Francis' predecessors. It also suffered the problems of any unwieldy bureaucracy with similar positions that had duplicative responsibilities and rival interests. Over the years, its role expanded to include advising the pope on other matters, including the selection of bishops and, crucially, the management of the decades-long abuse crisis. The nine cardinals come from six continents and include two members of the Curia.

Some Vatican observers consider the pope's reluctance to discipline members of his personal council of advisers—the same council now leading the charge to respond to the sex abuse crisis—as hypocritical, especially given that Francis has demonstrated a willingness to oust other troublesome clerics before an extended investigation could take place. When Cardinal Theodore McCarrick, the former leader of Washington, DC's Catholic community, was accused in a July New York Times article of several instances of sexual abuse, he lasted just 12 days before Pope Francis accepted his resignation. Last week, Bishop Michael J. Bransfield of West Virginia was ousted before the church even opened an investigation into his alleged sexual harassment.

"It's almost as if he has different standards being used here," Martens said.

Part of the reason may be personal. The pope's history with Cardinal Errazuriz goes back to the time when he was archbishop of Buenos Aires and the cardinal was president of the Latin American bishops' conference. In 2007, Errazuriz commissioned the future pope to draft the central document at the bishops' continental meeting in Aparecida, Brazil, which laid out a vision for a more inclusive, environmentally focused Church and foreshadowed the approach Francis would adopt as pope. Errazuriz, a "close friend and ally" to Francis during his days in Argentina, became a "clear papal favorite" from the very beginning of his tenure in 2013, the Catholic news service Crux reported last month.

But 85-year-old Errazuriz, who no longer oversees a diocese in Chile and is past the church's official retirement age of 75, is also a central figure in the clergy sex abuse scandal in Chile, where Francis caught flak from activists and survivors for elevating another clergyman, Juan Barros Madrid, to bishop, despite accusations that Barros had helped cover up the crimes of his friend, disgraced priest Fernando Karadima.

Errazuriz was first alerted to allegations against Karadima in 2003 when "a young parishioner" wrote a letter to the cardinal detailing the abuse he suffered, the New York Times reported. The cardinal only opened an investigation the next year after receiving word of an additional allegation. When a 2006 report deemed the accusations against Karadima credible, Errazuriz removed Karadima from his ministerial position, but then "suspended the investigation for more than three years, to wait for new evidence and because he thought the allegations were beyond the statute of limitations," the Times noted. The case was eventually turned over to the Vatican, which found him guilty in 2011. Errazuriz has denied any wrongdoing.

To complicate matters even further, Errazuriz also has kept close ties with Luis Fernando Figari, the founder of lay Catholic group Sodalitium Christianae Vitae, even after he was accused of psychologically and sexually abusing members, including one child. "Errazuriz is really good friends with the abusive delinquent Figari," Juan Carlos Cruz, a Chilean victim of clergy abuse who has met with Francis, told Crux.

Francis defiantly defended the Chilean prelates in January before a 2,300-page Vatican report uncovered what the pope called "grave negligence" by Catholic leaders there. Francis swiftly changed course and demanded that all Chilean bishops—including Barros—submit letters of resignation.

Another member of the C9 is Cardinal George Pell, the highest-ranking church official ever to stand trial on sex abuse charges. Australian authorities have not revealed precise details about the allegations against him beyond that they involve "multiple complainants," according to the New York Times. In February 2014, Francis appointed Pell to lead a new, centralized financial office, giving the former archbishop of Melbourne and Sydney "authority of all the economic and administrative activity within the Holy See and the Vatican City State." Since he was charged in Australia with "historical sexual offenses," a category of crime that encompasses decades-old allegations, Pell has been on leave from his Vatican duties. He has pleaded "not guilty" and is under house arrest pending the start of his trial. (Separately, Pell told an Australian royal commission in 2016 that he made "enormous mistakes" when handling complaints of abuse during his time as a high-ranking church official in Melbourne and Sydney.)

Massimo Faggioli, a professor of historical theology at Villanova University, said Francis may be inclined against disciplining Pell so as not to unnecessarily influence his criminal case. "It's a fundamental rule of caution," he said. But a longtime Vatican journalist, who requested anonymity to speak frankly with Mother Jones, said the pope would almost have to act if Pell's trial heated up. "The man believes in forgiveness and in the possibility of human beings to change," the Vatican watcher said. "If the accusations are of events that occurred 30, 40, 50 years ago, I think he's willing to believe that perhaps those were isolated events. But, if Pell is convicted by a court, I would be shocked if the pope continued to support him."

Neither Errazuriz nor Pell attended the C9's most recent meeting this month amid rumors in the Spanish media that Francis is moving closer to shaking up the lineup of the council. When asked about his absence, Errazuriz told the Chilean newspaper La Tercera, "I have no news about it, neither about Pope Francis nor the Vatican." Cruz, in an interview with the Washington Post, said he mentioned Errazuriz specifically in a conversation with Francis, but the pope remained noncommittal. "He said, 'I have to pray about this and let the Holy Spirit guide me on what I have to do,'" Cruz told the Post.

The pope also has another option—it just might not please survivors of abuse who desire a stronger response. The C9's original five-year mandate expires in October, giving Francis some latitude to rearrange its membership without necessarily making a direct statement about Pell and Errazuriz's conduct. The C9 released an unsigned statement last week that said, "The Council of Cardinals… has decided to ask the Pope to reflect on the work, structure and composition of the Council itself, also taking into account the advanced age of some of the members."

In a tweet, Cruz expressed hope that Errazuriz would receive a stronger penalty than simply leaving the council at the expiration of its mandate. "I would like your departure not to be so elegant," he wrote.