Bishop Zubik says he's sorry for times 'I could've done more, ... said more'
By Natasha Lindstrom
Trib Live
September 23, 2018

https://triblive.com/local/allegheny/14110528-74/bishop-zubik-says-hes-sorry-for-times-i-couldve-done-more-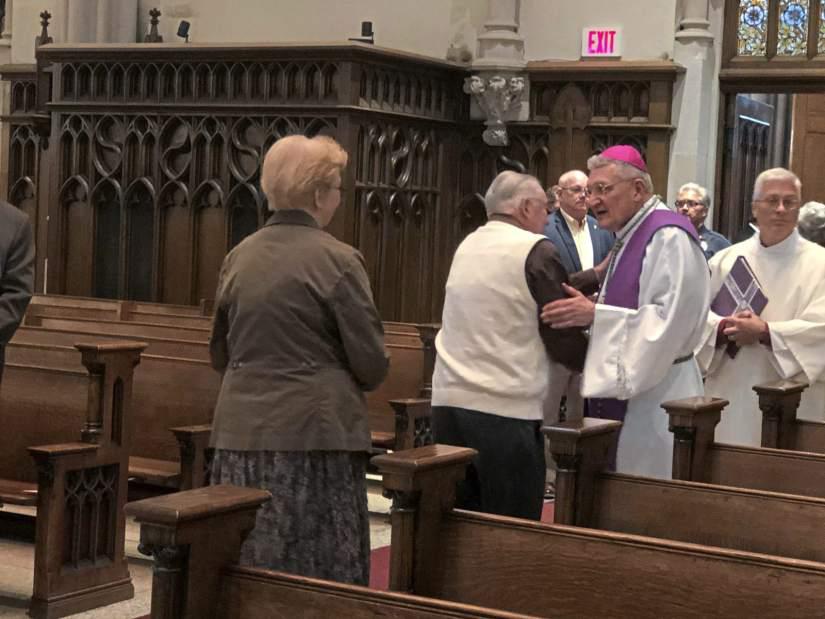 Bishop David Zubik greets church-goers following a Holy Hour for Repentance service Sunday at St. Paul Cathedral in Pittsburgh's Oakland neighborhood. Sept. 24, 2018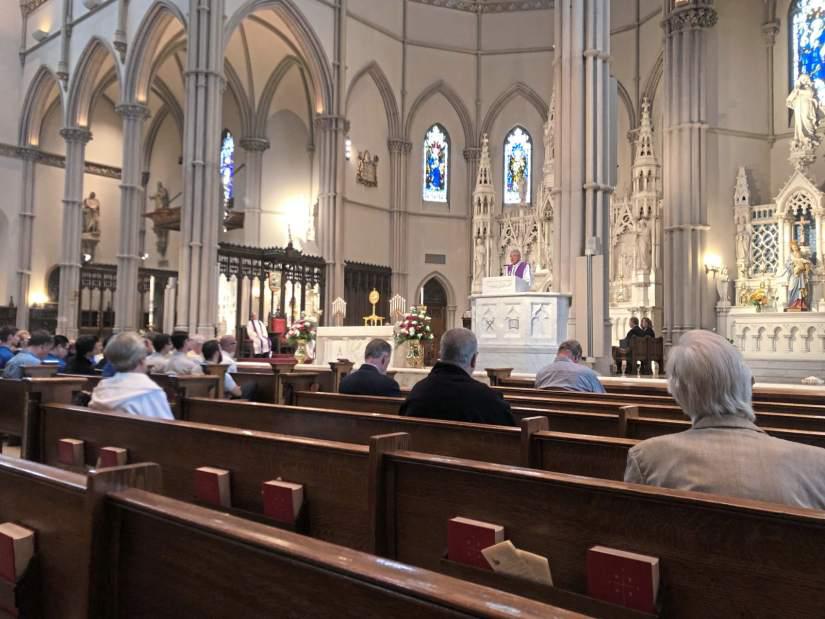 Bishop David Zubik speaks during a Holy Hour for Repentance service the homily portion of the special service Sunday at St. Paul Cathedral in Pittsburgh's Oakland neighborhood.
Diocese of Pittsburgh Bishop David Zubik told those gathered Sunday at a prayer service for children who were sexually abused by priests that he's sorry for "the times that I could've done more, for the times that I could've said more."
"I only wish that hindsight had caught up with me sooner than it did," Zubik said during the homily portion of the special service at St. Paul Cathedral in Pittsburgh's Oakland neighborhood. "All of us are called to join in this time of repentance as we feel each other's pain deeply, within and outside the church."
Roughly 100 people gathered for the special "Holy Hour for Repentance" service, including a few dozen parishioners, a group of about 20 seminarians — or priests-in-training — and clergy and lay leaders from across the diocese's six-county region.
Zubik called for the service to "express sorrow" for child sexual abuse victims as Pittsburgh and five other Pennsylvania dioceses respond to a scathing grand jury report alleging that more than 300 priests sexually abused at least 1,000 children over the past 70 years.
"This is a beginning," said the Rev. Jim Orr, who splits his ministry between St. Aloysius in Reserve Township and Most Holy Name of Jesus, which operates St. Anthony's Chapel in Pittsburgh's Troy Hill neighborhood. "There's no easy answer to pain, and pains like this can take a lifetime to heal. So we can't even pretend that this is going to be the be-all and end-all of an answer, but certainly it's a beginning."
The event marked the start of periodic fasting and special daily prayers by clergy during a "Year of Repentance" that Zubik announcement earlier this month.
In Western Pennsylvania, 20 "predator" priests who worked in the Greensburg diocese and 99 in the Pittsburgh diocese stand accused of sexual abuse in the far-reaching grand jury report made public in August.
"It's a demonstration on a very public basis that we're willing to work with those who have been hurt by any member of the church and we want to walk with them," Orr said shortly after Sunday's service in Oakland. "Whether they want to walk with us is another question. But we certainly want to be part of their healing."
Zubik has said the church didn't cover up the abuse and that the church has instituted internal reforms to address abuse by clergy. He has called for eliminating criminal statutes of limitation for child sexual abuse, clarifying the rules for mandatory reporting and providing stronger penalties for those who fail to protect children.
"We also need to take steps together," Zubik said Sunday from the pulpit. "We must address the change that must happen within the church and in each of our lives, so that the abuse that has brought us here today will never, ever happen again in any church by any priest or in any place by any person."
"
The grand jury report alleges that high-ranking leaders in the church tried to cover-up allegations dating to decades ago, including Cardinal Donald Wuerl, Washington's archbishop and former bishop of Pittsburgh. The report mentions Wuerl's name 169 times.
Wuerl has since said it may be best for him to "step aside" so the church can heal and that he plans to discuss his resignation with Pope Francis.
On Sunday at St. Paul's, the pews of the massive, Gothic-style cathedral — which can seat up to 1,500 — looked relatively empty at the prayer service in comparison to the largest Masses and funerals held there.
The one-hour service, which was not a Mass, included candle lighting, incense burning, multiple readings, responsorial hymns and a prayer by Zubik asking forgiveness from those hurt by the church or its leaders in any way.
"We acknowledge the betrayal of a most sacred trust. We acknowledge their courage in speaking the truth," the reader said during another prayer. "We affirm their dignity as people who are seeking truth and accountability, compassion and redress for the wrong that has been done to them."
Tim Lennon, president of the Survivors Network of Those Abused by Priests — which has called for Zubik to resign — has dismissed such efforts as "merely words and gestures," arguing that "apologies, condemnations (and) penance fail to protect or support victims."
Last week, Zubik joined other bishops and archbishops in supporting the creation of an independent and voluntary sex abuse survivors "compensation program."
In the same statement, the leaders said they opposed altering statue of limitations rules in civil cases involving old claims of abuse because doing so could bankrupt Pennsylvania's Catholic Church.
Zubik has said the church since 2002 has forbidden non-disclosure agreements for child victims of clergy sex abuse and called for the state to create a similar ban.
Contact: nlindstrom@tribweb.com