Pennsylvania House moves closer to approving bill giving childhood sexual abuse victims more time to sue
By Steve Esack
Morning Call
September 24, 2018

http://www.mcall.com/news/nationworld/pennsylvania/mc-nws-pennsylvania-legislature-child-sex-abuse-20180924-story.html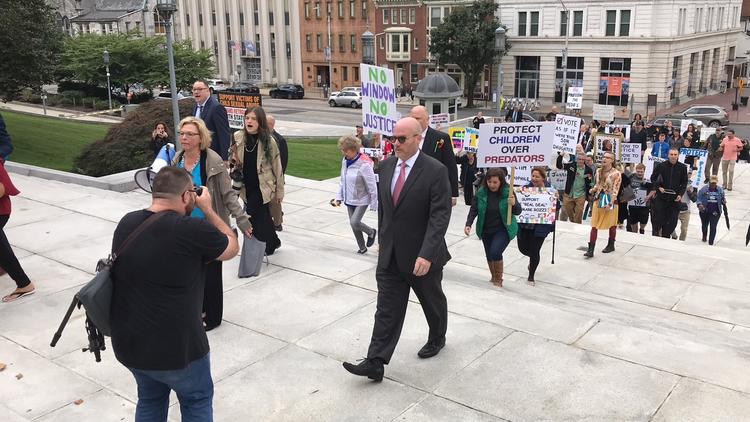 The Pennsylvania House moved closer Monday to approving bill extending lawsuits for childhood sexual abuse victims after victims and their supporters marched on the Capitol earlier in the day.
Photo by Steve Esack
One half of the Pennsylvania Legislature moved a step closer to approving a bill extending lawsuits for some childhood sexual abuse victims.
The House voted 171 to 23 Monday to add an amendment to a Senate bill that would give some adults older than 30 a two-year window to sue their alleged abusers and their employers who may have covered up the crime. The bill would give victims 24 months to file retroactive civil lawsuits to try to recoup money and compel their alleged abusers to testify in court.
However, the amended bill creates a different level of legal proof needed to prove a child sex abuse claim in civil court. Anyone suing a private entity, such as the Catholic church, for a child sex abuse cover-up would need to prove a lower level of "negligence" than someone suing a public institution, such a school district. Financial claims against a public institutional also would be capped. They would not be limited against private entities.
The vote was not without drama or biblical verse or cheers.
It came about six weeks after the attorney general's office released a grand jury report outlining how 301 priests sexually abused more than 1,000 children between 1947 and 2017 in six Catholic dioceses in Pennsylvania. Prior to the vote, dozens of those victims and others paraded through Harrisburg streets, protesting before a lobbying firm that works for the dioceses, to the Capitol in support of the amendment.
"Today, we as a body have an opportunity to vote on something that is historical," said Rep. Mark Rozzi, D-Berks, whose personal story of clergy sex abuse galvanized the House. "We have victims today watching us put on this vote. They are up here in the gallery. Stand up."
An ovation rose as they took to their feet.
Lifting the civil lawsuit statute of limitations on child sex abuse cases has been a recurring recommendation made by citizens who approved the state attorney general's Altoona-Johnstown Diocese report of 2016, and the Philadelphia district attorney's 2003 and 2005 grand jury reports of Philadelphia Archdiocese.
The House vote, however, does not settle the issue. The House needs to adopt the bill one more time, probably on Tuesday. Passage Tuesday would send it to the Senate, where the bill's future is unknown.
The Senate has opposed retroactive lawsuits in recent years under the belief that such look-back litigation is illegal under the state constitution's remedy's clause. The clause is meant to limit the time frame lawsuits — or criminal charges — can be filed under a so-called statue of limitations.
The Senate's original legislation, Senate Bill 261, would remove civil lawsuit time limits for future victims or victims who are not yet 30. It also would abolish criminal prosecution time limits on future child sex abuse cases. A criminal case cannot be brought after a victim turns 51 under the current statute of limitations.
The Catholic Conference, the leading lobbying arm of the dioceses, as well as the state's insurance industry support the Senate bill and oppose retroactive lawsuits.
Senate President Pro Tempore Joe Scaranti, R-Jefferson, has led a push to get the church to set up a voluntary victims' restitution fund in lieu of retroactive lawsuits.
On Friday, the state's eight Catholic dioceses, including Allentown, voiced unified support for such a fund.
On Monday, a House lawmaker floated an amendment to create a voluntary fund. It was defeated, after Rozzi spoke against it, saying the church for generations has fought victims' claims and cannot be trusted.
As horrific as child sex abuse is government does not have a right to change laws for a select group of people, said Rep. Michael Corr, R-Montgomery. If the Legislature permits retroactive lawsuits in child sex abuse cases, what would stop it form allow such litigation in other matters, such as contract law, he said. By approving the limited type of lawsuits, Corr added, the Legislature is abandoning its duty to honor the constitution.
As a 13-year-old getting raped in the shower by a priest, Rozzi said, he didn't think about the statute of limitations.
"We can stick with victims and get this done once and for all," he said.
"I am a practicing Catholic. my faith is very very important to me. I love my church," said Rep. Gene DiGiroloma, R-Bucks, who read a gospel verse.
But, he said, that does not mean he can support the church's decades-long cover-up or his local priest's excuse that most of the abuse occurred decades ago.
"I don't give a damn if they happened 40 years ago or 40 minutes ago," DiGiroloma said.
Rep. Madeline Dean, D-Montgomery, equated child sex abuse to the "murder" of a child's soul, and homicide does not have a statute of limitations.
All representatives from Lehigh and Northampton counties support the bill Monday. The House is expected to vote on the bill Tuesday.
Contact: sesack@mcall.com