Former bishops' aide calls on Pope Francis to break silence on abuse
By Christopher White
Crux
September 26, 2018

https://cruxnow.com/church-in-the-usa/2018/09/26/former-mccarrick-ally-calls-on-pope-francis-to-break-his-silence/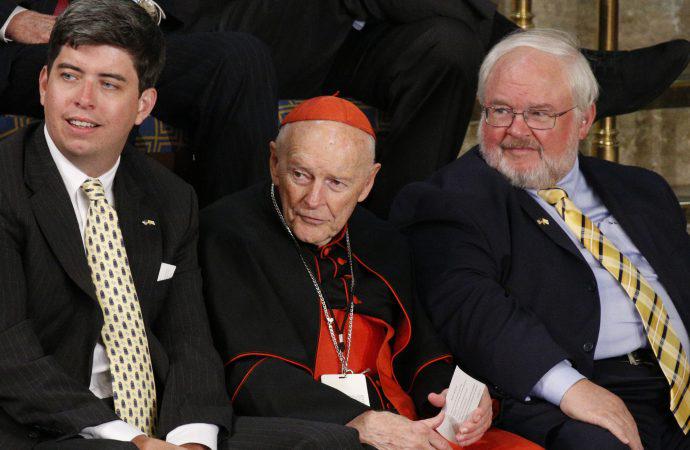 Then-Cardinal Theodore E. McCarrick, retired archbishop of Washington, attends Pope Francis' address to a joint meeting of Congress at the U.S. Capitol in Washington Sept. 24, 2015. At right is John Carr, director of the Initiative on Catholic Social Thought and Public Life at Georgetown University. The man at left is unidentified.
One of ex-Cardinal Theodore McCarrick's former closest collaborators and one of the U.S. Church's leading crusaders for sex abuse reform, is calling on Pope Francis to break his silence about what the Vatican knew about the previous archbishop of Washington's history of abuse and to act more decisively on the issue.
In the hope of ending the "silence and secrecy" surrounding the Church's handling of abuse, John Carr - who served for two decades as the Capitol Hill point man for the U.S. Conference of Catholic Bishops (USCCB) - also revealed that he was abused by priests while in high school seminary.
"Pope Francis has been too slow to understand and act on the moral and spiritual consequences of abuse. I believe his recent efforts to listen to victims/survivors, challenge destructive clericalism and call leaders of the entire church to Rome offer steps forward," Carr told a crowd of over 500 attendees at Georgetown University's Initiative for Catholic Social Thought and Public Life panel discussion on "Confronting a Moral Catastrophe: Lay Leadership, Catholic Social Teaching, and the Sexual Abuse Crisis."
"The lesson here is that silence makes things worse, and is not an option for any of us," he continued.
While still mounting a strong defense of the Francis papacy, Carr used the evening to issue a clarion call for swift action on the part of Church leadership on abuse reform.
Carr, who was a close associate of not only McCarrick but also former Cardinal James Hickey and the current embattled archbishop of Washington, Cardinal Donald Wuerl, spoke of his personal experience of being in the room with prelates during internal discussions on sexual abuse cases and said that one of his primary takeaways has been "there are not enough parents in the room when these decisions are made."
"Many clergy look at this through the eyes of a brother priest. Through the eyes of a father, this was the worst thing that could happen short of the death of a child," said Carr. "It undermines trust and faith, priesthood and Eucharist, sexuality and family. There need to be more parents in the room."
Carr also recalled his private conversation with Cardinal Bernard Law of Boston who resigned after the Boston Globe's 2002 explosive revelations of decades of abuse and cover-up within the diocese.
After one brutally honest discussion, Law replied to Carr "no one talks to me the way you do."
Carr said that experience taught him "many bishops are isolated, surrounded by people who reinforce their judgments."
"This isolation, institutional protection and lack of connection to anguish of survivors and their families have often led to a lack of empathy, urgency and action," he continued.
Carr went on to say that the now-revealed past behavior of his former ally McCarrick, whom he said was "a friend…and great supporter of my work," has made him "appalled, ashamed, and devastated by his abuse of power and people."
He also added that he had previously confronted the former archbishop about rumors of his sexually deviant behavior, which he denied.
"If any of that were true, I would not be here. These charges from my enemies have been repeatedly investigated by media," McCarrick told Carr.
"I learned the hard lesson that there have to be independent, credible and effective ways for bishops to be reported investigated and held accountable for their behaviors, abuse of power, actions and non-actions in this area," Carr challenged on Tuesday night.
He also said that Wuerl - whom he praised as a "friend" and "leader" - has made the right decision in asking Pope Francis to accept his resignation.
"Defending past choices is no substitute for owning and personally apologizing for past actions that harmed the vulnerable," maintained Carr.
He went on to reveal that he had also personally petitioned the former papal envoy to the United States, Archbishop Carlo Maria Viganò, for the removal of Archbishop John Nienstedt, the former archbishop of St. Paul-Minneapolis.
Nienstedt resigned under pressure in 2015, after multiple reports of his own mishandling of abuse came to light, and as Crux has previously reported, numerous parties, which now include Carr, sought Viganò's intervention in the matter, but to no avail.
"I learned institutional protection and clericalism can blind us to protecting the vulnerable and beware those who seem to use the suffering of survivors to settle scores or to advance their own ideological agendas or their opposition to Pope Francis," Carr said.
While Carr has a strong track record defending Pope Francis, he went on to say that the pontiff "has been too slow to understand and act on the moral and spiritual consequences of abuse."
"I have learned silence in the face of attacks may be spiritually defensible but is pastorally harmful. The 'People of God' deserve leadership that listens, responds and acts decisively, openly and quickly to bring about genuine accountability, reform and renewal," he challenged.
The panel discussion included Robert Bennett, an original member of the National Review Board for the Protection of Children and Young People; Kevin Byrnes, a survivor of clerical sexual abuse; theologian and author of numerous books on abuse Dawn Eden Goldstein; and Karen Tumulty, a columnist at the Washington Post.
Kim Daniels, associate director of the Initiative, kicked off the event by noting, "American Catholics have been devastated and angered by revelations regarding sexual abuse and abuse of power in our Church."
She said it was her hope that the evening would reveal how "Catholic principles can root our efforts, helping us come together to assess the damage, rebuild institutional integrity, and confront the truth about abuse and misconduct so that we can renew our Church and fully live out our mission to love and serve God and our neighbors."