Knights of Columbus Urged Membership to Support Kavanaugh's Confirmation
By Brian Roewe
National Catholic Reporter
September 26, 2018

https://www.ncronline.org/news/people/knights-columbus-urged-membership-support-kavanaughs-confirmation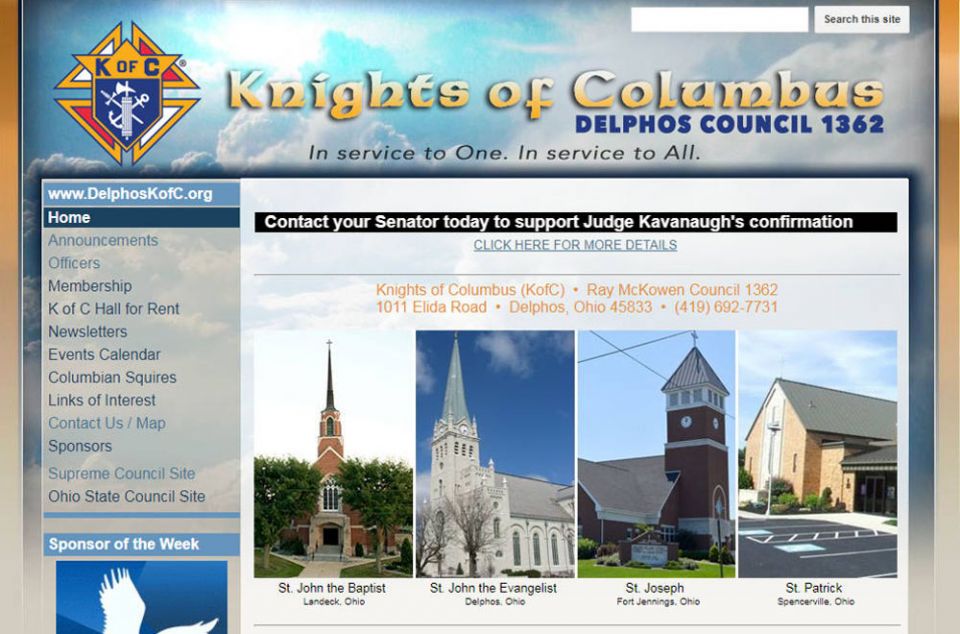 The website for Knights of Columbus Council 1362, in Delphos, Ohio, features a banner ad Sept. 26 urging Knights to contact their senators to support the confirmation of Judge Brett Kavanaugh to the U.S. Supreme Court. (NCR photo)



Days before allegations of sexual assault against Judge Brett Kavanaugh went public, the Knights of Columbus Supreme Council urged its membership to contact their senators to support the federal appellate judge's confirmation to the U.S. Supreme Court.

The Knights are one of several Catholic institutions in recent weeks that have urged their membership to support Kavanaugh's nomination for the nation's highest court, including the Archdiocese of Kansas City, Kansas, and the anti-abortion group Priests for Life.

Once seen as a surefire candidate, Kavanaugh's confirmation now faces uncertainty after Christine Blasey Ford, a psychology professor at Palo Alto University, in California, alleged he sexually assaulted her at a house party in approximately 1982, while the two were in high school in the Washington, D.C. area, with Kavanaugh attending Jesuit-run Georgetown Preparatory School. Since Blasey Ford's accusation became public, two additional women have come forward accusing Kavanaugh of sexual misconduct.

Kavanaugh has steadfastly denied the allegations and is scheduled to address them Thursday before the Senate Judiciary Committee, as is Blasey Ford.

The Knights of Columbus Supreme Council declined to answer questions about the "action alert" to its membership, estimated at 2 million worldwide, including whether it stood by its support for Kavanaugh's confirmation in light of the accusations brought against him, or if it supported an investigation beyond the Senate hearing.

The action alert from the Knights was sent Sept. 10, shortly after his Senate confirmation hearings concluded and days before the sexual abuse allegations came to light. The letter was attributed directly to Supreme Knight Carl Anderson.

"I urge you to contact your two U.S. Senators today, and tell them to support the confirmation of Judge Brett Kavanaugh to the U.S. Supreme Court," the letter began (emphasis in original), which included links to senators' contact information and a template message.

Anderson pointed to a February 2017 Marist Poll, sponsored by the Knights of Columbus, that found eight-in-10 Americans believing it an "immediate" or "important" priority for the appointment of Supreme Court justices who interpret the Constitution as it was originally written. "Judge Kavanaugh will be this type of Supreme Court justice," Anderson said, later referring to him as "an ideal nominee for service on the Supreme Court."

[Click the graphic to the right to view a screenshot of Supreme Knight Carl Anderson's request for Knights to contact their senators regarding Judge Brett Kavanaugh's Supreme Court nomination, posted Sept. 10 on the website of the Galveston-Houston chapter of the Knights of Columbus.]

While tax law limits the political activity that charities and religious organizations can engage in, the Knights of Columbus — widely known for its extensive charitable work — is registered with the IRS as a 501(c)(8) organization, or a fraternal benefit society. Such nonprofit organizations are not subject to the same limits on lobbying and endorsements as churches and many other religious groups.

The Johnson Amendment, a provision to the tax code proposed in 1954 by then-Sen. Lyndon Johnson, prohibits nonprofit 501(c)(3) tax-exempt organizations, which includes charities and private foundations, from endorsing or opposing candidates for public elected office.

"The rationale for the Johnson Amendment and for the limitation on lobbying is that charities can receive tax-deductible contributions," said Lloyd Mayer, a law professor at the University of Notre Dame who specializes in tax and election law for not-for-profit organizations. "And so that's a subsidy to them, and Congress didn't want to subsidize either campaign activity or beyond an insubstantial part lobbying."

The amendment, however, does not apply to state or federal appointments. But the IRS still limits lobbying, defined as trying to influence the action of a legislator, that such tax-exempt organizations can do, restricting such activities not to equal a "substantial" part of an organization's overall activities.

What is considered substantial is not defined, Mayer said, though case law places it around 5 percent and 20 percent of total activities. The U.S. Conference of Catholic Bishops has published on its website guidelines on political activity and lobbying for Catholic organizations.

"The reality is that most churches engaging in their normal activities who do some lobbying on the side won't get close to that level," he said.