Will We Learn a Lesson from Cosby's Conviction?
Greenfield Recorder
September 27, 2018

https://www.recorder.com/cosby-lessons-20445568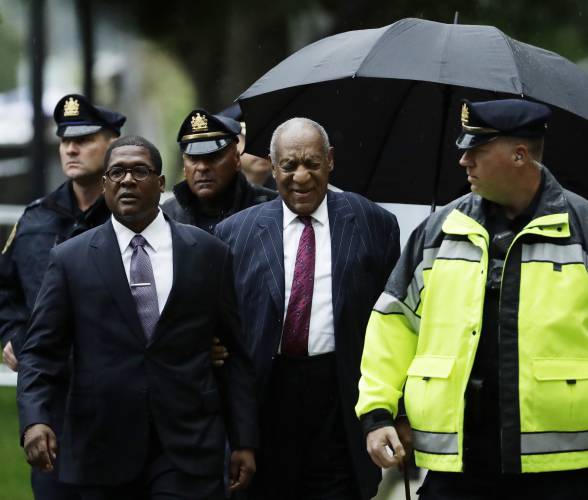 Bill Cosby arrives for his sentencing hearing at the Montgomery County Courthouse, Tuesday. AP PHOTO



Many years ago, a Franklin County priest, much respected and beloved by the adults in his flock, was accused by a young teenage boy of sexual assault. The parishioners were horrified at the accusation — that the youth could even think such a thing. The victim became a pariah. Until he wasn't. Until evidence mounted and the priest was charged in court and eventually pleaded guilty.

Over the years, what seemed like a local aberration turned into a worldwide scandal, with continuing revelations of abuse by many Catholic clergy and inaction by many of their superiors. More recently, we have seen the pattern repeated and spawn the #MeToo movement as powerful lay people — entertainment and media celebrities, politicians, judges and yes, presidents Democratic and Republican — have been accused of sexual harassment, abuse and assault against people less powerful than them and more vulnerable.

On Tuesday, 81-year-old Bill Cosby saw his Hollywood career and good-guy image transformed as he was officially branded a "violent sexual predator" and sentenced to 3 to 10 years in Pennsylvania state prison for drugging and sexually assaulting a woman, becoming the first celebrity of the #MeToo era to be sent to prison.

In a statement submitted to the court and released Tuesday, Cosby's victim, now 45, said she has had to cope with years of anxiety and self-doubt. She said she now lives alone with her two dogs and has trouble trusting people.

"It is time for justice. Mr. Cosby, this has all circled back to you. The time has come," Montgomery County Judge Steven O'Neill said as he sentenced the famed comedian, former TV star and breaker of racial barriers.

The sexual predator designation subjects Cosby to monthly counseling for the rest of his life and requires that neighbors and schools be notified of his whereabouts if he gets out of jail. He is appealing his case but must remain behind bars while that legal action plays out.

His lawyers asked for house arrest, saying Cosby — who is legally blind — is too old and vulnerable to do time in prison. Prosecutors asked for five to 10 years behind bars, saying he could still pose a threat to women.

That Cosby may not be a threat today is beside the point. A jury convicted him of drugging and sexually assaulting a person over whom he wielded power, and people need to know there is a price to pay for such violation and abuse of power — which #MeToo is making painfully clear has been, and still is, all too common. The list of powerful men who have been knocked from their perches has grown even since Hollywood studio boss Harvey Weinstein, NBC's Matt Lauer, actor Kevin Spacey and Sen. Al Franken all fell before the accusations of women who have finally stepped forward.

The Cosby case, like the case of the local priest, has confused and overwhelmed people who knew the public good-guy persona of "America's Dad," and are having a hard time reconciling the two images. But in the end, we have to see sexual predators for what they are: criminals to be punished.

The Cosby case "really raised awareness of the pervasiveness of ... sexual misconduct against subordinates and against women of relatively less power," Daniel Filler, dean of Drexel University's law school, told the Associated Press after Cosby's sentencing. "For jurors, I think it's inherently changed the credibility of the accusers."

We hope so, and not just for jurors, but for all of us. And we hope that all this publicity fosters deeper discussion and soul searching about the issues surrounding these violent abuses of power — especially by men.