Fr. Joe Gatto, President of Buffalo Diocese Seminary, Faces Sexual Misconduct Allegation
By Charlie Specht
WKBW
September 27, 2018

https://www.wkbw.com/news/i-team/fr-joe-gatto-president-of-buffalo-diocese-seminary-faces-sexual-misconduct-allegation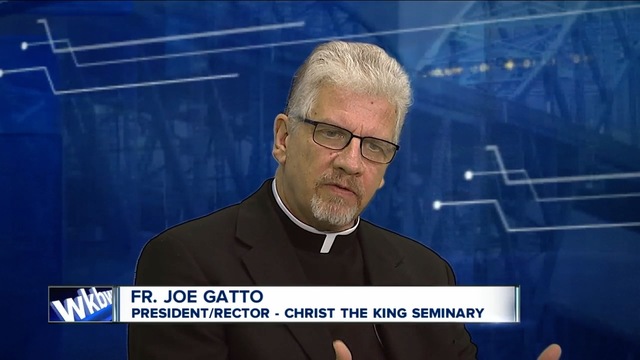 Fr. Joe Gatto, president of Buffalo Diocese seminary, faces sexual misconduct allegation



The Rev. Joseph C. Gatto, who runs the seminary for the Diocese of Buffalo, has stepped away from his position as he faces an allegation of sexual misconduct.

Gatto confirmed Thursday morning to I-Team Chief Investigator Charlie Specht that he is taking a "leave of absence" from Christ the King Seminary in East Aurora, which prepares men for the priesthood in the Buffalo Diocese.

"The pressures of the job, all the things that I've been doing -- it's just a temporary thing," he said in a brief phone interview with 7 Eyewitness News. "I've had so many responsibilities. I'm just burned out. I'm just taking some time."

But 7 Eyewitness News has obtained a copy of a complaint filed Wednesday with the Diocese of Buffalo, in which a local man alleges that in 2000, he went to Gatto for spiritual advice and counseling and the high-profile priest "quickly befriended me, and shortly thereafter made unwanted sexual advances toward me."

The man said he was in his 20s when the encounter happened, and in the complaint, he added, "On one occasion he [Gatto] grabbed my knee in a suggestive manner, and invited me to a 'cabin' for a weekend with him alone. I declined, and ended any further communication."

Gatto said the diocese had not contacted him about the complaint and denied his leave of absence had anything to do with allegations of sexual misconduct.

"I'm not aware of anything and I'm shocked," Gatto said. "My decision to do this began almost three months ago. I have no knowledge of it and I'm not going to comment on this."

"Oh my Jesus, I'm shaking," he added.

Gatto said he will soon be attending Southdown Institute, a counseling center in Toronto where the Diocese of Buffalo has sent priests who are accused of sexual misconduct or who are dealing with addiction, mental health situations or other issues.

Buffalo Bishop Richard J. Malone, who is chairman of the Christ the King seminary board of trustees, in 2013 named Gatto the president/rector of the seminary, which is located in East Aurora.

"I am extremely confident in Father Gatto's ability to build on the resurgence of the seminary and its primary role as the local center for the formation of men for the priesthood," Malone said at the time.

Gatto served as pastor of St. Gregory the Great Catholic Church in Amherst, the largest parish in the Diocese of Buffalo, before taking over at the seminary.

Kathy Spangler, a spokeswoman for the diocese, did not immediately respond to a request for comment from the bishop.