Bishop Deshotel sends fiery response to Catholic group vowing to expose 'corruption'
Lafayette Daily Advertiser
October 01, 2018

https://www.theadvertiser.com/story/news/local/2018/10/01/bishop-deshotel-sends-fiery-response-catholic-group-vowing-expose-corruption/1490960002/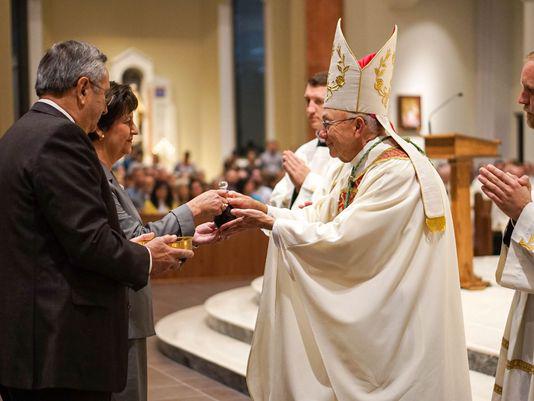 Bishop J. Douglas Deshotel celebrates special Blessing and Dedication Ceremony of the new St. Pius X Church in Lafayette. October 5, 2017.
Photo by Layni Menard


[with video]



Bishop J. Douglas Deshotel of the Diocese of Lafayette issued a statement Monday in response to a vow from an anonymous group of Acadiana Catholics to expose "corruption" in the church.

"The Diocese of Lafayette remains firmly committed to its Safe Environment Program for the protection of minors and vulnerable adults. Protocols have been in place since 2002 to make every Church entity in the Diocese a safe place for minors and vulnerable adults. These are openly posted on the Diocesan website," Deshotel said in an emailed statement.

"The Diocese will not respond to deadlines, bullying and ultimatums issued by any non-Diocesan, anonymous group. I also remind such groups that slander, detraction and defamation of character are mortally sinful. Those who commit them must receive sacramental absolution in Confession and in justice restore the good name of those offended or risk losing everlasting life at the final judgment."

The group, The Society of Peter Damien, made the letter public Friday on Twitter, after, they said, the bishop hadn't responded within a week.

Members asked the public to "join us in our request for an independent investigation with full cooperation from the diocese."

On the group's website, members say their mission "is not an attempt to tear down the Catholic Church, as we are all devout and grateful members of that Church."

Recently, Deshotel said the diocese was considering releasing the names of priests against whom credible accusations of abuse have been alleged.

The Daily Advertiser, victims abuse groups and parishioners from across the diocese have asked the past several bishops in the Diocese of Lafayette, including Deshotel, to make public the names of priests, past and present, against whom credible allegations of abuse were made or whose victims received monetary settlements from the diocese.

Asked by The Daily Advertiser in June, Deshotel — who has been bishop in Lafayette more than two years — said he was unaware of the existence of a list of accused priests.