Mass Held for Victims of Abuse, As Former FBI Agent Hired for Investigations
By Mike Desmond
WBFO
October 1, 2018

http://news.wbfo.org/post/mass-held-victims-abuse-former-fbi-agent-hired-investigations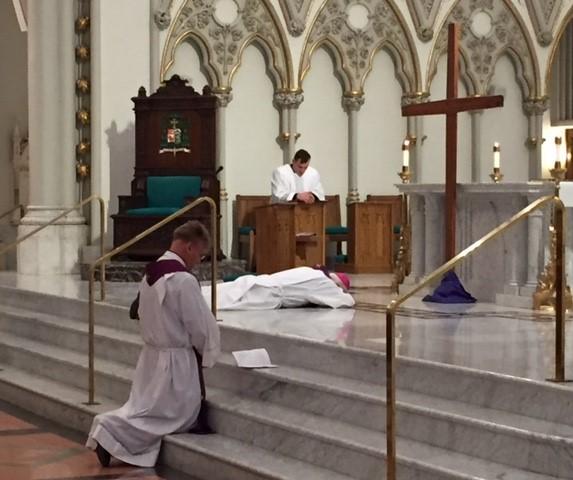 Bishop Richard Malone (center)



Western New York Catholics gathered Sunday in St. Joseph's Cathedral for an hour of Reparation and Healing. A small group of protesters was also there.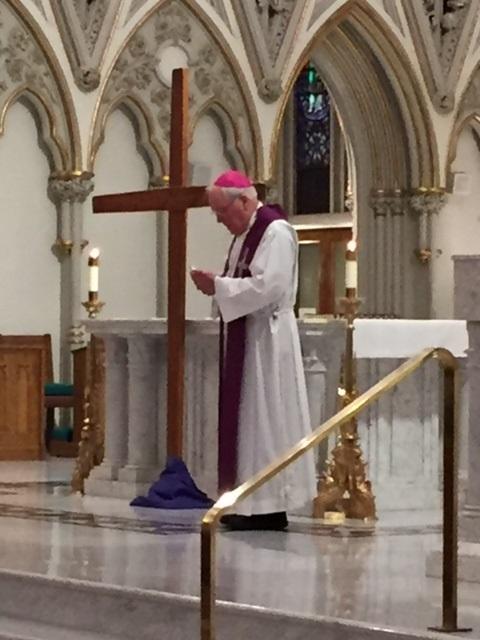 Bishop Richard Malone called for the special mass.



Bishop Richard Malone called for the event, so that Catholics could come together to pray for the victims of clergy abuse, to pray for those who offended and for the forgiveness of the church leaders who failed to respond adequately - something the bishop admitted during a short homily during the service.

Many of those who entered the cathedral through the front doors saw a small group of protesters who want the bishop to resign, saying he has failed to deal with the problems of abusive priests in the diocese, as the number of accused diocesan clergy has continued to rise.

While Malone has acknowledged what he calls "past inadequacies" in his handling of complaints, he says he will not resign.

One of the protesters, Robert Hoatson, is a former priest removed for supporting abuse victims. Hoatson said only church members can force change.

"The problem with the church is that their image and their assets are most important to them," Hoatson said, "and so when, hopefully, the people of the church who really make up the church decide that they have had enough of that, then they are going to demand otherwise."

Mrene Corra was at the mass, defending the bishop.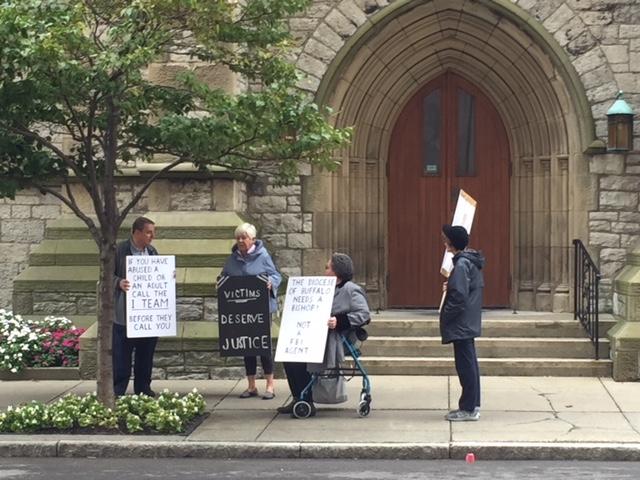 A small group of protesters appeared outside the mass, calling for the resignation of Bishop Richard Malone.



"My heavy-heartedness is just over so many things, but just the general sadness that's in the church right now," Corra said, "the sorrow because of all the sin that went on with the abuse victims, with the scandal, but then also just the continuing anger and division."

Corra said the service will help healing. She said too many priests have had their reputations ruined when they were suspended, only because of accusations.

Sister Gail Glenn, principal of Catholic Academy of West Buffalo, said the service was good for the church.



The diocese has hired former FBI Agent Steven Halter to investigate priest sexual abuse.



"I am so overwhelmed with my own sense of faith that we are not going to die in this mire," Glenn said. "I don't doubt for a minute that God is with us and that people will be healed, and that the people who need to do what they need to do will do it in sincerity and hope and love and we can begin anew."

The mass comes after the diocese announced the hiring of a former FBI agent to investigate complaints of clergy abuse and other wrongdoing. Malone announced the appointment of Steven Halter as director of the newly created Office of Professional Responsibility. Halter was a special agent in the FBI for nearly 30 years.