Film Stokes Debate about Sexual Abuse

By Magdalena Gwozdz-Pallokat
DW
October 1, 2018

https://www.dw.com/en/poland-film-stokes-debate-about-sexual-abuse/a-45709171

The film "Kler" ("Clergy") has only just been released in Poland. Hardly anyone has seen it yet, but already it's adding fuel to the fire in the debate about abuse within the country's powerful Catholic Church.




The film had already been labelled controversial long before it arrived in cinemas. Now it has, and demand is so high that some movie theaters are screening "Kler" up to 20 times a day. On the other hand, there are also municipalities with conservative local authorities that don't want it in their cinemas at all. Director Wojciech Smarzowski could hardly dream of better advertising.

The subject matter is one of the hottest topics currently being debated in Poland: How priests deal with money, power and sexuality. And pedophilia. There are many people who want to participate in this debate, especially as it's taking place in a country where almost half the population regularly attends church on Sundays and more than 90 percent are baptized Catholics.

Read more: Poland's Catholic Church seen as moral authority

Initial reactions are split. The association of Catholic journalists regarded the film as "anti-Catholic" and "anti-Polish," while a reviewer from the liberal-Catholic magazine Wiez described it as "superficial" and "cliched." However, many others believe the film is breaking a taboo, and that this may be able to initiate a long-overdue process of addressing the issue.

A small hotel for boys

"Without journalists or filmmakers the subject of pedophilia would be completely suppressed," Piotr Krysiak confirms. In 2017 Krysiak published the book Wyspa Slepcow ("The Island of the Blind"), after flying to the Dominican Republic on six occasions to conduct research.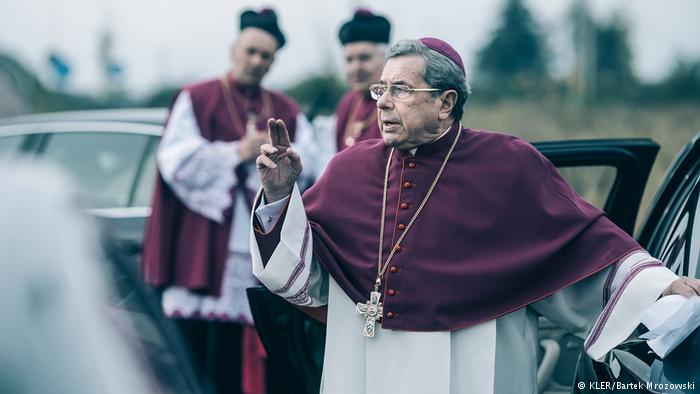 The film "Kler" tackles how clergy deal with money, power and sexuality



There he met the Polish priest Wojciech G., a nice man, who received him warmly and told him about his life in the Caribbean. Krysiak had been looking for Poles who lived on the island. At the time, the only thing that seemed odd to him was that the priest ran a small hotel for boys from his house.

Read more: How the Catholic Church ties in to Poland's judicial reform

Wojciech G. has been in prison for more than four years now. He abused a number of boys. Krysiak spoke to two of his victims. "He abused children in Marki, near Warsaw, too," Krysiak says. "No one believed them. They were talking about a priest, after all, an object of trust."

Constant dripping wears away stone

There are no official figures detailing abuse in the Catholic Church in Poland. According to Polish media, 27 Catholic priests were sentenced in the years 2002-2012. The foundation Nie lekajcie sie ("Do not fear") says that many more sentences were never made public. The foundation is currently helping 300 people who say they were victims of sexual abuse by priests.

The Polish public have strong feelings on this subject. In an opinion poll published last week in the daily newspaper Rzeczpospolita, four-fifths of respondents said pedophilia was a problem in the church. Almost three-quarters called for complete transparency and clarification of the issue.

However, director Smarzowski doesn't believe the church will truly address these accusations of its own accord. "The examples from Europe show that without pressure from the state, without secular commissions, the church does not compensate its victims," he says.

The director had previously complained that no one had had the courage to thoroughly investigate cases of abuse in the Caribbean, but then came Krysiak's book, which was a revelation for him: "Constant dripping wears away stone," he said. In response, Krysiak goes one step further: "Smarzowski's film is not a drop. It's the wedge that splits the stone apart."

Read more: Sexual abuse goes far beyond Germany's Catholic Church

'Poland is just at the beginning'

He may be right. The Polish Bishops' Conference recently announced that there will be a report on the investigation. As early as November the church intends to publish figures about the extent of the abuse, and in future all dioceses must implement prevention programs.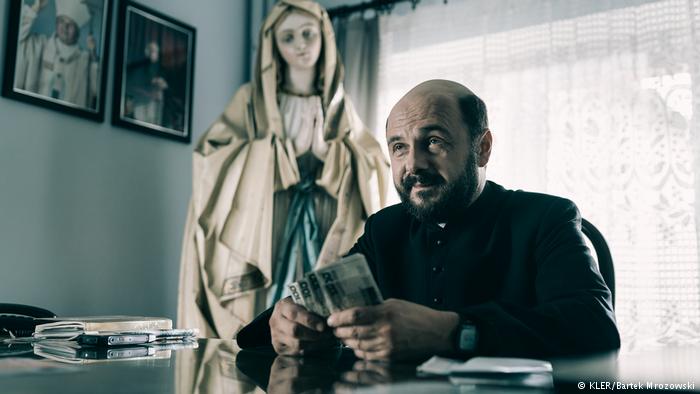 "Kler" has been called anti-Catholic and anti-Polish but also a taboo-breaker



"It's about sensitizing both priests and lay people to protect children and young people, and to deal with the suffering of the victims," Archbishop Wojciech Polak, the primate of Poland, said last week at the conclusion of the general assembly of the Bishops' Conference.

"If we compare ourselves with other countries, I have to admit that Poland is just at the beginning," says Artur Sporniak, an editor with the Catholic weekly paper Tygodnik Powszechny. "I am cautiously optimistic," he adds.