No one knows where nearly 1,200 sex offenders live in Missouri, audit finds
By Rachel Lippmann
St. Louis Public Radio
October 01, 2018

http://news.stlpublicradio.org/post/no-one-knows-where-nearly-1200-sex-offenders-live-missouri-audit-finds#stream/0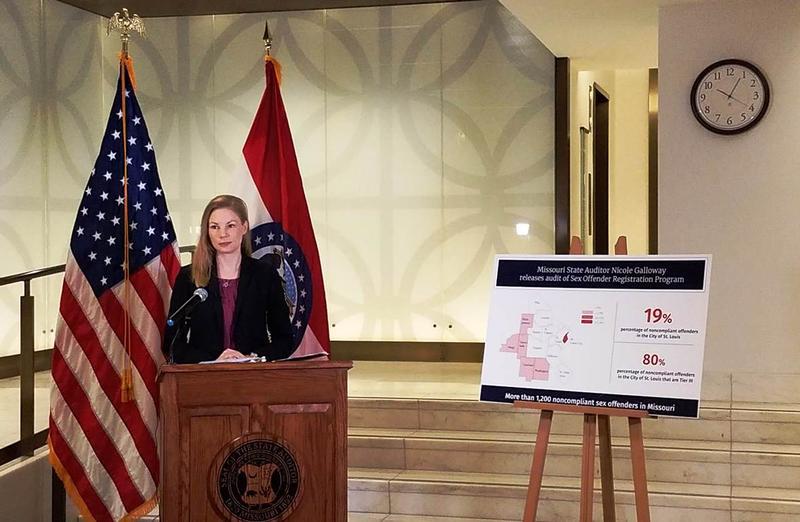 Missouri Auditor Nicole Galloway on Monday announces the findings of an audit of the state's sex offender registry. Her review found nearly 8 percent of the offenders required to register were not compliant.
Photo by Rachel Lippmann
Updated Oct. 1 at 4:30 p.m. with comments from the St. Louis Police Department — Police in Missouri do not know the whereabouts of nearly 1,200 sex offenders who are required by law to register with law enforcement — or nearly 8 percent of the total population who are supposed to be tracked.
An audit released Monday by state Auditor Nicole Galloway found that nearly 800 of those individuals have committed the most serious crimes, such as rape or child molestation in the first degree.
"I find this disturbing and alarming," Galloway said during an appearance in St. Louis. "Because local law enforcement officials don't know where these offenders are, that means citizens don't know where they are either."
The 7.9 percent noncompliance rate was higher than the 7.1 percent rate found during the last audit in 2010, Galloway said, and more than half of the nonregistered offenders had exceeded their scheduled dates to register by more than a year.
The city of St. Louis had one of the highest rates of noncompliance, at 19.3 percent. Keith Barrett, a spokesman for the St. Louis Police Department, said its sex offender unit had been understaffed for the last nine months.
"In June of this year the Sex Offender Unit, with assistance from the United States Marshals, conducted over 544 Compliance Checks within the City of St. Louis. This week-long sweep was successful in locating some offenders and bringing them into compliance while also gathering information for other non-compliant offenders," Barrett said. "Over the last three weeks an officer was detached to the Sex Offender Unit in an effort to raise our compliance rate by attempting to locate non-compliant offenders and/or applying for warrants on those who cannot be located."
Missouri state law bases registration requirements on the severity of the crime committed. Low-level offenders must update their information such as name, address, place of employment and license plate information once a year. So-called Tier III offenders — those convicted of the most serious crimes — must provide local law enforcement with that information every 90 days.
The audit also found likely issues with data entry, Galloway said. While local law enforcement is responsible for providing information to the Missouri State Highway Patrol, she said, "the Highway Patrol is not taking information located in other state agencies that they have access to, to improve the integrity of the list."
The patrol, which administers the list and the website that allows the public to access the information, did not immediately respond to a request for comment. In a written response provided to Galloway, patrol officials said they had agreements with a number of state departments, but "as the data from any of these sources is only accurate for the time it is obtained, the usefulness of the information passed onto the [chief law enforcement official] without it being requested quickly dwindles."
Failure to comply with the state's sex offender registry law is a felony, Galloway said, but her review found that in most cases, there were no arrest warrants issued for non-compliant individuals.
"Certainly there are those instances in which prosecutors have the discretion to move forward, but when we look at this globally, and we look at it statewide is that law enforcement are not holding these sex offenders accountable for following the law and registering," she said.
The vast majority of the state's counties have noncompliance rates at or below the state average of 7.7 percent. Stoddard County, in the Missouri Bootheel, has the highest rate of noncompliance, at 25 percent.
The noncompliance rates in the St. Louis Public Radio listening area are:
Franklin County - 3.5 percent
Jefferson County - 3.2 percent
Lincoln County - 1.1 percent
Marion County - 3.5 percent
Phelps County - 1.1 percent
Ralls County - 3.6 percent
St. Charles County - 1.6 percent
St. Louis County - 1.1 percent
St. Louis - 19.3 percent
Warren County - 2.4 percent
Shawn McGuire, a spokesman for the St. Louis County police, said most of the credit for the county's high compliance rate goes to prosecutor Bob McCulloch, who will quickly issue arrest warrants for individuals who have not registered.