Victim Of Catholic Church Sexual Abuse Sues Calif. Bishops Over 'Secret Lists' Of Predator Priests
CBSLA
October 02, 2018

https://losangeles.cbslocal.com/2018/10/02/tom-emens-jeff-anderson-predator-priests-secret-lists-la-archdiocese/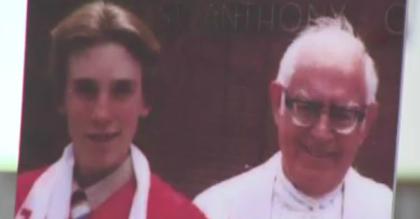 Tom Emens of Camarillo is suing California Catholic bishops for information on "secret lists" of pedophile priests. He claims to have been sexually assaulted as a youth by deceased Monsignor Thomas Mohan (R) in Anaheim.


[with video]



A victim of sexual abuse perpetrated by a Catholic priest has sued the Archdiocese of Los Angeles and bishops across the state, claiming the institutions concealed claims of misconduct for decades.

Thomas Emens of Camarillo alleges he was sexually assaulted by Monsignor Thomas Mohan from the ages of 10 to 12, when the priest was serving at St. Anthony Claret Church in Anaheim.

"The most important thing I could say to everybody that's listening and watching right now is this lawsuit is really the only opportunity I have at this point in time to find justice, not just for myself, but to bring all the victims that are in the shadows out," Emens told reporters Tuesday, appearing to become emotional.

Mohan also worked at St. Juliana's Church in Fullerton, but Emens' lawyers say he never appeared on any offender lists. They filed a nuisance lawsuit against all California bishops in an attempt to get the clerical bodies to release their so-called "secret lists" of molester priests.

"To force and to cause all the bishops in California to come clean, to come clean with the secrets that they know, that is the identity of the offenders and the histories of those offenders that reflect cooperation and complicity by top officials," said attorney Jeff Anderson.

According to a 309-page report compiled by Anderson, 309 predator priests are linked to the L.A. Archdiocese, among them 37 transferred out to other states and countries.

In response to the lawsuit, the archdiocese said it had repeatedly complied with law enforcement in past investigations.

"The Archdiocese has acknowledged and taken responsibility for the failures and mistakes in the way abuse cases were handled in the past and instituted a strict 'zero tolerance' policy to ensure that allegations of abuse would be reported to authorities and that anyone found to have committed abuse — whether a priest, deacon, religious or lay person — would be held accountable and permanently removed from ministry in the Archdiocese," it said in a statement.

The L.A. Archdiocese has come under fire recently for allowing retired Archbishop Cardinal Roger Mahony to begin performing mass again. Last month, a group held signs in protest outside a North Hollywood church demanding Mahony retire for his alleged involvement in an abuse cover-up.

A Pennsylvania grand jury released a massive report in August detailing the abuse of some 1,000 children by priests in the state by roughly 300 priests. One was eventually transferred to California and did several stints within the L.A. Archdiocese.

Anderson said Tuesday the lawsuit is seeking documents and information, not money.