Judge to Review 65 Years of Sex-abuse Claims against Bridgeport Diocese Priests
By Dave Altimari
Hartford Courant
October 3, 2018

http://www.courant.com/news/connecticut/hc-bridgeport-priest-abuse-jury-20181003-story.html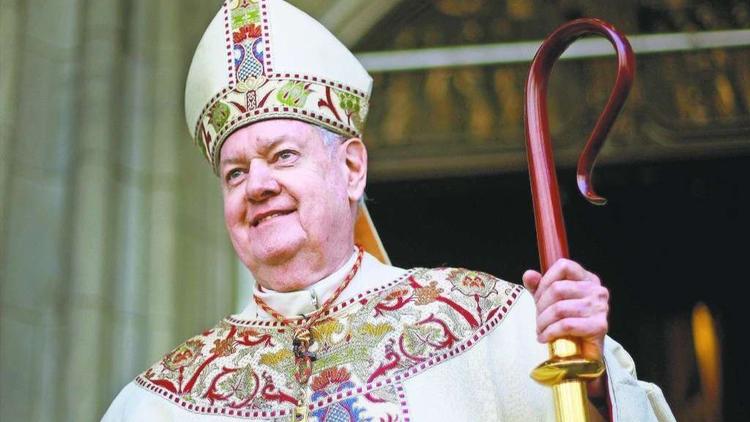 The late Cardinal Edward Egan smiles to the crowd gathered outside St. Patrick's Cathedral after celebrating his final Easter mass as archbishop of the Roman Catholic Archdiocese of New York in 2009. Egan was accused of transferring pedophile priests when he served in Bridgeport. (Mario Tama / Getty Images)



The Diocese of Bridgeport announced Wednesday that it has hired former Superior Court Judge Robert L. Holzberg to do a comprehensive review of all the priest sexual-abuse claims made against or settled by the diocese over the last 65 years.

Bishop Frank J. Caggiano said in a press release that Holzberg "will have complete and unrestricted access to all Diocesan files, records and archives dating from 1953." All clergy still under the diocese's control and all church administrators will be made available for Holzberg to interview.

Documents Reveal Former Connecticut Bishop Allowed Priests Facing Sex Abuse Allegations To Continue Working »

The Bridgeport announcement comes weeks after a Pennsylvania grand jury report was released that detailed horrific claims of priest sexual abuse cases in that diocese.

In Pennsylvania the attorney general's office did an 18-month investigation that covered six of the state's dioceses — Allentown, Erie, Greensburg, Harrisburg, Pittsburgh and Scranton. The grand jury reviewed more than 2 million documents, including from the "secret archives" — files that church leaders held from the public for decades.

Timeline: Roman Catholic Diocese of Bridgeport Priest Abuse Case »

The 1,400 page report revealed that there were more than 300 priests who abused children and identified more than 1,000 children who had been abused.

Holzberg is expected to complete a report by the spring of 2019. Holzberg is now an attorney at the Bridgeport based law firm of Pullman & Comley. He will be allowed to hire other attorneys and investigators from that firm to help conduct the investigation.

Holzberg's final report will be presented publicly along with any recommendations.

Bridgeport: Seven Clerics, Aided By Church, Shielded Their Files »

"Judge Holzberg epitomizes long-term, dedicated and conscientious service to the community," Caggiano said in the press release.

"He possesses the highest integrity, and he has made substantial contributions to the administration of justice in Connecticut. We are grateful that he has agreed to lead this significant review."

Holzberg retired in 2012 after earning a reputation as a master mediator. That reputation was earned on the basis of his settling two high-profile cases.

SEX ABUSE DOCUMENTS ORDERED UNSEALED »

One involved the serial sexual abuse of hundreds of children at St. Francis Hospital and Medical Center by endocrinologist George Reardon. In that case Holzberg settled about 150 potential claims for about $50 million.

The second case was the Kleen Energy explosion in Middletown that killed six people and wounded dozens. Holzberg mediated all but one of the wrongful death claims and many of the claims by those injured in the blast.

Holzberg also is familiar with priest sex abuse cases. On his final day as a judge in 2012 he mediated a settlement between the Norwich Diocese and Mary Maynard, a woman who alleged she had been abused by the Rev. Thomas Shea and the diocese had covered it up. On the day the trial was supposed to begin he mediated a $1.1 million settlement for Maynard.

A Predator Blessed With Charm »

The Bridgeport diocese fought bitterly to keep priest records sealed and to not reveal the depth of the scandal in the diocese and the lengths that Bishops took to keep the issue secret.

They fought for seven years to keep about 12,675 documents from priest sexual abuse lawsuits sealed but eventually the state Supreme Court ordered them to be released in 2009.

But even when those documents were released nearly 1,500 pages were kept sealed because the diocese asserted that those records were privileged under state and federal law and still subject to a court-ordered seal. The withheld documents include 685 pages taken from personnel files of as many as 17 priests who were the subjects of sexual abuse allegations dating back to the 1960s.

David Clohessy, the former National Director of SNAP, a priest-abuse survivor group, said many dioceses are doing what Bridgeport is doing but his group remains skeptical of the ' church's motives.

"We simply don't trust Bishop Frank J. Caggiano to give anyone 'complete and unrestricted access' to his abuse and cover up files. For decades, bishops have decided who gets to know what about predator priests," Clohessy said in a written statement. "Those days are over. If kids are to be safer, it's crucial that police, prosecutors and the public get this information, not one guy hand-picked by the church officials who have been hiding these crimes for ages."

Egan Paid Accused Priest »

The Bridgeport diocese settled complaints against seven priests for $12 million to $15 million in March 2001, shortly after Edward Egan was promoted to cardinal in New York. Egan, who was bishop in Bridgeport from 1988 to 2000, was a defendant in some of the lawsuits and fought them aggressively from 1993 until the settlement.

That settlement included allegations against some of the more notorious priests in the diocese including Laurence F. X. Brett, Raymond Pcolka and Charles Carr and involved 23 plaintiffs.

Brett was accused of abusing more than two-dozen children in Connecticut, New Mexico, California and Maryland dating to the early 1970s. He disappeared in 1993 until The Courant found him living on the Caribbean island of St. Maarten.

In 2003 then-Bishop William Lori announced another settlement for $21 million to 40 plaintiffs who alleged they had been sexually molested by a priest.

Abusive Priest Found In Caribbean Hideaway »

Those cases were separate from the earlier ones and involved different priests. On its own website the Diocese of Bridgeport lists 26 priests who have been accused of sexual abuse since the 1960s.

Just last week three new lawsuits were filed against the diocese in Superior Court in Bridgeport by five alleged victims claiming they were abused by three priests – the Rev. Walter Coleman, the Rev. Robert Morrissey and the Rev. Larry Jensen from the 1980s to the early 2000s.

Former Bishops Walter Curtis and Egan, who died in 2015, were heavily involved in keeping the lawsuits secret, and left Bridgeport before any of the settlements were announced and before The Courant published then-secret parts of Egan's depositions.

In that deposition Egan told attorneys for 23 accusers that he wasn't interested in allegations — only "realities." He added that "very few have even come close to having anyone prove anything" against a priest.

In 448 pages of depositions Egan was forced to give he argued with attorneys that only a "remarkably small number" of priests have ever been accused of wrongdoing.

"These things [sexual abuse complaints] happen in such small numbers. It's marvelous when you think of the hundreds and hundreds of priests and how very few have ever been accused, and how very few have even come close to having anyone prove anything," Egan said.

"Claims are one thing," he said. "One does not take every claim against a human being as a proved misdeed. I'm interested in proved misdeeds."