Oxnard Man Files Lawsuit against the Vatican, Alleging Priest Sex Abuse Was Covered up
By Tom Kisken
Ventura County Star
October 4, 2018

https://www.vcstar.com/story/news/local/2018/10/04/oxnard-california-man-sues-vatican-alleging-priest-sex-abuse-coverup-catholic-church/1516959002/

Manny Vega, of Oxnard, is suing the Vatican and taking on Pope Francis in pursuit of the one thing he's convinced his nearly 20-year-fight as a clergy abuse survivor and victim advocate has not brought.

"I'm committed to getting to the truth," he said Thursday, moments after a Los Angeles news conference where the lawsuit was announced. "I'm committed to getting to that elusive transparency the church talks about."

The litigation, filed Wednesday in federal court for the Central District of California, alleges Vatican leaders have orchestrated a cover-up of priests accused of abuse and top church leaders who have concealed evidence of the abuse.

In what the lawyers who crafted it called an unprecedented action against the Holy See, the lawsuit alleges the conspiracy has created peril that justifies the release of the names of offenders, all records of accused abusers across the globe and the names of top church officials involved in the cover-up.

"We've come to the sorrowful realization that the problem is at the top," lawyer Jeff Anderson said at a news conference Thursday in Los Angeles.

Jeffrey Lena, a lawyer who represents the Vatican in civil cases filed in the U.S., declined comment to The Associated Press. He previously said similar lawsuits are attempts by some lawyers "to use the judicial process as a tool of media relations."

The lawsuit comes amid a storm of controversy over church abuse. In August, a Pennsylvania grand jury report claimed more than 300 priests in the state sexually abused children over seven decades in acts covered up by church leaders.

The accusations have rocked Rome, too. Retired Vatican Ambassador Archbishop Carlo Maria Vigano has claimed Pope Francis concealed abuse allegations against U.S. Cardinal Theodore McCarrick.

Vega, 52, is the second Ventura County resident to file a clergy abuse lawsuit this week. On Tuesday, Tom Emens, 50, of Camarillo, stood in front of a microphone in a Los Angeles hotel with his lawyer, Anderson, and said he was sexually abused at the age of 10 by a retired priest who had transferred from the Archdiocese of Chicago to St. Anthony Claret Catholic Church in Anaheim.

"My first sexual experience was with my family priest," he said in an interview Wednesday. "That will never go away. ... I lost that part of my life."

Emens' lawsuit against the California Conference of Catholic Bishops, the Archdiocese of Los Angeles and dioceses across California alleged church leaders conspired to conceal information about accused priests.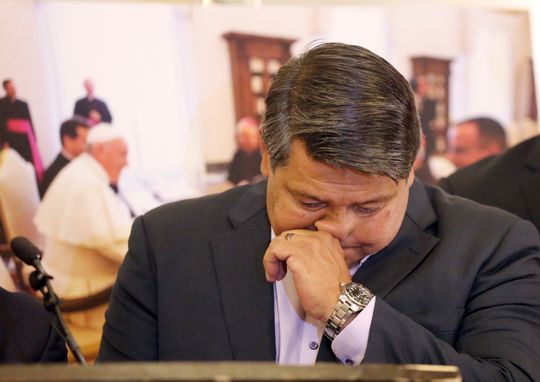 Manny Vega, of Oxnard, who says he was sexually abused by a priest over a five-year period decades ago, pauses as he talks about his lawsuit against the Vatican, seeking the names of all offenders within the church worldwide, at a news conference Thursday in Los Angeles. (Photo: AP PHOTO)



Like Vega's suit, it calls for the release of church records.

"They have plenty of money to buy my silence," Emens said Wednesday. "I'm more interested in the truth."

Vega, a retired Oxnard police detective, is a former Marine who received the Navy and Marine Corps Medal of Heroism for pulling people out of a burning helicopter in South Korea. His 21-year-old son, Patrick, died in March of a cardiac arrest while training at Marine boot camp.

Vega and other altar boys at Our Lady of Guadalupe Church in Oxnard said they were molested repeatedly by Father Fidencio Silva-Flores. He described the acts that happened from about 1979 to 1984 at the news conference, arguing people can't understand the impact without knowing what took place.

"We were raped. … We were fondled. We were sodomized," he said, adding that the impact of the molestation will never leave him. "It still gives me nightmares. This has been my life."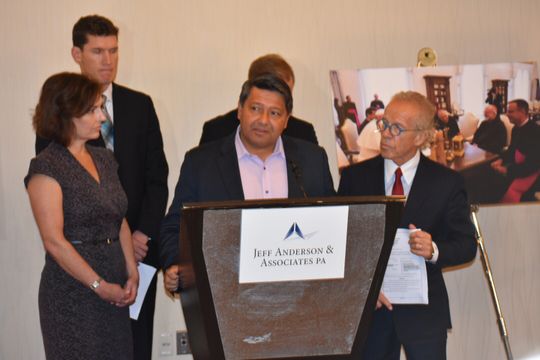 Manny Vega, of Oxnard, talks about his lawsuit against the Vatican during a news conference Thursday in Los Angeles. (Photo: TOM KISKEN/THE STAR)



The Archdiocese of Los Angeles settled with more than 500 victims of clergy abuse, including Vega, for $660 million in 2007. In 2013, the archdiocese released personnel records for more than 120 members of the clergy who were accused.

The records on Silva aren't enough, said Vega, noting that he knows the priest returned to Mexico. What he doesn't know is whether Silva still works as a priest. He called the Catholic church largely inactive and described the sexual abuse scandal as "evil."

"I challenge the people in this room to protect the children of this world," he said.

Anderson and his team litigated a clergy abuse lawsuit against the Vatican before, but it was dismissed in 2010. He said Vega's suit represents an untried approach. It claims the Vatican has as an independent country jeopardized children's safety through its actions, in legal terms creating a "nuisance."

That nuisance opens a door, said Anderson, explaining that the suit is calling for an injunction compelling the release of names.

"Anyone would look at this and say it can't be done," he said, describing it as a heavy legal lift. "We say it can be done and it must be done."