Pennsylvania on Cusp of Reforms to Significantly Empower Victims of Child Sexual Abuse
By Sam Ruland
York Daily Record
October 4, 2018

https://www.ydr.com/story/news/2018/10/04/pennsylvania-senate-vote-reforms-empower-child-sexual-abuse-victims-catholic-priest-clergy/1496941002/

Kevin Hoover doesn't exactly remember the day he was told Brian was dead.

The minute details of where he was and what he was doing don't seem to come to mind. But, the one thing he does remember is that he knew how Brian died before anyone told him.

"I knew he had killed himself," Hoover said, recalling the death of his former classmate Brian Gergely. Both boys were exposed to the abuse of Father Francis McCaa while attending Holy Name Elementary School in Ebensburg, Pennsylvania, during the 1980s.

"I just thought," Hoover paused, taking a breath before speaking his next words. "McCaa claims another one." It sounded like defeat as it rolled off his tongue.

And to Hoover, it sort of was — because the Gergely he remembers was a fighter.

When the grand jury report investigating the Altoona-Johnstown diocese was released in 2016, Gergely willingly shared his story with the world.

He worked closely with state Rep. Mark Rozzi, himself abused by a priest when he was a child in the Allentown diocese, on his proposed legislation that would allow sexual abuse victims to pursue lawsuits even if their abuse happened decades ago.

Within the depths of that 2016 grand jury report, the first sentence written in the case summary of Gergely and aHoover's abuser was this: "Father Francis McCaa was a monster."

While serving as priest at Holy Name parish in Ebensburg, McCaa groped and fondled the genitals of numerous children between 1961 and 1985, according to the 2016 grand jury report.

The boys who McCaa sexually abused were typically between the ages of 8 and 15 years old, according to the report, and McCaa's abuse followed a certain pattern. He would instruct the boys to remove their pants from underneath their altar robes and would later proceed to "inspect them," reaching under the religious vestments to touch and squeeze their genitals.

"I was standing in the sacristy, and he pinned me to the desk. I was just a little guy," Gergely said during an interview with The Guardian back in March 2016, recounting the abuse he endured at the hands of McCaa.

"It's not easy to talk about the abuse," said Hoover, now a resident of Pittsburgh. "Even now, it's hard for me to comprehend. There just aren't the right words to describe it — it'd be like making sense of senseless, so really what's the point?"

But Gergely did talk about it. Hoover said he thinks it was how his friend coped with the trauma of it all.

"I think it was Brian's way of healing," Hoover said. "When it came down to it, He just wanted justice for the victims. It wasn't even about getting justice for himself, it was about being that voice for others."

At the end of the day, Hoover said, it's about trying to keep another child — another person — from going through that same abuse.

And that mission is something that fueled Gergely for awhile.

"He was holding on to that hope," Hoover said. "They got so close with the legislation, it was sort of like 'OK, this might get better.'"

However, once the legislation got to the state Senate in 2016, lawmakers stripped it of the retroactive language that would have allowed victims abused in the past to file lawsuits against their abusers.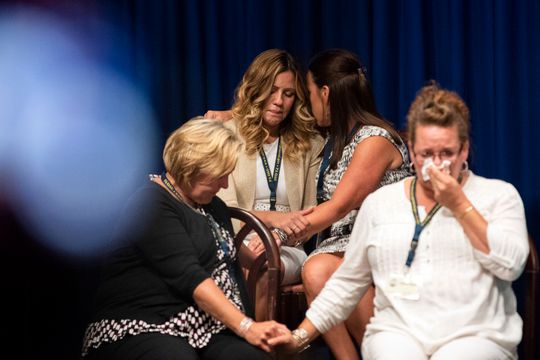 Survivors comfort each other while Attorney General Josh Shapiro outlined the findings of the grand jury investigation into six catholic diocese in Pennsylvania, Tuesday, August 14, 2018. The grand jury's report detailed child sexual abuse and coverup by more than 300 clergy. (Photo: Ty Lohr, York Daily Record)



And just days after that defeat, Gergely committed suicide in his home in Ebensburg. He was 46.

"And these things are happening all the time," Rozzi said. "This is real. People are suffering, and victims are taking their lives every day."

Rozzi and Hoover both highlighted the fact that Gergely's death came so soon after seeing the senate's changes to the bill.

"It's like everyone got their hopes up that something would change, and then it all just came crashing down again," Hoover said.

And for Rozzi, his biggest concern right now, is seeing that nothing like that ever happens again — that no one loses that hope or their life.

The fight continues

Rozzi hasn't stopped fighting though. Even after his efforts proved unsuccessful in 2016, he continued to move forward with the bill.

"It was devastating not seeing this legislation passed back in 2016. Not just to me, but to so many survivors," Rozzi said. "It kind of robbed them of that last shred of hope and gave them another reason to feel helpless."

"We had to start all over. But we did it, and we'll keep doing that. We aren't going to stop pushing for these reforms."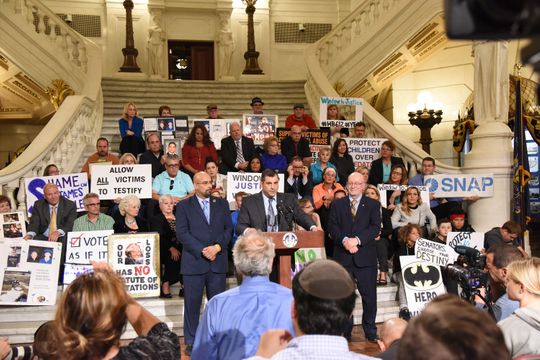 State Rep. Mark Rozzi gives a speech supporting survivor victims of child abuse on Monday, September 24, 2018 at the Capitol in Harrisburg. He rallied along multiple representatives and survivors that are against child abuse. (Photo: Lucas Vilca, for the York Daily Record)



being able to count the number of Senate session days left on one hand — the pressure is mounting.

Sexual abuse of children perpetrated by Catholic clergy has been in the Pennsylvania spotlight since a historic grand jury report detailing assaults on more than a thousand children by more than 300 priests was released in mid-August.

"The public is demanding a change," Rozzi said. "And not only are Pennsylvanians watching, the world is watching."

The bill, which has moved to the state Senate for final consideration, would specifically reform the state's statute of limitations laws.

Currently, survivors of child sex crimes have until age 30 to file a civil claim and until age 50 to file criminal charges against their abusers. Legislation to reform the law, which has been pushed to the Senate for final consideration, would give victims until age 50 time to file lawsuits and eliminate the statute of limitation entirely for criminal prosecutions.

He has also included an amendment to the bill that would create a two-year "window to justice," during which those survivors for whom the civil window has already closed could file a retroactive civil claim.

Rozzi, a Democrat from Berks County, was only 13 years old when a priest abused him in the Allentown diocese. He remembers it was a confusing time. He didn't know who to talk to, who to confide in.

When he finally did see an attorney to discuss his abuse, Rozzi was faced with the truth many survivors face: he was told he was too late and that nothing could be done.

"It's ridiculous to think that at 13 years old, I was supposed to know what a statute was and know that at the time I only had two years to file a civil claim and five years to follow a criminal claim," Rozzi said. "That was the last thing I was thinking about when he was raping me in the shower, I'll tell ya that."

The bill is set to go before the Senate before the end of session, and right now there are only four days left: Oct. 15, 16, 17 and Nov. 14. But Rozzi is cautiously hopeful that this time around, it will be passed.

It would be a milestone for all sexual abuse survivors, not just those affected by the Catholic clergy.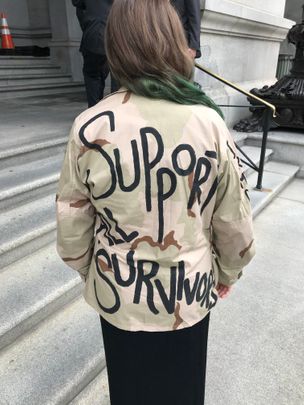 Taylor Ecker, a survivor of childhood sexual abuse, wears a jacket with the words "SUPPORT ALL SURVIVORS" written across the back. Ecker went to Harrisburg recently to rally with other survivors for reform to the state's laws that she says limited her opportunity for justice. (Photo: Brandie Kessler, York Daily Record.)



And for Taylor Ecker of Boyertown, Berks County, it would change everything.

Ecker, now 23, was abused by a family member from the ages of 5 to 9 years old. For years, she never really understood what was happening to her. Her abuser said they were just "playing a game."

"I didn't know that at 5 years old I was supposed to go to the police," Ecker said. "I was watching Elmo at the time."

It wasn't until her junior year of high school that Ecker came to terms with what happened to her as child. She was sitting in her health class and everything just seemed to "click."

"By the time I mustered up the courage to go to the police, they told me 'Honey, this is an old case. We're in Reading, Pennsylvania, and we have homicides and more important crimes to worry about," she recalled.

It was crushing, Ecker said.

"I was denied my right to trial because the laws we have in place right now, protect predators," Ecker said expressing her frustration for the statute of limitation laws.

"But I still want my day in court."

'It's about protecting children'

At this point, Ecker said, it's not about her anymore. She isn't fighting just for her.

"It's about protecting children," Ecker said. "It's about getting (the abusers) out of the community and making the public aware of who they are."

She wants to hold her abuser accountable in court so he can't abuse anyone else — so nobody else will have to endure the same pain she did.

"The people responsible for this abuse need to be held accountable, it is the only way to keep them from abusing again," Rozzi said. "Every time Senate shuts this legislation down, or votes against it, they're sending the message to survivors that they don't matter — that what happened to them isn't important."

"And this time around," Rozzi said, "who knows if this could be the last blow they can handle."