New lawsuits filed against Zubik, Wuerl over child abuse allegations
By Wes Venteicher
Tribune Review
October 05, 2018

https://triblive.com/local/allegheny/14149480-74/new-lawsuits-filed-against-zubik-wuerl-over-child-abuse-allegations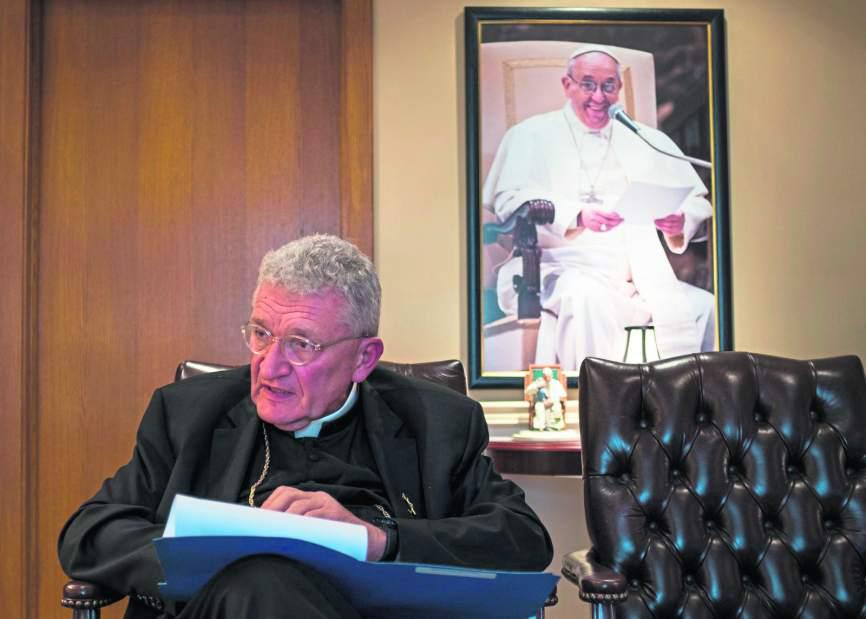 Bishop David Zubik answer questions from a Tribune-Review reporter during an interview at the Catholic Diocese of Pittsburgh's Downtown offices, on Aug. 21, 2018.
Four men who say they were sexually abused as children by Roman Catholic Diocese of Pittsburgh priests sued Bishop David Zubik and Cardinal Donald Wuerl on Thursday, alleging the church leaders are still covering up the abuse.
The civil lawsuits are the latest to stem from the August release of a Pennsylvania grand jury report detailing allegations that 301 members of the clergy in six dioceses abused more than 1,000 children over several decades.
The latest lawsuit was filed on behalf of Paul Beran, of Pittsburgh; James Imhoff, of Canton, Ohio; Glenn Ostrowski, of Kensington, Maryland; and Richard Votedian, of Munhall. The lawsuits allege abuse by five priests.
Their lawsuits draw heavily from the grand jury report, including allegations that the diocese intentionally concealed abuse allegations against priests and relocated the priests rather than immediately expelling them from the church.
The suits name former priests Edward Joyce, Carl Roemele and Richard Zula, who are dead, along with former priests John Hoehl and Edward Huff.
A spokesman for the Pittsburgh diocese didn't respond to a request for comment Friday.
The statute of limitations has passed for civil lawsuits over the abuse, but the "active and ongoing concealment of this critical evidence provides a basis to extend the statute of limitations in all four cases," according to a news release from Alan Perer, an attorney for the four men.
The grand jury report included recommendations for changing state law to help prevent future abuse. The reforms, including extending the statute of limitations, are included in a bill the state House passed last month. Also included in the bill is a proposal to create a two-year window in which the statute of limitations would be suspended, allowing new lawsuits over any childhood abuse, including cases against abusers outside the Catholic Church. Some state senators have raised concern's about the proposal's constitutionality. The Senate returns to session for three days on Oct. 15.
Votedian said he was abused at age 12 or 13 by Zula, a former priest who was accused of some of the most egregious crimes in the report.
Zula was accused of giving golden crosses to boys to mark them as being groomed for abuse and for instructing boys to strip down to their underwear and pose as Christ on the cross. He also hosted parties at a rectory that included alcohol, marijuana and oral sex, according to allegations. Zula, who served at Tarentum's St. Clement's from 1986 to 1987, died in 2017.
Ostrowski said he was 14 when he was first raped by Hoehl, who was headmaster and counselor at Quigley Catholic High School in Baden. The assaults continued until Ostrowski was 17, according to the lawsuit.
Imhoff said he was abused by Roemele between the ages of 10 and 11, starting at St. Joseph's parish in Mount Oliver. Roemele, who regularly ate dinner with Imhoff's parents, would take Imhoff and other boys to a cabin and fondle their genitals, according to the suit.
Beran was assaulted by Joyce from age 10 through 12 starting at St. Joseph Parish on Pittsburgh's North Side, according to the suit. The abuse started with mutual massages, which escalated to heavy touching and genital touching by Joyce, the suit states.
Contact: wventeicher@tribweb.com