Haunted by Clergy Abuse, Pa. Family Leaves Catholic Church after Years-long Struggle
By Laura Benshoff
WHYY
October 8, 2018

https://whyy.org/articles/haunted-by-clergy-abuse-pa-family-leaves-catholic-church-after-years-long-struggle/

Each time there's a new report or newspaper article about sex abuse in the Catholic Church, Chuck Gesing steels himself.

"That was disgusting," said Gesing, of the most recent grand jury report in Pennsylvania, which alleged more than 300 priests sexually abused more than 1,000 minors. But, he called such news "not unexpected at this point."

In August, NPR asked Catholic listeners from Pennsylvania and across the country to share their responses to the report. The survey asked whether any of the now four investigations into systematic child abuse by priests in the state have caused them to reconsider their faith or join a different denomination. More than 200 people responded.

Some kept their responses brief — a simple "no" for whether they skipped Mass the Sunday following the new report. Others, like Katherine Liberona, from outside Philadelphia, shared the agony they feel.

"Earlier reports caused me great distrust, but I felt there was still small pockets of goodness," she said. "I now feel like I question my entire religious upbringing."

Chuck's wife, Nicole Gesing, responded too. Sitting in their cozy kitchen in Glenside, Montgomery County, both described childhoods in tight-knit Catholic communities.

"Everyone we knew was Catholic. Everyone in our school was Catholic. Everyone in our neighborhood was Catholic," said Chuck, who was raised in Northeast Philadelphia.

The church was a big part of their life well into adulthood. Both went to Catholic colleges, and they planned to send their three kids, Chloe, 17, Connor, 14, and Owen, 10, to parochial schools. Chuck, who teaches high school math, says he had a life-changing experience teaching at one.

"It was one of the best decisions I've ever made," he said.

But, over time, they became frustrated with the Catholic church.

When money got tight, they were let down that the church didn't help them with tuition for their kids. They pulled Chloe out of Catholic school, but still sent her and Connor to a Parish Religious Education Program, or PREP, so they could make their sacraments.

Then, in 2005, the first grand jury report on sexual abuse in the Philadelphia Archdiocese came out.

St. Cecilia's, the parish Chuck attended as a teenager, was named for harboring a serial abuser named Father James Brzyski, "one of the Archdiocese's most brutal abusers – emotionally as well as physically," according to the report.

The news hit Chuck hard, but they kept going to Catholic church because Nicole still wanted the family to have a place of worship — something bigger than themselves.

"As the reports came out, I could see him backing down," said Nicole. "But I didn't know the magnitude of it."

Some of Chuck's childhood friends from St. Cecilia's had struggled with substance abuse and depression. Pennsylvania's grand jury reports don't name alleged victims, so it wasn't until a few years ago when Chuck sat down on the couch to read the local newspaper that he says their anguish began to make sense.

"I knew every single person," he said, referring to an article about Father Brzyski's targets. "They were all my friends! I couldn't believe it, I was stunned."

'Unfaithful shepherds'

When deciding whether to leave the Catholic Church, the Gesing's faced another question — what could possibly replace such formative institution in their lives?

Among the more than 200 people who responded to NPR's request for information, many mentioned leaving Catholicism for Episcopalian or Unitarian congregations. There is a history of exchange between the Episcopalian and Catholic faiths, although the Episcopalian Church does not track how many new members came from Catholic parishes, according to Bishop Daniel Gutierrez, of the Episcopal Diocese of Pennsylvania.

Some listeners, like Diane McGinty from Delaware County, say they still draw comfort from practicing Catholicism, but try to do so on their own terms.

"I do like the mass, I just don't like the institution," she said. "I'm tired of men in Church, running the show, telling me what to do."

Others, like Rick Topper from Glenside, reject the idea that the church belongs to abusers and leaders who tried to keep it quiet.

"What I do know is that it's not their church, it's our church…they're unfaithful shepherds," he said.

Margaret Sellig of New Jersey, said she felt the need to reaffirm her faith the Sunday after the latest report came out. "I was craving, more than ever, a need to be with/support my community, our pastor and all the faithful."

The church itself is trying to move past the scandals.

"The church of the past is not the church of today," said Philadelphia Archdiocese spokesman Ken Gavin, detailing the more than $14 million it has put towards victim's assistance efforts since 2002. "Sexual abuse of minors is systemic in the sense that it is a societal evil which can rear its head anywhere….it is not solely a Catholic issue, but the Catholic Church has done more than any other institution in recent years to combat the problem."

It's hard to say just how much child sex abuse is damaging membership in the Catholic Church in Pennsylvania.

According to the Pennsylvania Catholic Conference, about half a million people have left the church since 2006. But membership across most Christian groups in the U.S. is declining, and according to the Pew Research Center the Catholic Church is better than some at retaining those who grow up in the faith.

For Chuck and Nicole Gesing, leaving was difficult. To them, Catholicism is more than a religion. It's an identity.

"How can I leave the church, when the place that changed my life is a part of the church?" he said.

After years of moving away from their faith, the Gesings officially joined St. Peter's Episcopal Church last year. They initially found the church when looking for a place to cook Thanksgiving turkeys for people experiencing homelessness in Philadelphia.

"The way I look at it is: I'm not abandoning my faith," said Chuck. "I'm going to a different faith, to keep the human, bad part of that church from having access to my kids."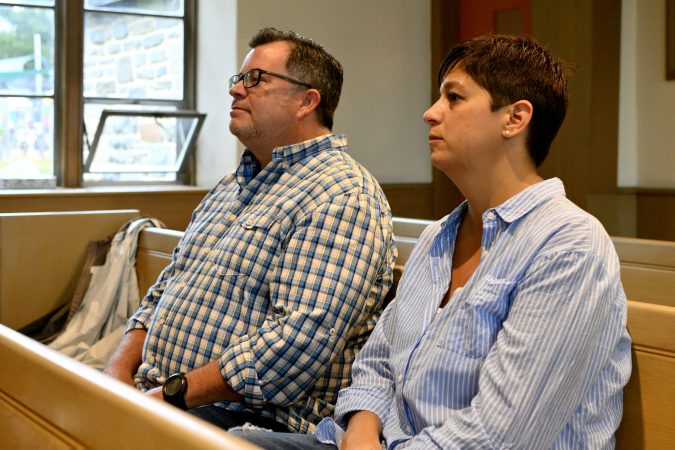 On a recent rainy Sunday, the couple sat in the second to last row at St. Peter's, stashing cups of Dunkin' Donuts coffee under the pew.

"It's so different," said Nicole, remarking on the informality and the extensive time devoted to fellowship rituals like "passing the peace," when congregants roam the aisles shaking hands with each other.

The sermon, delivered by Canon Kirk Berlenbach dealt with the theme of "welcoming."

After Mass, Chuck noted his appreciation. "That's the way church should be," he said.