Activists Push for More Clergy Sex Abuse Charges in Poland
By Monika Scislowska
Associated Press
October 8, 2018

https://www.njherald.com/article/20181008/AP/310089877#//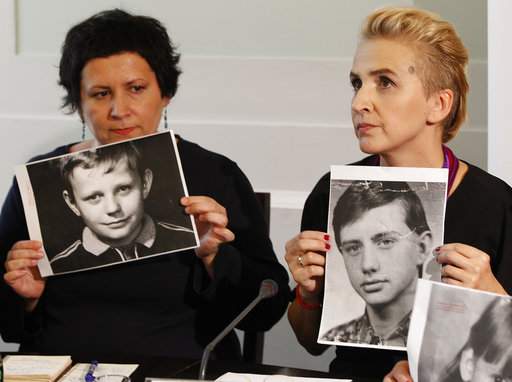 Agata Diduszko-Zyglewska, left, and opposition lawmaker Joanna Scheuring-Wielgus,right, lift photos of young victims of abuse by priests during a meeting that demanded strict criminal punishment for pedophile priests at the parliament in Warsaw, Poland, Monday, Oct. 8, 2018. (AP Photo/Czarek Sokolowski)



Polish activists met with opposition lawmakers Monday to demand criminal punishment for Catholic priests convicted of sexually abusing children and extending the statute of limitations for prosecutions.

The meeting brought the lawmakers together with psychologists, lawyers and the president of a foundation that represents people who say they were sexually abused by priests in Poland. The activists are seeking greater sensitivity to the issue of sex abuse in the Catholic Church.

Have No Fear foundation President Marek Lisinski called for an independent commission to assess the scale of clergy sex abuse and for the waiving of the statute of limitations so suspects can be put on trial. Under Polish law, criminal charges in child sex abuse cases cannot be brought to court after the alleged victim turns 30.

The foundation published a map Sunday that it said identifies sites across Poland where there have been reports of priests abusing children. The map represents allegations and confirmed cases involving a total of 255 children under age 15.

Lisinski said the number was only the "tip of an iceberg." Speaking about his own experience as an abuse survivor, he said his openness and fight for justice has cost him relationships with family members and many friends.

"We must help the victims to feel safe and come forward with their stories," he said.

Have No Fear also is pushing for the prosecution of church leaders who protected pedophile priests by moving them among parishes.

More than 50 priests have been convicted of abusing children, according to the foundation. Some of them served time in prison and were reassigned to new parishes when they got out, it said.

The leaders of Poland's Catholic church said they plan to publish a report on the scope of the clergy abuse problem by the end of November.