A Catholic society used dreams of a medieval life and rebellion to groom young victims of abuse
By Corky Siemaszko
NBC News
October 9, 2018

https://www.nbcnews.com/news/us-news/catholic-society-used-dreams-medieval-life-rebellion-groom-young-victims-n907661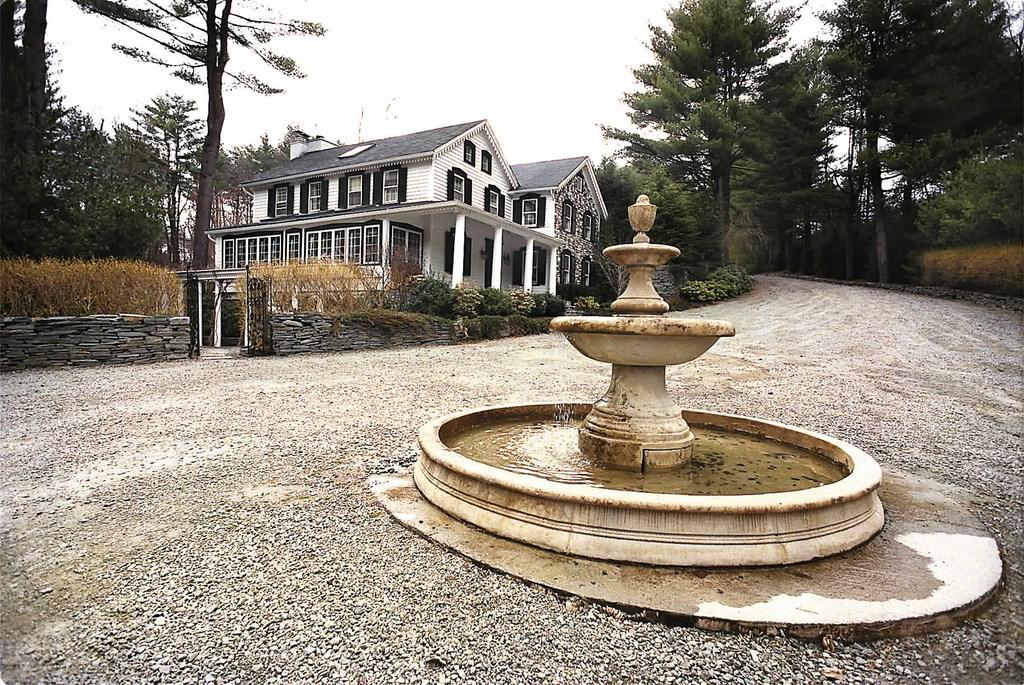 The front entrance to the grounds of the Society of Saint John in 2002.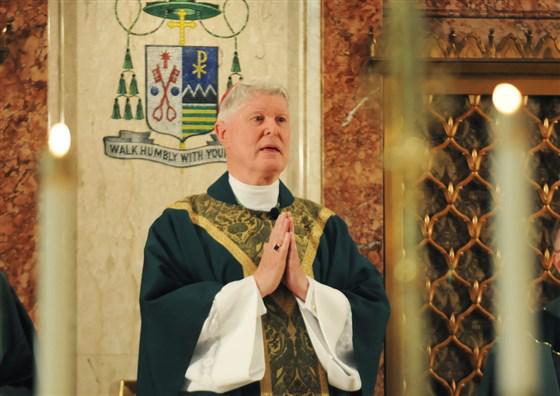 James Timlin celebrates the 60th anniversary of his ordination to the priesthood at St. Peter's Cathedral in Scranton, Pennsylvania, in 2011.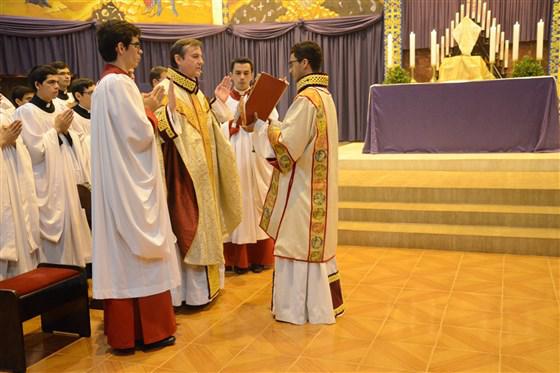 Carlos Urrutigoity celebrates Mass in Paraguay's Ciudad del Este.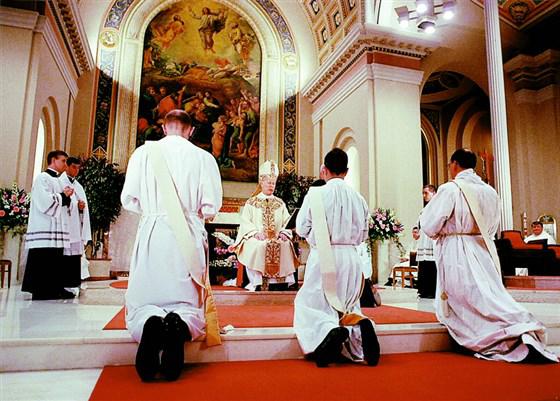 Newly ordained priests, including Christopher Clay, center, kneel before Bishop James Timlin at St. Peter's Cathedral in Scranton, Pennsylvania, in June 1998.
Photo by Mike Mullen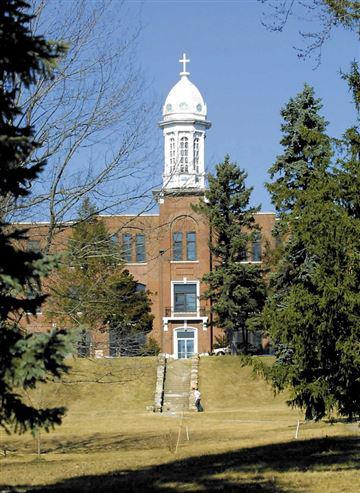 St. Gregory's Academy in Elmhurst, Pennsylvania, in 2002.


[with video]



On Dec. 18, 2001, a desperate North Carolina dad wrote a letter to the Vatican asking the leaders of the Roman Catholic Church to discipline a group of priests at a Pennsylvania boys' boarding school who he said took turns sexually abusing his teenage son.

The priests were members of an organization called the Society of Saint John, the father wrote, and Bishop James Timlin, then the head of the Diocese of Scranton, had allowed them to take up residence at St. Gregory's Academy in Elmhurst, Pennsylvania.

"How long will the Bishop of Scranton tolerate this Society of Priests and promote them and their plans?" the father, whose name NBC News is not disclosing to protect his son's identity, asked in the 2001 letter.

The answer turned out to be two more years. It was not until 2003, after the man's son filed a federal lawsuit, that the Society of Saint John was finally disbanded in Scranton. The lawsuit accused two of the society's priests of cultivating "intimate relationships with students" and of plying students "with alcohol, as well as sleeping with them."

The society was singled out in the scathing grand jury report that Pennsylvania Attorney General Josh Shapiro released in August, which included its leader and three members, along with 297 other Pennsylvania clerics that he branded "predator priests."

The society is a particularly chilling example of priests with red flags in their backgrounds who were allowed to operate in close proximity to the most vulnerable church members with little oversight. Clerical sex abuse survivors say the society's story is a rebuke of Timlin, who is now retired and was accused in the grand jury report of failing to act quickly to remove dozens of priests accused of abuse during his 20-year tenure as the head of the Diocese of Scranton.

When told of the Society of Saint John's abuses, Timlin defended the accused priests, writing in a 2002 letter to the Vatican that they had "stopped the practice of 'sleeping with boys' as soon as I explained how imprudent this was."

One of those accused priests was the society's leader, the Rev. Carlos Urrutigoity, a charismatic priest from Argentina who, according to reports and a letter from a priest who knew him, was kicked out of the seminary there in the 1980s for making a pass at a fellow seminarian.

For the son of the North Carolina man who reached out to the Vatican for help — NBC News will refer to the son as John Doe, as he was called in the lawsuit — the inclusion of the Society of Saint John in the grand jury report was both a welcome development and "too little, too late."

Speaking publicly for the first time since he and his parents filed a federal lawsuit against the Diocese of Scranton, Society of Saint John, St. Gregory's Academy, Timlin, Urrutigoity and others in March 2002, which eventually led to the society's demise, Doe said that the abuse by three Society of Saint John priests from 1997 to 2000 nearly wrecked his life. All three were named in the grand jury report.

"I went from being a kid who thought about becoming a priest to being a kid who lost his faith," Doe said. "I've probably been to Mass twice since 2000, and each time it was for a funeral."

The Society of Saint John's misbehavior in Scranton followed an all-too-familiar pattern in the Catholic Church, said Donna Doucette, executive director of Voice of the Faithful, a group of Catholics formed in 2002 to advocate for accountability and transparency in the church in the wake of the pedophile priest scandal in Boston.

"You will find with almost every one of these special organizations like the Society of Saint John, there were red flags that went up on the priests in their seminary days and the red flags were ignored," Doucette said. "We have a structure within the Catholic Church that gives the bishops absolute power within their diocese. They do what they want. The only check on the bishops are the other bishops or if the pope gets mad at you."

THE ALLEGED ABUSE

After Urrutigoity was booted from the seminary in Argentina, he moved to the United States, where he founded the Society of Saint John in 1997. He dreamed of building an arch-conservative "village" complete with Latin masses, living quarters, a basilica and private college, according to the society's fundraising letters. It would be a place where Urrutigoity and other priests could "practice their own brand of Catholicism," Doe's father wrote.

An association is a group of Catholic priests who have permission from the bishop to live together and carry out a certain apostolic mission. In the case of the Society of Saint John, their mission was propagating traditional Latin masses and a conservative form of Catholicism.

To achieve that vision, the society reportedly purchased property in Shohola, Pennsylvania, for $2.2 million in September 1999, with the blessing of Timlin, who co-signed the loan. Before that property was ready, Timlin arranged for the society to be based at St. Gregory's. At least two students there have accused the society's priests of abuse, according to court records.

Doe told NBC News that he was 16 in 1997 when Urrutigoity's right-hand man, the Rev. Eric Ensey, began supplying him with liquor and cigarettes and coercing him to have sex "under the guise of providing spiritual direction," Doe said.

Doe said the abuse happened at St. Gregory's and during a visit to California in 1998, when he and Ensey stayed at the priest's family home during Thanksgiving.

Then Ensey, according to the letter from Doe's father, passed his son on to a visiting priest and society member, Christopher Clay, who took Doe to his residence and got him "so intoxicated that the only memory my son has is waking up the next morning without his clothes on."

"Subsequently," Doe's lawsuit states, "Father Ensey conveyed to the Plaintiff, John Doe, that he should be receiving 'spiritual direction' from the Defendant, Father Urrutigoity."

This was in the fall of 2000.

"The Plaintiff did not suspect Father Urrutigoity of being capable of the same behavior as Father Ensey, but after several nights of sleeping together in the same bed, Father Urrutigoity directed inappropriate homosexual contact to the Plaintiff," the suit states.

Urrutigoity in particular, Doe's father wrote in his letter to the Vatican, "was very good at identifying people's weaknesses."

Doe agreed. "I would definitely place him in the cult leader category," he told NBC News.

To children steeped in conservative Catholicism and living at a boarding school away from the outside world, Urrutigoity and Ensey seemed to be cut from a different — and far cooler — cloth than the priests they'd known until then, Doe said in an interview.

"Here were these cool young priests who let you break the rules a bit," he said. "[Urrutigoity] would criticize puritanical American rules about things like drinking, which was really enticing to teenagers who tend to be rebellious."

Urrutigoity's vision also made a big impression on the St. Gregory students, he said.

"He would talk about how we're going to build this medieval village, how we're going to bring back Latin Mass and traditional Catholicism," he said. "In hindsight, this guy is crazy. They didn't have basic sanitation in the Middle Ages. Who would be for that?"

But at the time, Doe said, it all made sense. And he said he wasn't the only student whose bed was invaded by these priests, a claim backed up by the grand jury report and a whistleblower within the society who released a statement publicly in 2002 about the abuse, after Doe's lawsuit was filed.

The federal lawsuit was settled in 2005 for $380,000, according to the grand jury report. Doe's lawyers said the settlement — paid by the diocese, the Society of Saint John and the Priestly Fraternity of St. Peter, which ran St. Gregory's — included annuities and was worth more than $450,000.

At the time, Bishop Joseph F. Martino, Timlin's successor, released a statement: "In view of the serious claims made by the young person and in light of the statements by the witnesses who supported his claim, it was determined that the just decision was to reach a settlement that will assist the victim and his family as they attempt to heal."

The diocese did not comment further this week. The Priestly Fraternity of St. Peter did not respond to a request for comment. The Society of Saint John could not be reached for comment.

A classmate of Doe's also claimed he had been groped by Urrutigoity, according to 2004 court filing in a separate case. (That case did not move forward because the statute of limitations had expired.)

The classmate, whom NBC News is also not identifying, said in the court filing that he considered Urrutigoity "a perfect priest" but initially rebuffed his request in 1999 that they share a bed.

"Fr. Urrutigoity said that the reason I felt uncomfortable was because I had a puritanical attitude, and that this was due to a bad relationship with my father," the classmate said in the court filing. "He said that sleeping with him would heal this problem. I therefore agreed to do so."

The Lackawanna County district attorney's office declined to prosecute Urrutigoity in the classmate's case because the Pennsylvania statute of limitations had passed, according to a lawsuit the classmate filed. The DA's office also declined to prosecute Urrutigoity in the Doe case because the statute of limitations had passed, according to Shapiro's grand jury report. At the time, victims of child sex abuse had until age 23 to come forward with criminal allegations in Pennsylvania, five years after their 18th birthday.

TIMLIN'S RESPONSE TO THE ABUSE

When Doe came forward, and even after he sued, Bishop Timlin defended Urrutigoity and Ensey. Timlin made a point of noting in a letter to the Vatican on May 8, 2002, that he had warned both priests to "avoid even the appearance of evil."

"They have done everything I asked them to do," Timlin wrote, after receiving a copy of John Doe's father's letter. "They stopped the practice of serving wine at table to high school students and stopped the practice of 'sleeping with boys' as soon as I explained how imprudent this was."

When Timlin confronted Urrutigoity about sharing beds with students, "Urrutigoity did admit that there may have been occasions when overcrowded conditions prompted shared sleeping arrangements," according to the grand jury report.

The whistleblowing member of the Society of Saint John, the Rev. Richard Munkelt, claimed in an Oct. 15, 2003, letter to Bishop Martino, Timlin's successor, that Timlin had rebuffed him when he told the bishop that Urrutigoity was the leader of a "cult of homosexual predators" that preyed on teenage boys.

"They foster among youth puerile fantasies of male camaraderie," he wrote. "And they use alcohol and tobacco to break down the resistance of victims."

But Timlin, Munkelt wrote, "wanted everything to be kept quiet."

"Bishop Timlin refused to label Rev. Urrutigoity's conduct as immoral, but only 'perhaps imprudent,'" he wrote.

Munkelt had made similar allegations in a 2002 public statement after Doe sued. Timlin replied at the time: "I haven't been negligent with either the society or anyone else."

Munkelt did not respond to requests for comment.

Doe told NBC News that Timlin "basically went to bat for these guys."

"When we first contacted the church, we expected them to investigate right away but for months they stonewalled," Doe said. "They did not notify the district attorney — we had to do that."

Doe said he served as an altar boy for Timlin. He said he remembers that before his father wrote to the Vatican, Timlin "called my house and in an aggressive manner he talked to my dad," a conversation Doe said he witnessed.

"I just remember my dad being livid," Doe said. "I also remember hearing about how Timlin said that in the old days when something like that happened you could offer [the accuser] free college and make this go away."

Thomas Dubas, the Lackawanna County investigator assigned to look into Doe's allegations in 2002, said that Timlin was not cooperative.

"They didn't open their arms to any investigation," Dubas told NBC News of Timlin's diocese. "For months we tried to get a list of students from the diocese and when we finally got it I sent a letter to every kid telling them to call us if they were touched inappropriately." (No one other than Doe responded to the letter.)

Timlin, who retired in 2003, is now 91 and living at the Villa St. Joseph in Dunmore, Pennsylvania, which is a home for retired priests. He is not doing interviews, said Bill Genello, a spokesman for the Diocese of Scranton.

In response to an emailed list of questions, Timlin's lawyer, Marc Raspanti, sent a statement: "Respectfully, Bishop Timlin does not wish any further comment beyond what he has already provided to the Grand Jury."

The statement Timlin's lawyers provided to the grand jury did not directly address Timlin's handling of the allegations against Urrutigoity and the Society of Saint John. The statement generally defended Timlin's response to abuse allegations against priests. In 1993, Timlin established an independent review board of lay people to advise him on the issue, and he also created a uniform procedure for responding to child abuse allegations, the statement said.

"While not perfect, the Diocese of Scranton was in the vanguard of many religious organizations addressing the serious concerns related to child sexual abuse by members of the clergy," the statement said.

Still, Timlin acknowledged in the statement his lawyers provided to the grand jury that his efforts were not always sufficient.

"Bishop Emeritus Timlin recognizes that some of his past decisions regarding offenders were imperfect, and in hindsight regrets that his past judgements at the time caused a single day of pain to any victims," the statement said.

TIMLIN WAS WARNED

John Doe's father's letter to the Vatican about the alleged abuse was later routed to Timlin. It was not the first time Timlin had been warned about Urrutigoity's behavior.

In 1999, Bernard Fellay, head of the traditionalist Catholic Society of Saint Pius X, wrote Timlin a letter reporting that Urrutigoity's "homsexual behavior" got him booted from the seminary in Argentina and that he was given a "second chance" at the society's seminary in Winona, Minnesota. But there he was accused in the 1990s of approaching a young seminarian's bed "for obvious dishonest acts."

"Our conclusion is that there is a dangerous pattern in Fr. Urrutigoity and we feel obliged to reveal this to you," Fellay wrote in the letter, which he sent when he learned Urrutigoity had moved to Pennsylvania.

Fellay did not respond to requests for comment.

Timlin, in an Oct. 27, 2003, deposition in the John Doe case, said he confronted Urrutigoity with the letter.

"I went right up and showed him the letter and he denied that there was any wrongdoing there," Timlin said.

Timlin dispatched a trio of priests to Minnesota in July 1999 to investigate the allegations. Among other things, the seminarian mentioned in Fellay's letter told them that Urrutigoity groped him and wanted to watch him use a suppository, according to the grand jury report and other documents.

"They could not come to a conclusion as to whether [Urrutigoity] was guilty or not," Timlin said in the deposition.

So Timlin left Urrutigoity where he was.

"There was nothing that I could do at that point, there was no way I could inflict any penalty or all of that because he hasn't been proven guilty," Timlin said in the deposition. "And so that was the end of that."

Timlin said he also spoke with Urrutigoity about the Argentina allegations.

"His explanation was they had a particular friendship of some kind but nothing sinful and nothing wrong," the bishop said.

WHAT HAPPENED TO THE SOCIETY OF SAINT JOHN?

Urrutigoity and Ensey did not linger long in Scranton after Doe sued. Timlin suspended the priests in 2002 and dispatched them for psychological evaluations to the Southdown Institute in Canada, which specializes in treating clergy, The Pocono Record reported in June 2012.

Citing minutes from a March 2002 hearing of the Diocese of Scranton independent review board, the paper reported that doctors at the institute recommended that both priests be barred from public ministry.

Timlin's successor, Bishop Martino, completed the shutdown of the Society of Saint John in 2004 and sold off the 1,000-acre Shohola property, which had been purchased with a $2.6 million loan guaranteed by Timlin, according to published reports. The property itself was bought for $2.2 million and the rest of the money was to be used to build on the land.

When Urrutigoity was trying to get his Catholic village built, two wealthy donors — Matthew Sawyer and John Blewitt — quit the board in protest amid revelations that the priests had spent $134,486 on furniture and wasted tens of thousands more on meals and other items, according to reports and a letter from Sawyer viewed by NBC News.

Urrutigoity eventually found a safe haven in Paraguay at the Diocese of Ciudad del Este, where the Society of Saint John was reportedly reconstituted. The arch-conservative bishop Rogelio Livieres Plano made Urrutigoity his No. 2.

"The Bishop of the Diocese of Ciudad del Este praised Urrutigoity, citing the letter written by Timlin wherein Timlin gave a glowing opinion of the SSJ [Society of Saint John] and Urrutigoity," Shapiro, the Pennsylvania attorney general, wrote in his report on the grand jury findings.

It wasn't clear whether Timlin wrote this letter before the Scranton scandal broke or afterward. But when the Paraguayan parishioners learned of the abuse allegations against Urrutigoity, the news caused an uproar and eventually led to the removal of Livieres and Urrutigoity in 2014.

Urrutigoity then moved back to Argentina, according to local media cited by GlobalPost. He could not be located for comment.

Ensey found support in Vancouver, Canada, where a priest hosted him at Sts. Peter and Paul Church and helped him raise money for the Society of Saint John, The Vancouver Sun reported. The funds went to the society's operations in Paraguay, which parishioners were told included an orphanage, the Sun reported.

Ensey was eventually defrocked in 2014, according to published reports. His last known address was in Redding, California, and he did not return a call to his home phone number.

HOLDING BISHOPS ACCOUNTABLE

The Urrutigoity scandal exposed a failing in the Catholic Church's "zero tolerance" policy for predatory priests, which the U.S. bishops approved in 2002, said C. Colt Anderson, a church historian and theologian at Fordham University who was one of the first Catholic scholars to write about the priest sex abuse scandal.

The policy has no provision for policing the bishops, who have a lot of leeway in launching investigations and disciplining problem priests — as Timlin failed to do, Anderson said.

"This is not going to be resolved," Anderson said, "unless you hold the bishops accountable."