Three cases of Church sexual abuse involving minors in 2017
By Philip Leone Ganado
Times of Malta
October 10, 2018

https://www.timesofmalta.com/articles/view/20181010/local/three-cases-of-church-sexual-abuse-involving-minors-in-2017.691272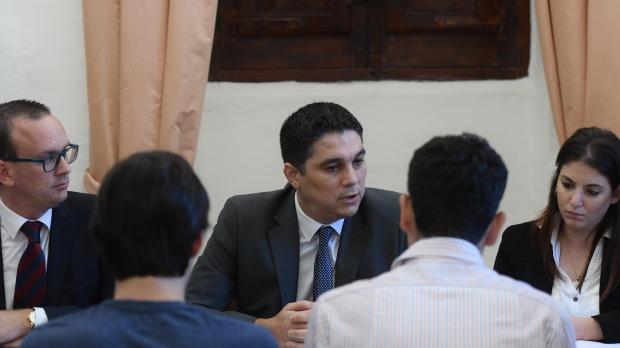 Safeguarding Commission head Andrew Azzopardi presenting the annual report.
Photo by Jonathan Borg
Church says cases were referred to police and restrictions imposed on perpetrators
The Church Safeguarding Commission found and referred to the police three substantiated allegations of sexual abuse of minors last year, according to the commission's annual report.

In all three cases, the commission imposed restrictions on the pastoral activities that could be carried out by the perpetrators - two priests and a layperson - as a precautionary measure.

The report states that another 12 allegations of abuse of minors are still being assessed, while 16 were found to be false, could not be proven, or were found not to concern abuse.

The commission also assessed 12 complaints concerning vulnerable adults, none of which were found to be substantiated. Three allegations are still being assessed.

Commission head Andrew Azzopardi said on Wednesday that while sexual abuse was not exclusively a Church problem, the Church had to take responsibility for the "serious, sometimes irreparable, harm" perpetrated by some of its members.

He called for canon law to introduce mandated penalties to ensure consistency, and for a "real zero-tolerance approach" to immediately bar anyone found guilty from practicing their ministry.He also reiterated his calls for the removal of prescription clauses in child abuse cases, noting that it often took many years for children to recognise their experiences as abuse before they could even think of coming forward with their testimony.

The commission report also details a pilot project carried out last year with six Church entities - two parishes, an NGO, youth group, Church school and the girl's MUSEUM - to evaluate the measures in place to prevent abuse and to consider new practices.

Participants received safeguarding-specific training and appointed a designated representative to act as a point of reference, and who will be responsible for vetting any employees.

The pilot project - which is aimed at a wider implementation across the Church - led to seven people being trained as designated representatives, and 449 volunteers completing training over three months.