Alberta pastor accused of sexual misconduct while serving in Vancouver: Edmonton Archdiocese
By Slav Kornik
Global News
October 10, 2018

https://bit.ly/2Og9IAc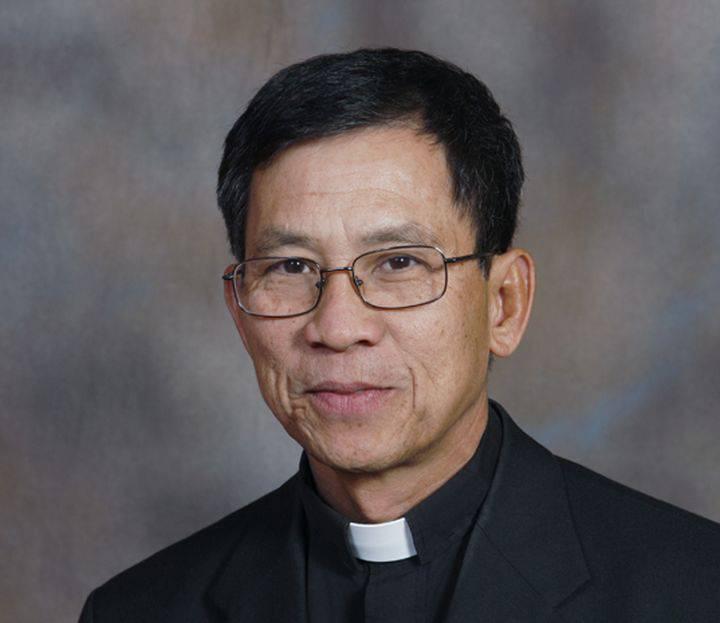 Father Peter Hung Cong Tran pictured in a photo from 2010.


[with video]



An Alberta priest has been withdrawn from his duties after being accused of sexual misconduct, the Archdiocese of Edmonton announced on Wednesday.

The Archdiocese of Edmonton said it was informed by the Archdiocese of Vancouver that it had received allegations of sexual misconduct towards a child and an adult by Father Peter Hung Cong Tran, while he was the associate pastor of St. Joseph Parish in Vancouver from 1998 to 2003.

Tran was an associate pastor at St. Vincent Liem Parish in Calgary from 2003 to 2007, a pastor at Queen of Martyrs Parish in Edmonton from 2007 to 2016 and most recently a pastor at St. Francis of Assisi Parish in Calgary, according to the Archdiocese of Edmonton.

READ MORE: Here's what you need to know about the Catholic Church's sex abuse scandal

The Archdiocese said Bishop William McGrattan of Calgary has withdrawn Tran from the Calgary parish and has prohibited him from "exercising any priestly ministry in the Diocese of Calgary."
"We are bringing this matter to the attention of the parish so that anyone who may be aware of other instances of misconduct can be encouraged to bring the information forward," the Archdiocese's statement read.
Global News has been unable to reach Tran for comment.
The Vancouver Police Department told Global News they had no information regarding the matter. The Calgary Police Service said it had not received any reports and was not investigating the matter, but encouraged anyone who may have been victim of sexual assault to report it.
Edmonton police did not immediately respond to a request from Global News.
The Archdiocese of Edmonton released the information surrounding the allegations against Tran on the same day Archbishop Richard Smith addressed new guidelines to protect children from sexual predators in the church, released by the Canadian Conference of Catholic Bishops.
The church said its document, Protecting Minors from Sexual Abuse: A call to the Catholic Faithful in Canada for Healing, Reconciliation, and Transformation, puts the interests of victims and their families first, and calls on all bishops to act on allegations of abuse "with a commitment to transparency and accountability."
"What you've experienced should never have happened and we're very, very sorry," Smith said.
"We know that such abuse leaves a long and lasting scar, not only on you, the individual victim, also on your family."
The standards include tougher background checks, lifting gag orders and ending internal investigations of abuse.
Smith said it's also important the church listens to sexual abuse survivors "with careful attentiveness and deep respect. The archbishop said if the archdiocese learns about sexual abuse involving clergy, police will be informed immediately. The archdiocese would also conduct a preliminary investigation by an expert in the field as well as a review by a committee to ensure "no one would have a chance of covering up," Smith said.
"We'll be reviewing our practices and protocols in light of the 69 recommendations in this document to make sure that they're the best that they can possibly be," he said.
Pope Francis is summoning the presidents of every bishops conference around the world to a February summit to discuss preventing clergy sex abuse and protecting children.
The Feb. 21-24 meeting of the presidents of the more than 100 bishops conferences is believed to be the first of its kind, and signals a realization at the highest levels of the church that clergy sex abuse is a global problem and not restricted to the Anglo-Saxon world, as many church leaders have long tried to insist.
Earlier this year, Francis faced what was then the worst crisis of his papacy when he repeatedly discredited victims of a notorious Chilean predator priest. He eventually admitted to "grave errors in judgment" and has taken steps to make amends, sanction guilty bishops and remake the Chilean episcopacy, which he accused of helping to fuel a "culture of coverup."