Alleged child sex-abuse 'substantiated' against 2nd S.I. pastor
By Maura Grunlund
Staten Island Advance
October 13, 2018

https://www.silive.com/news/2018/10/alleged-child-sex-abuse-substantiated-against-2nd-si-pastor.html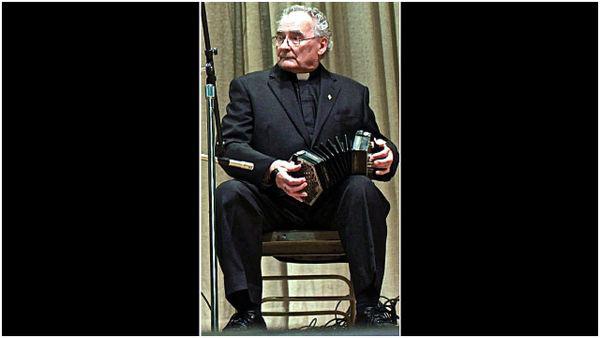 Monsignor Charles Coen performs at an Irish cultural celebration at St. Joseph-St. Thomas Parish in 2010.
STATEN ISLAND, N.Y. -- "Credible" child sex-abuse allegations have been made against a second monsignor who was a pastor and Irish musician on Staten Island, according to the Archdiocese of New York.
Monsignor Charles Coen is one of four monsignors and a priest "who had an allegation of sexual abuse of minors brought against them in the Archdiocese's Independent Reconciliation and Compensation Program [IRCP]," according to Catholic New York.
A native of Dublin, Ireland, Coen was assigned to St. Joseph-St. Thomas R.C. Parish in Pleasant Plains for about 10 years beginning in 1975. Previously, he served at St. Paul's R.C. Church in New Brighton, according to Advance records.
Monsignor Coen taught and conducted Irish music for children during his time on the Island, according to Advance records.
The Advance previously reported the substantiated allegation against Monsignor Francis Boyle, who headed Blessed Sacrament R.C. Church in West Brighton for about 13 years.
Allegations against all five retired clergymen have been "found credible and substantiated," according to Catholic New York, the official newspaper for the Archdiocese of New York.
In addition to Monsignors Coen and Boyle, Catholic New York named other clergy with credible allegations as: Monsignor William Williams, a former regional vicar of Ulster County and pastor of St. John the Evangelist Parish in Saugerties; Monsignor John Meehan, a previous pastor of St. Mary's R.C. Church in Mount Vernon, and Rev. Robert Jeffers, a former chaplain of Bronx Lebanon Hospital and pastor of St. Augustine's R.C. Church in the Bronx.
The allegations were revealed by the Archdiocese of New York to parishioners of Island parishes including Blessed Sacrament and St. Joseph-St. Thomas in notices posted in their bulletins on Sept. 16.
"During the IRCP process, allegations of abuse were brought against Msgr. Charles Coen who served at Saint Joseph-Saint Thomas, from 1976 to 1986," said the notice in the St. Joseph-St. Thomas bulletin.
"The Lay Review Board has concluded that the allegations were credible and substantiated. Msgr. Coen has been suspended, and may not function or present himself as a priest. The Holy See [The Vatican] will decide an appropriate penalty, which could include dismissal from the clerical state or imposing a life of prayer and penance,"
"However, it is certain that Msgr. Coen will never serve as a priest again," said the notice in the St. Joseph-St. Thomas bulletin.
A similar notice about Monsignor Boyle was posted in the Blessed Sacrament bulletin.
KNOWN FOR HIS MUSICAL PERFORMANCES
Monsignor Coen worked on Staten Island for about 18 years, initially for about eight years in St. Paul's Parish following his ordination in 1968. He then moved on to St. Joseph-St. Thomas, according to Advance records.
Known for playing the concertina, Coen performed and was honored at a celebration of Irish music and culture in 2010 at St. Joseph-St. Thomas, according to Advance records.
During his religious stint on the Island, Coen "shared his love of music with parishioners young and old and his own talents became known among Irish music circles everywhere," according to the 2010 Advance article.
"For example, teaching youngsters one or two songs for St. Patty's Day led to years of conducting children's choruses that ended up mastering 40 songs and sang in illustrious places like Carnegie Hall and entered competitions. And they were singing in Irish, a language they would not have ever heard," said 2010 Advance story.
Advance records indicate that Monsignor Coen's activities on the Island continued after he was transferred off the Island. Monsignor Coen was listed in the Advance among performers at an Irish music festival at Snug Harbor Cultural Center and Botanical Garden in 1992.
Monsignor Coen became pastor of St. Christopher's R.C. Church in, Red Hook, Brooklyn, in 1986. He served at Saint Christopher's in the merged parish of Saint Christopher-Saint Sylvia until 2008, the year he retired. Coen also was previously assigned to Incarnation R.C Church in Manhattan, according to the archdiocese.
"One of nine children, Father Coen absorbed music from his concertina-playing father, his brother, and the neighbors in Woodford, County Galway," said the Advance article from 2010.
"He began playing a tin whistle in the local Fife & Drum Band. A concertina, a small accordion type instrument, bought at the age of 19, and then a flute, became two of his lifelong companions. Inspired by his students, he competed on all of his chosen instruments and gathered six All-Ireland senior titles, a serious competition in traditional Irish music."
He used the resulting connections to bring well-known Irish talents, such as tenor Frank Patterson, dance-band leader Paddy Noonan and comedian Hal Roche to Staten Island.