McAleese accuses Pope John Paul II of 'offensive' misogyny in new book
By Philip Ryan
Belfast Telegraph
October 13, 2018

https://bit.ly/2yhEVca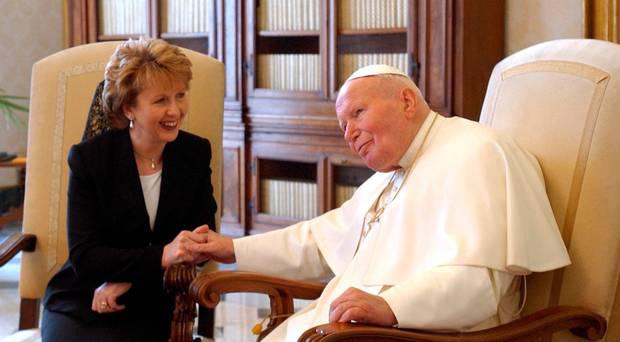 Mary McAleese holds Pope John Paul II's hand during a meeting in 2003
Former Irish President Mary McAleese accuses Pope John Paul II of "highly offensive" misogyny in a sensational new book.
Ms McAleese says she was seriously offended by the pontiff purposely ignoring her when they were first introduced ahead of their much publicised meeting during her presidency.
Instead of greeting Ms McAleese, the Pope reached across to her husband Martin and said: "Would you not prefer to be the President of Ireland instead of your wife?"
In the book Madam Politician: The Women At The Table of Irish Political Power by RTE political correspondent Martina Fitzgerald, Mrs McAleese says "nobody else thought it was funny" and her husband was "mortified" by the Pope's comment.
"He knew by my face that I didn't think it was funny. I did say to him: 'You would never have done that to a male president,'" she adds.
The Pope said he did not have fluent English and the comment was intended to be a joke.
He added: "I heard you had a great sense of humour."
After the 1999 meeting in the Vatican, the then President described the Pope as "intellectually, ferociously agile".
Ms Fitzgerald interviewed Mrs McAleese, her predecessor Mary Robinson and every female TD who served at cabinet for a book that charts the journey of women in Irish politics.
It also documents how former Taoiseach Charlie Haughey pulled the bra strap of ex-Fine Gael minister Gemma Hussey during a Dail debate on rape.
Mr Haughey approached Ms Hussey from behind while she was observing the debate on a Private Member's Bill she had sponsored.
He pulled at her bra strap and gestured her to sit down.
"I was sitting there observing a debate when I felt a chuck on my bra strap at the back. I got a shock and leapt to my feet," Ms Hussey says in the book.
Mr Haughey told Ms Hussey he would "look after" her Bill and said he had an "excellent minister" working on the legislation.
"I was dumbfounded. I was just amazed. I was kind of rendered speechless really," the former education minister said.