Archbishop Óscar Romero and Pope Paul VI Are Made Saints
By Elisabetta Povoledo
New York Times
October 14, 2018

https://www.nytimes.com/2018/10/14/world/europe/vatican-oscar-romero-paul-vi-saints.html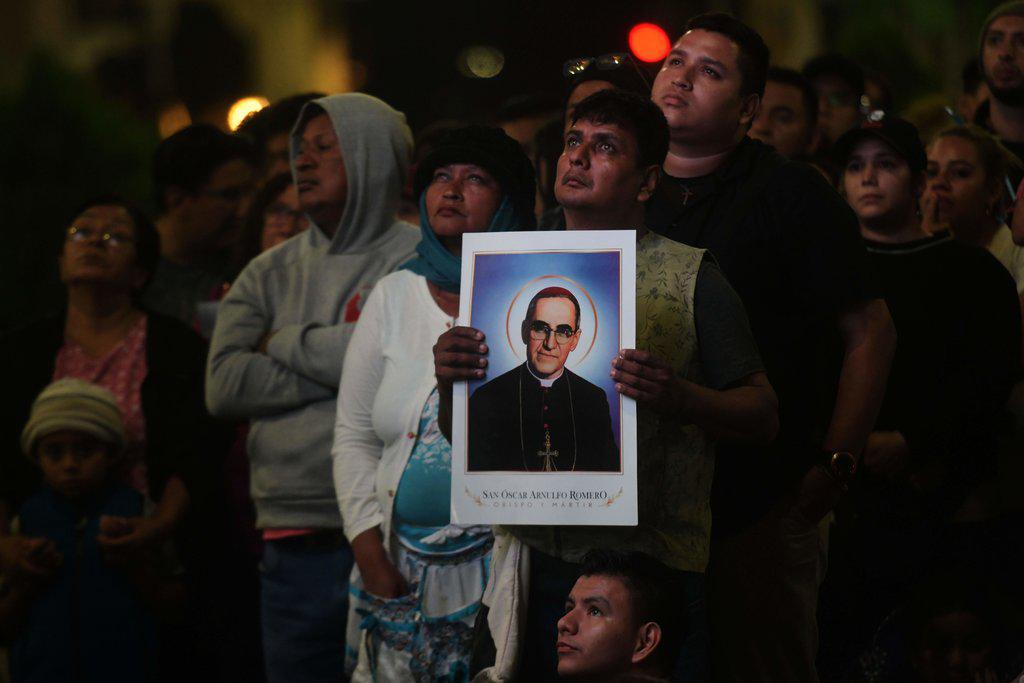 Catholics in San Salvador watched a televised screening on Sunday of the canonization ceremony of Archbishop Óscar Romero.
Photo by Marvin Recinos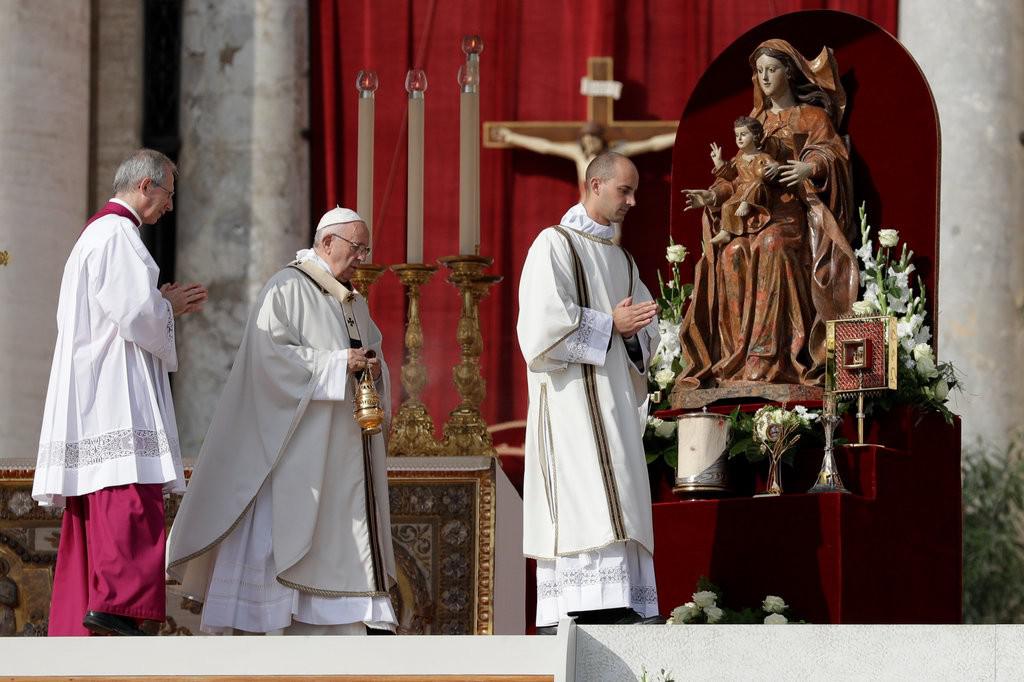 Pope Francis, center, at St. Peter's Square at the Vatican, where he also made saints of Pope Paul VI and five others on Sunday.
Photo by Andrew Medichini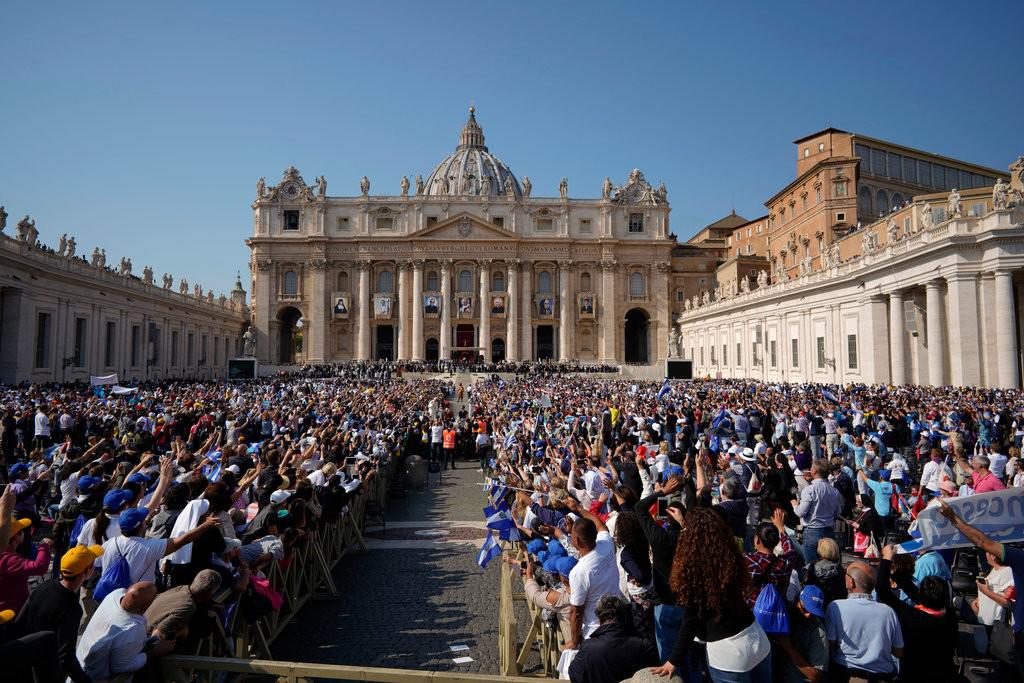 About 70,000 people attended the ceremony on Sunday at St. Peter's Square, the Vatican said.
Photo by Andrew Medichini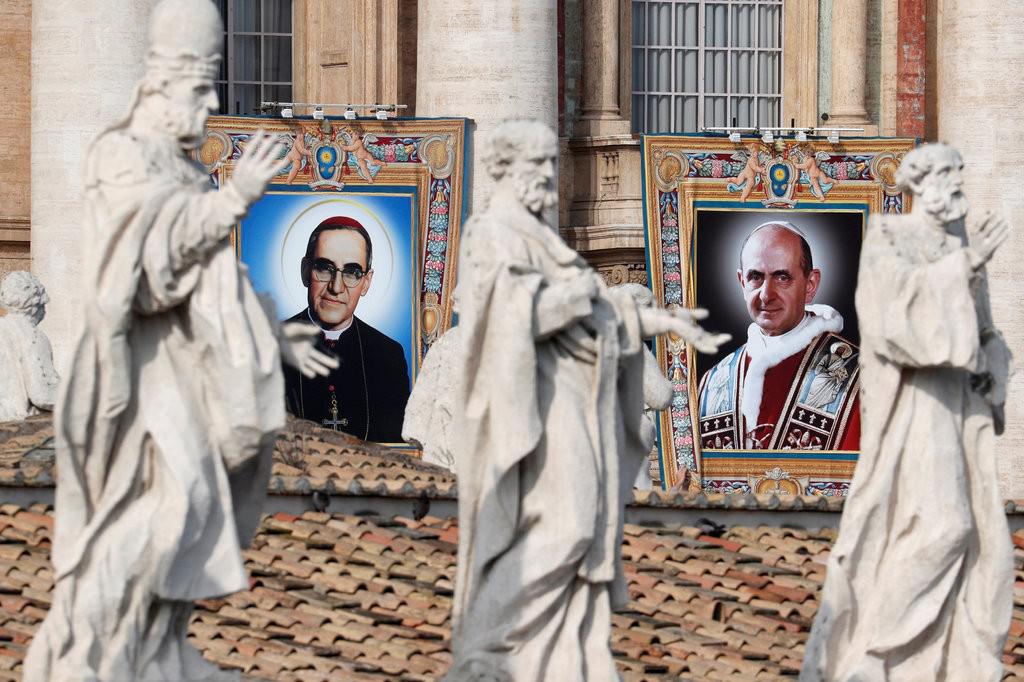 Portraits of Pope Paul VI, right, and Archbishop Óscar Romero at the Mass on Sunday.
Photo by Alessandro Bianchi
Thirty-eight years after being gunned down in a hospital church in El Salvador, Archbishop Óscar Romero was named a saint on Sunday to cheers in St. Peter's Square, while thousands watched the ceremony on video monitors in the Salvadoran capital.
Pope Francis also canonized Pope Paul VI, who is credited with continuing the work begun by Pope John XXIII and bringing the church into the modern era with reforms wrought from the Second Vatican Council in the 1960s.
In his homily, Francis said Archbishop Romero "left the security of the world, even his own safety, in order to give his life according to the Gospel, close to the poor and to his people." Of the pope, he said, "Even in the midst of tiredness and misunderstanding, Paul VI bore witness in a passionate way to the beauty and the joy of following Christ totally."
In all, Francis canonized seven people at the ceremony, which was attended by 70,000 people in St. Peter's Square, according to the Vatican.
Francis, the first pope from Latin America, had made clear from the start of his papacy, in 2013, that he would champion the canonization cause of Archbishop Romero, who will now be known as Saint Óscar Romero.
On Sunday, Francis wore the bloodstained cincture of the martyred archbishop, who was killed by a right-wing death squad on March 24, 1980, while celebrating Mass. The pope also used a cloak, staff and chalice belonging to Pope Paul VI.
"Paul VI spent his life for Christ's Gospel, crossing new boundaries and becoming its witness in proclamation and in dialogue, a prophet of a Church turned outward, looking to those far away and taking care of the poor," Francis said on Sunday.
Archbishop Romero's path to sainthood was strewn with obstacles, including strong opposition from some in the church to what were perceived as his political motivations. Those reservations had sidelined previous attempts by his supporters to have him recognized by the Vatican.
But that had not prevented others from acclaiming him as a hero. Every March 24, the United Nations celebrates a day to promote human rights on which "the important work and values" of Archbishop Romero are recognized. In July 1998, a statue of the archbishop was unveiled at Westminster Abbey in London, one of 10 "modern martyrs," including the Rev. Dr. Martin Luther King Jr.
For decades, Archbishop Romero's legacy was obstructed because several powerful prelates saw him as a proponent of liberation theology, a movement focused on the poor that had been spawned by the church's discussions on social justice in the 1960s. For conservatives, the movement was a thinly veiled adaptation of Marxist ideology manipulated by communists to foment revolution in Latin America.
The argument played out against the geopolitical backdrop of the Cold War, which saw the United States backing the government and right-wing forces in El Salvador against left-wing rebels, justifying the ensuing brutality as a necessary bulwark against encroaching communism. Some have called the archbishop a martyr of the Cold War.
"Romero wasn't communist; he wasn't a man of the guerrilla; he was a pastor," said Archbishop Vincenzo Paglia, the president of the Vatican's Pontifical Academy for Life and the promoter of the archbishop's cause. "And yet he was accused of being political, just as Jesus was," he said.
He noted that it was "extraordinary" that: "Romero and Paul VI are being canonized together because, in effect, it is like theory and practice, uniting in one, and that is a great truth for today, putting the poor and the weakest first," he said.
In an interview, Archbishop Paglia said that Pope John Paul II had come to understand Archbishop Romero's message. "We have to reclaim Romero, he is ours, he belongs to the church," he recalled John Paul II saying.
Benedict XVI cleared the path to Archbishop Romero's sainthood shortly before resigning in 2013, and Francis fast-tracked his conversion to sainthood, beatifying him in 2015 as a martyr.
Archbishop Romero had been considered a saint in El Salvador for decades.
"We knew this day would come — we didn't know when, but we knew it would," said Sister María del Carmen Guardado, one of an estimated 5,000 Salvadorans who had traveled to Rome to be present for what she described as a "benediction from God."
Archbishop Romero was the country's first saint, she noted, adding that his canonization was an acknowledgment of sorts of the more than dozen priests and four nuns killed during the civil war in El Salvador.
The Rev. Fredis Sandoval also traveled to Rome for Sunday's ceremony, which many of his compatriots said they considered a sign that Archbishop Romero had been on the right side of history.
"As a pastor, he understood that to enact the Gospel was to serve the poor, and he put the church at the service of the people," Father Sandoval said, adding that the archbishop had followed in the footsteps of Paul VI, "a courageous and free pontiff who understood and supported Romero."
Father Sandoval, a member of Concertación Romero, an organization that is pushing for the truth of Archbishop Romero's death to be made public, said papal recognition should lead to wider justice being served. "Those responsible for his death still have to be brought to trial," he said.
A United Nations truth commission found that Archbishop Romero's killing had been organized by Roberto d'Aubuisson, a Salvadoran politician and death squad leader who died of cancer in 1992. Others were also believed to have been involved.
Father Sandoval said, "The church has finally recognized Romero's humanity, goodness, and Christian piety, now the Salvadoran state has to be similarly open" and name his killers.
The Rev. Robert Pelton, 97, an expert in liberation theology and former missionary in Chile who traveled to Rome from Notre Dame, Ind., for the ceremony, said religious figures in El Salvador carried a lot of political importance during the conflict.
"They were the movers at the time," he said. To suppress the movement, he noted, their opponents had a simple tactic: "Kill the priests." He added, "Hopefully, Romero will serve to be a pastoral model for the bishops of Latin America."
Karina Morey and Renee Workman, both 15, had traveled to Rome from Fairfax, Va., to pay homage to their Catholic school's namesake: Paul VI. The pope's message still resonated with young people, they said.
"It's progressive and present," said Ms. Morey.
Ms. Workman said, "We look to him to see how we should act like Christians."
Along with Archbishop Romero and Paul VI, Francis also canonized two diocesan priests, Francesco Spinelli and Vincenzo Romano; Maria Katharina Kasper and Nazaria of Saint Teresa of Jesus, two women who founded religious congregations; and Nunzio Sulprizio, an Italian man who died at 19 and who is often cited as an example of piety for young people.