Catholic Priest Father William Maccurtain Worked in Boscombe's Corpus Christi Parish
Daily Echo
October 15, 2018

https://www.bournemouthecho.co.uk/news/16982784.catholic-priest-father-william-maccurtain-worked-in-boscombes-corpus-christi-parish/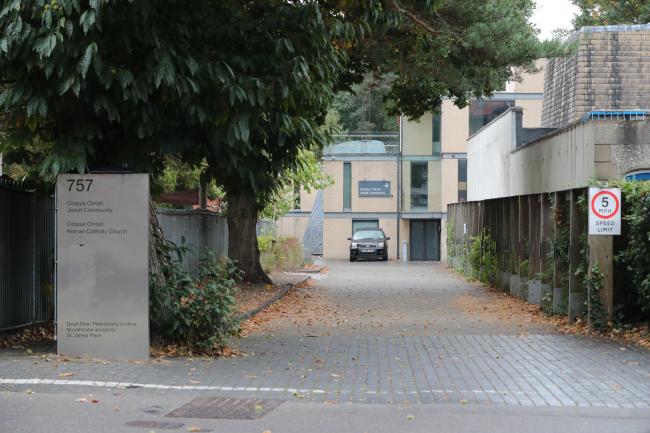 Signs for the Corpus Christi Jesuit Community leading from Christchurch Road in Boscombe



Father William MacCurtain, who lives in a home for retired Jesuit priests in Boscombe, is alleged to have sexually assaulted a 13-year-old boy in Johannesburg during the 1980s.

The 84-year-old, a resident of the Corpus Christi Jesuit Community (CCJC) in Christchurch Road, has apologised to the alleged victim and said he "deeply regretted the pain" he had caused.

His apology sparked a number of calls for his extradition to South Africa to face charges.

Previously, the Daily Echo reported Father MacCurtain moved to Bournemouth in 1989 because he needed nursing care - and that he never had a ministry in the town nor links with the nearby Corpus Christi School.

However, Father Paul Nicholson, Assistant to the Provincial Jesuits Church in Britain, has now confirmed Father MacCurtain did indeed work as an assistant priest in Boscombe's Corpus Christi parish between 1990, shortly after his return from South Africa, and 2000.

After 2000 he was "re-assigned elsewhere according to our normal procedures," said Father Nicholson.

Father MacCurtain, said to be in poor health, issued a statement through the British Province of the Society of Jesus (Jesuits) after alleged victim William Segodisho spoke out in a news conference on South Africa.

The Society also apologised and said Mr Segodisho had received an ex-gratia payment.

In a statement, Father MacCurtain said: "I recognise that my behaviour towards Mr Segodisho in the 1980s violated the trust he had put in me as a Catholic priest.

"I deeply regret the pain that I have caused and would wish to apologise to him unreservedly."

Since that apology, the campaign group Women and Men Against Child Abuse has called for Father MacCurtain's extradition.

Group spokesman Miranda Friedman said: "With Father MacCurtain at 84, they are not going to use old age and health to avoid what they have done."

Father Nicholson says the church first received an "unsubstantiated report" of abuse from a third party in 2001, but "despite attempts we were unable to contact Mr Segodisho at that time."

He added: "When we did receive Mr Segodisho's report in 2002, Father MacCurtain was immediately withdrawn from all public ministry, pending an investigation."

Father MacCurtain was withdrawn from public ministry following that investigation."