List of New Orleans priests credibly accused of sex abuse to be released: Details on timing, more
By Ramon Antonio Vargas
Advocate
October 16, 2018

https://www.theadvocate.com/new_orleans/news/article_4f2589ac-d162-11e8-ae2b-7760af94315e.html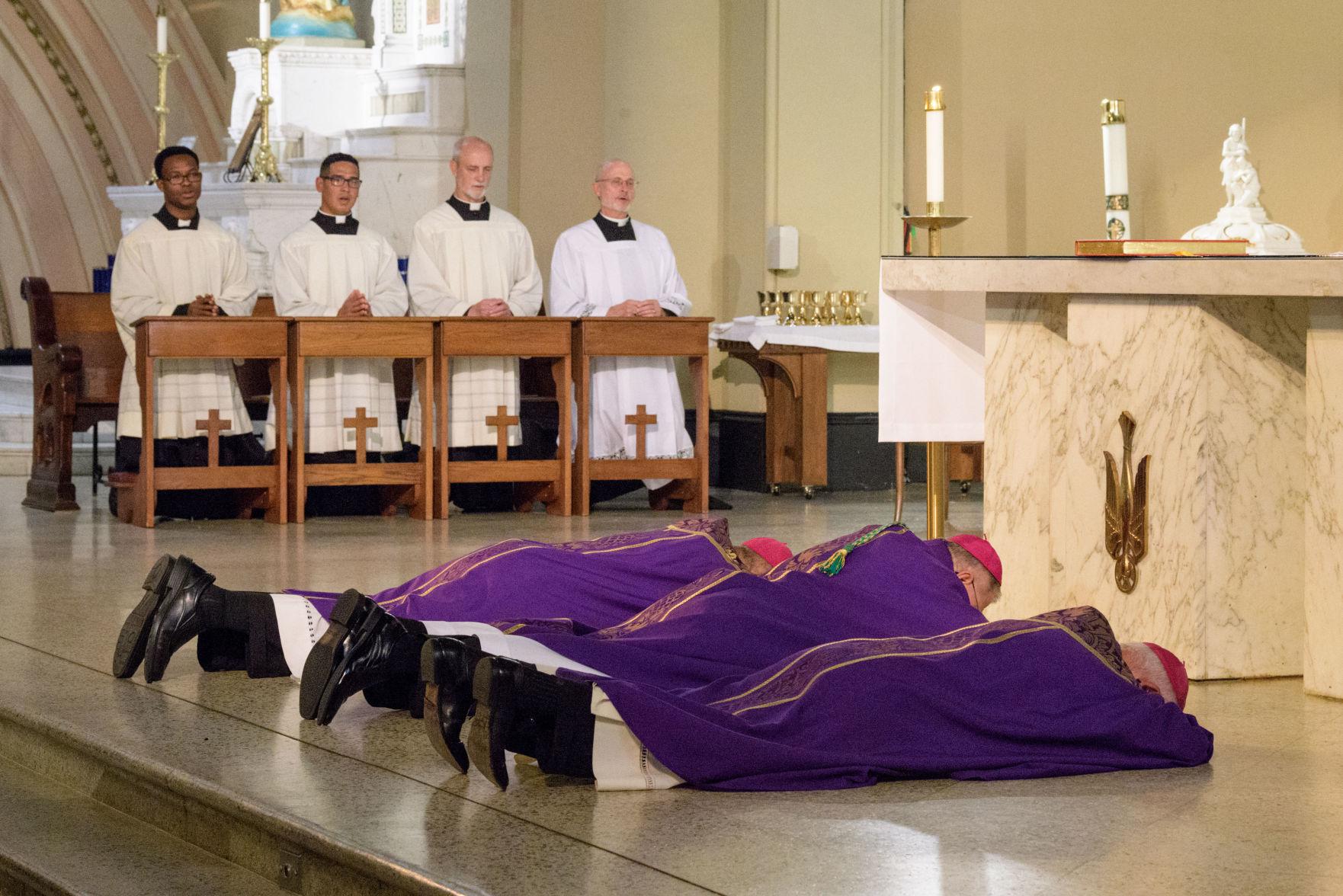 Retired New Orleans Archbishop Alfred Hughes, foreground left, New Orleans Archbishop Gregory M. Aymond, and Auxiliary Bishop Fernand Cheri lie and face the altar of St. Joseph's Catholic Church to pray for forgiveness during a special mass in New Orleans in New Orleans, La. Tuesday, Aug. 28, 2018. The intention of the mass is 'The Church asking for forgiveness and for the healing of victims,' referring to victims of sexual and physical abuse by Roman Catholic priests and clergy.
Yielding to calls from Catholics who have demanded a full accounting of local clerical abuse cases in the wake of other disclosures across the U.S., New Orleans Archbishop Gregory Aymond and the leaders of four other Louisiana dioceses said Tuesday they will release the names of clergy members who have been "credibly accused" of child sexual abuse in the past 50 years.
Aymond said the release of names "will be sooner rather than later," though he stopped short of giving a firm date.
Allegations are deemed to be credible when, after a thorough review, the clergy who are accused are removed from ministry, according to the archdiocese.
"The clergy files are being examined very carefully," Aymond said in a statement. "It is important to note that the review of the files goes back at least 50 years to ensure the list is accurate and complete. We will publish the list as soon as this work is finished."
Officials with the Baton Rouge, Houma-Thibodaux, Lafayette and Shreveport dioceses also committed Tuesday to disclosing the names of errant clergy. The Lake Charles and Alexandria dioceses did not immediately respond to requests for comment.
The announcements follow reports by The New Orleans Advocate that Catholic institutions in the city paid out huge financial settlements in the last several years to settle previously undisclosed claims of child sex abuse.
The archdiocese recently settled several claims of abuse involving defrocked Metairie deacon George Brignac, but it did not alert parishioners until after media reports of the settlements. At least 10 other people have since come forward with additional claims against Brignac.
In addition, officials at Jesuit High School agreed in 2012 to a $450,000 settlement with Ricky Windmann, who grew up near the school and said a maintenance man named Peter Modica sexually abused him on the campus multiple times, on one occasion with a priest named Neil Carr.
Modica and Carr are now deceased.
In September, Aymond said Louisiana's bishops were considering releasing a list of credibly accused clergy. But he stopped short of making a guarantee, saying that disclosing names was fraught with complications.
He said it would require a personal conversation with each clergy member who would be listed, and he was concerned over clergy who were dead and no longer able to defend themselves.
Tim Lennon, president of the Survivors Network of those Abused by Priests, said the Louisiana bishops' move to release the names will finally provide "an opportunity for survivors to know that they weren't alone, that it wasn't their fault."
Still, Lennon said, it's disappointing that it has taken significant pressure from advocates and the media to get local church leaders to disclose the identities of child sex abusers. "It's outrageous it's taken civil investigation to compel bishops to take basic steps in human decency," he said.
Elsewhere in Louisiana
The abuse scandal has also recently resurfaced in other parts of the state, including Lafayette, where that diocese earlier this month decided to remove a priest from active ministry over a sexual assault allegation from nearly 25 years ago that was deemed credible.
Eleven men in St. Martin Parish are also pursuing sex abuse claims against a deceased priest named Kenneth Morvant, who the plaintiffs say used "alcohol and the power of God" to prey on them.
Survivors of clerical sex abuse and their advocates have long demanded a full accounting of cases, saying that it is the only path to healing between victims and the church.
Numerous dioceses outside of Louisiana, including in Pennsylvania, New York, Minnesota and Arkansas, have already released lists of credibly accused clergy.
More than 50 out of the roughly 200 U.S. dioceses have released similar lists, according to the clergy abuse watchdog group bishop-accountability.org.
The calls for transparency have intensified following the release this summer of a Pennsylvania grand jury's report outlining credible sexual abuse claims against 300 priests in six of the state's eight dioceses.
But not all releases have proved to be adequate in the eyes of victims' groups. In Buffalo, New York, Bishop Richard Malone endured waves of criticism after a television station obtained secret documents showing that his release of more than 40 names was a severe undercount.
It is unclear what information Louisiana bishops will release in addition to the names of abusers. Some dioceses have also listed every place where an abuser worked, the year of the accusation, and whether they are alive or dead. Others have listed little more than the names and have included only diocesan clergy, not those belonging to religious orders.
The Catholic sexual abuse scandal erupted in 2002, when reports of decades of abuse in the Archdiocese of Boston — and evidence of church leaders' cover-up of the abuse — were made public by The Boston Globe. Since then, the scandal has cost U.S. dioceses billions of dollars. Roughly 8 percent of dioceses have declared bankruptcy, or are planning to do so, because of the financial toll.
Raising the cost
Acceding to the requests of victims and many members of the public for full transparency makes it likely that more victims will come forward and seek compensation, raising the potential cost of the scandal to dioceses already on shaky financial footing.
Moreover, the release of priests' names in the past sometimes has led to litigation from those named. In New Orleans, Aymond's predecessor, Archbishop Alfred Hughes, was sued years ago for defamation by multiple priests he publicly relieved of duty over allegations that they had sexually abused children.
Prominent New Orleans defense attorney Arthur "Buddy" Lemann represented three of those priests. He said Tuesday that he didn't recall those cases resulting in any significant financial awards for his clients. But he said the clients believed they were worth pursuing because they added a level of heft to their initial denials.
"Most of these (accused) people start off by taking the position that these allegations are not true," Lemann said. "These are very salacious charges and can be very, very damaging to a person, and people do have a right to privacy."
In at least one case that didn't involve Lemann, four accusers withdrew their molestation claims against a high-ranking priest, admitting that he did not abuse them at the troubled Madonna Manor orphanage, according to a 2010 Times-Picayune article.
The remaining cases related to Madonna Manor and its sister organization, Hope Haven, in Marrero, resulted in a $5.2 million settlement in 2009.
Aymond has said that the Archdiocese of New Orleans has not had a credible new claim of sexual abuse in the last decade.
Contact: rvargas@theadvocate.com